Photo Credits- Adam Chmielewski 
Far away from the entertainment epicenter of the world known as Southern California lies a place unfortunately nicknamed "The Rust Belt" and it is a place I call home.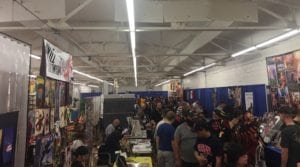 On Sunday October 15 I ventured to the Cuyahoga County Fairgrounds for the 2017 installment of the Cleveland Comic-Con.  Now, here in Northeast Ohio, we are treated to two big comic related conventions each year.  One is the popular Wizard-Con, which is held early in the year at our newly renovated Convention Center in downtown Cleveland.  This convention is the one that usually grabs the big headlines as it brings in some current celebrities ranging from Chris Hemsworth to Bruce Campbell, to the cast of Dexter.  In the fall, vendors line up and fans head outside the city for the second major area comic convention, the Cleveland Comic-Con.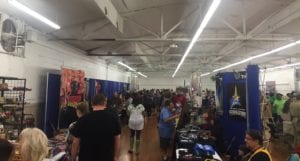 If I were to compare the both of them, Wizard-Con is the closest thing we get to San Diego's Comic-Con International where even though there is a convention element, the event is more of a media spectacle.  Relying on a corral of talent to bring people through the doors.  It's a great time, but if you want more of a straight up convention, a place to hunt for back issues of comics, toys, or various knick-knacks which in all reality you don't need, but since they're right in front of you, why not? Then the Cleveland Comic-Con is what you want to be a part of.  When you strip away the glitz and glam of the touring conventions you're left with a dose of the real world, with real people, families, coming to a fairground to partake in a celebration of culture loved by so many.  Of course you get your typical comic-convention moments like a father brushing debris off his son's Superman Cosplay outfit.  Or a mother holding up her daughter so she can see the wall of graphic art behind the table.  Coupled with a vibe only found in the Mid-West, these moments appeared more authentic while providing a feeling of nostalgia I hadn't felt in years.
The Cleveland Comic-Con is proof you don't need a flashy new building to bring out the stars.  With a lineup that brought the likes of James Madio (Hook, The Basketball Diaries), Sean CW Johnson (The Red Ranger), Vincent M Ward (Oscar on The Walking Dead), and Sam Jones (Flash Gordon himself!!) there was plenty of opportunities to get autographs.  Also Jake "The Snake" Roberts and "Hacksaw" Jim Duggan were on site to appease fans of professional wrestling.  Personally I have yet to understand the correlation with nerd culture and pro wrestlers but on the autograph signing circuit these guys are as big a hit as Jagged Little Pill.  Across the isle from the "on camera" celebrities were the "behind the scenes" personas like artists and storytellers.  Marvel Comics contributors Bob Hall, Mark Pennington, and Ron Wilson were amongst the names as well as Apama creator Ted Sikora. Panel discussions from Sean Forney and local sensation Santiago Cirilo kept folks entertained until the Grand Finale Cosplay Costume Contest held at the end of each day.
If Building #1 was the for celebs, Building #2 was for the vendors, where the true life of a convention takes place.  The main area was pretty big, various merchants set up shop along the walls and also a couple rows in the center of the room.  You walk around either trying to stay within budget, or your trying to find an ATM to buy that Joker from The Killing Joke cookie jar you've now seen at three different conventions.  I will have to admit, there has been some major advances in the world of cookie jars since I was a kid and if they were cheaper and less breakable, I'd start a collection.  The selection of comics I found to be top notch, not too many people selling classic books pre-1980's but the over abundance of material from my childhood in the 90's actually made me think it was about time to go over the contents of my own collection and see if I had any hidden gems in there… I didn't.  Where this place really shined was the vast amount of toys and other trinkets.    With an incredible selection of action figures and display pieces, I couldn't believe people had some of these items.  Toys I used to play with and ones I wished I had took me back to an age I often wish I could feel again.
And there was a truck load of cool refrigerator magnets.  I don't know where this started but the magnet game has been on point in recent years.  Makes me want a whole other fridge just so I can keep buying magnets.
Check out some photos below!!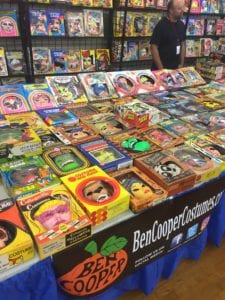 BenCooperCostumes.com brought a table full of vintage Halloween masks.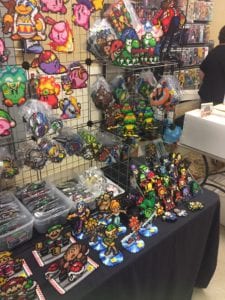 This was definitely one of the most unique booths at the entire convention.  What you are looking at are figures/statues made from beads, melted with an iron, and turned into homages to nerd culture.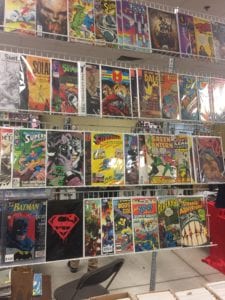 Wall of comics.  The Superman bloody "S" isssue was appropriately never opened.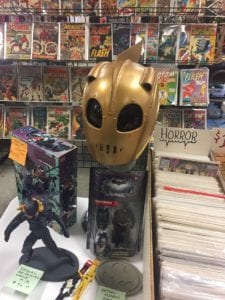 Don't know if this is the one from the movie or a replica but it made me appreciate the underrated heroism of The Rocketeer.
Finally, my favorite vendor in the place gave furniture the superhero treatment.
Don't ever judge a convention by its location or parking lot.  You may actually find what you are looking for.
By Adam Chmielewski
@PolishKaiju
What convention are you looking forward to? Let Nerdbot know in the comments!