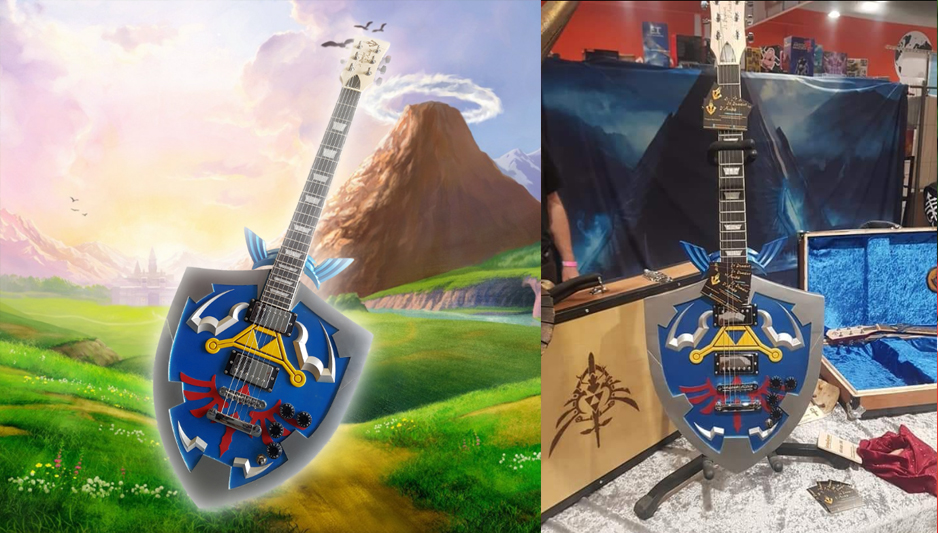 This Legend Of Zelda Custom Axe Shreds Over A Boring Ocarina
When I grew up my dream guitar was always a Gibson. Man were they beautiful, laying there with their oak tones and gorgeous strings just begging to be touched. It was later that I realized that those were pretty expensive and it was probably best to just settle for a purple stratocaster, which I did and it was fine. But the dream was to always own a piece of history. Now I've come across this Legend of Zelda custom guitar and I can't look away. This is something that needs to be played and I already have the tune all picked out. The Kokiri Forest tune. If you have time here's a ten hour video of it…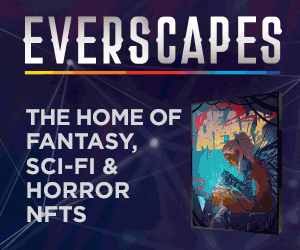 If money were out of the question you bet I would have one of these beauties commissioned. Just look at the amazing intricate detail that went into this design.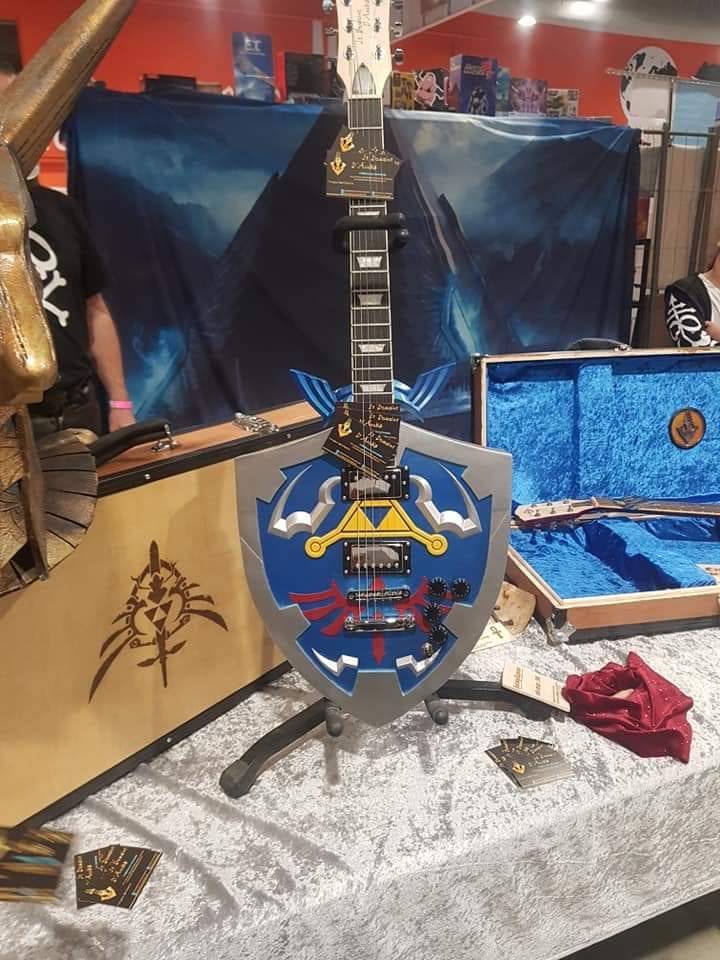 The guitar was found through a link on a Facebook post that featured the amazing custom. It laid out where to find the artist and upon looking at their portfolio online I also found another creation that would be fun to own.
About the Artist
Le Domaine d'Anubis has their very own page in French where they showcase all of their beautiful creations. But don't worry if you can't read French because thankfully Google translate is here for you.
" In 2012, while I was looking for a way to make a decorative element from one of my favorite worlds, I discovered papercraft. A method for making an object from a simple paper model. Quite quickly I got interested in this prodigious technique, but one that requires a lot of patience.
Of course, like any self-respecting enthusiast, I started to frequent the forums that talked about this subject. After a few large or more large-scale projects, in 2013/2014 I started creating an Anubis helmet, from the Stargate film universe, pictured several times in the treasure chamber of this site . That's where my nickname comes from, to answer the eternal question "So why Anubis?".
Of course, I did not stop there, I continued to expand my collection. And that's when I started to present my work at conventions. Subsequently, my desires and needs evolving, I turned to other working methods. The use of resins, thermoplastics, foam work (essential in cosplay), then later new technologies such as 3D printers and laser engraving. And there surprise: big success.
I couldn't count the number of times I heard questions like "wouldn't it be for sale, by any chance?" or "I've been looking for a ******** for a long time, can you make one?"
So I said to myself ok, go go, this is a unique opportunity to live from my passion, I will especially not miss this chance. Thus was born the Domaine d'Anubis, created in January 2019, and opened commercially since May 31 of the same year."
How Can You Get Your Own?
If you would like to purchase or commission your own guitar you can start by contacting the artist on their Facebook page. They also have an option to contact them through their official website. You may want to use Google translate to translate to French before inquiring because I do not believe the artist speaks anything but.
Sign up to Receive the NERDBOT News!