Dungeons & Dragons is celebrating the fifth year of Fifth Edition and forty-five years since the very first publication in 1974. Can you believe it? In response to this achievement, the company has teamed up with Level Up Dice to create 1,974 sets of epic dice. The D&D Sapphire Anniversary Dice Sets are made of anodized luxury aluminum and one of the two included d20s will feature a lab-grown sapphire.
Each set of dnd dice consists of a total of eleven dice. That's 2d20s, 1d12, 2d10s, 1d8, 4d6s, and 1d4 and will come with a custom dice box and tray combo. In addition, consumers will receive a foldout card with the game stats for adult sapphire dragons, an exclusive sticker sheet with the D&D ampersand, and a collector's card for authenticity.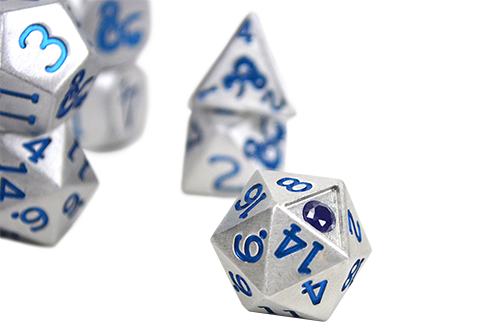 This set will cost you a pretty penny, however. With each set sosting $299.99. If you are still insterested, the set will be released November 21 on the official site. Talking about creating these dice, Nathan Stewart from Wizards of the Coast said:
"When the D&D team realized the sapphire is the traditional anniversary stone for both five years and forty-five years, and that adding a laboratory-created sapphire to a twenty-sided die wouldn't jeopardize the integrity of a roll, we couldn't pass up the chance to make something really cool to celebrate the milestones. The team put together a fun product for our fans that includes art and newly updated stats for sapphire dragons, making these classic dragons ready for play in your next D&D session."
What do you think of this dice set? Is it a must have for your collection? Let us know in the comments below!