During a routine screening at the Philadelphia International Airport on Monday December 27th, a teddybear was seized and searched after the agents noticed something suspicious onscreen. Upon further investigation, officials discovered the bear had been re-stitched, and that two knives had been concealed inside.  The bear belonged to a nine year old boy who's mother told the Transportation Security Administration that it was his comfort toy.
The knives were inside a Build-a-Bear Darth Vader teddybear. The TSA is unsure if the mother was responsible for the knives or the son, but she will be the responsible party here. She will likely face a federal penalty for trying to sneak the knives through security.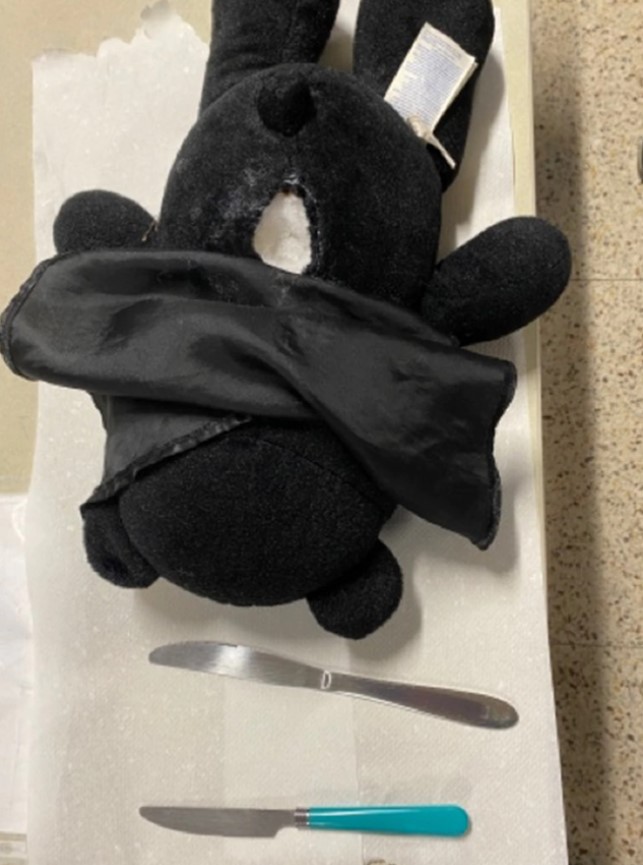 "This is a good example of why we cannot assume that something as innocent-looking as a child's stuffed animal is not a risk to security," said Gerardo Spero, TSA's Federal Security Director for the Philadelphia airport. "Someone intentionally attempted to conceal two knives inside this 9-year-old boy's toy for whatever reason. It was a good catch on the part of our TSA officers." 
The identity of the woman was not revealed.
I suspect that the knives were probably shoved in there by the nine year old who was messing around. First of all they're butter knives, and one looks like it's for a child. Second, Build-A-Bear has stitching on the back that's not hard to get apart and shove something inside of. It's likely that the TSA was unfamiliar with Build-A-Bear stitching methods since they stuff them and pull the string to tighten, only tying a knot at the top and cutting away loose ends.

Either way, maybe check on your child's comfort items before flying?