"WandaVision" is now taking the Marvel Cinematic Universe, and its one of the best projects we've seen yet. The show is incredible, and if you haven't seen it I fully recommend it. In the series, Wanda (Elizabeth Olson) and Vision (Paul Bettany) come up with a pair of wedding rings that are stunning and now you and your partner can have a set of your own!
Entertainment Earth has an exclusive prop replica of the set that Wanda creates for herself and Vision.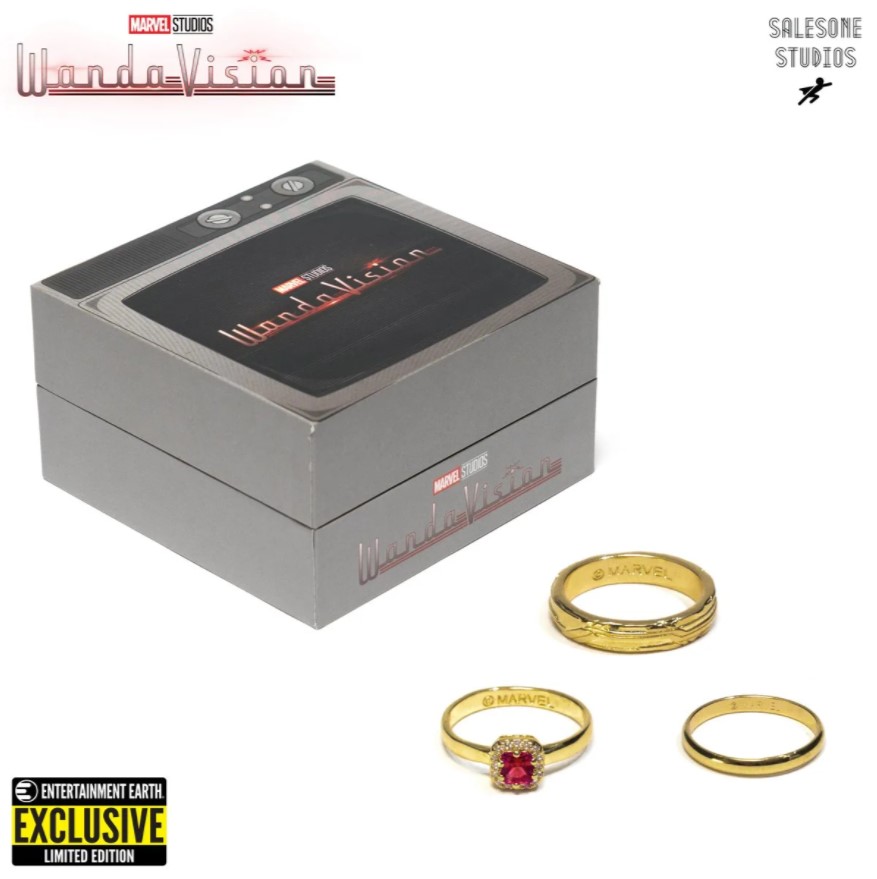 Entertainment Earth Exclusive:

The WandaVision Wedding Rings Prop Replica 3-Piece Set – Entertainment Earth Exclusive is fashioned after the rings seen in the TV series. All three rings are made of stainless steel, and Wanda's two rings measure approximately a women's size 7, while Vision's ring measures approximately a men's size 10. You can only get these from Entertainment Earth, and quantities are limited, so order yours now so you don't miss out!
After defeating Thanos, Wanda (Scarlet Witch) and Vision are living the newlywed life, trying to conceal their powers. But as they begin to enter new decades and encounter television tropes, the couple suspects things are not as they seem.
If you haven't seen it and want to read a non-spoilery review of it you can check out what our writer Derrick had to say here.
DISCLOSURE: This post may contain affiliate links. Meaning when you click the link and make a purchase, we receive a commission, which helps Nerdbot keep the lights on.