One of the things that drew many people in with the first season of Stranger Things was the way they somehow captured that Spielbergian 80's vibe so well. Anyone who grew up with movies like E.T and The Goonies instantly felt at home, like putting on an old sweater that reminded you of home.
The good news is that the Duffer Brothers have managed to retain that same magical feeling while upping the stakes and increasing the scale for the show's second season. Part of that upscaling involves several new cast members including 80s legend Sean Astin and new addition to the gang Max who, in classic eighties-style misdirection, is a girl.
One of the most interesting elements of the new season, and I warn you there are minor spoilers ahead, is that although we see the gang working together like they always do for a sizeable chunk of ST2 they are actually separated into some new and interesting pairings.
The first example of this is between Hopper and a returning Eleven, who some feared we had seen the last of with her dramatic season one finale. Thankfully the Duffer brothers are smart enough to know when they're onto a good thing.
In pairing her up with Hopper we get to see new elements of both characters, which stops this becoming a simple retread of what has gone before. We also get a large slice of backstory for Eleven, which answers some critics comments that the character lacked depth as it introduces us to people who were a key part of her life before she met the boys.
Possibly the most surprising pairing of the season is that of Dustin and Steve; anyone who tells you they saw that coming is a liar. It makes for a very sweet bromance however, that starts out as purely for laughs but actually becomes something quite touching by the end of the series.
More importantly this shows that the Duffer brothers are taking the evolution of their characters into consideration, having them grow emotionally as well as physically. This is key to keeping a series fresh and interesting when your main characters are kids, with the writers discovering who their creations really are by allowing the kids to discover themselves.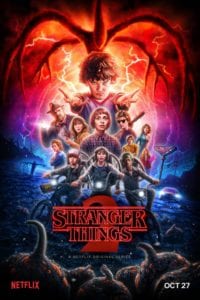 This seasons big bad also doesn't fail to disappoint, and interestingly becomes something very different to that which I personally expected from the brief glimpses we are given in the trailers. The threats aren't just supernatural this time around though, with Red Ranger Dacre Montgomery providing a very human antagonist in the form of Max's older step brother Billy.
When the hype around season one had died down everyone came out saying they wanted more, and the Duffer Brothers certainly haven't failed to deliver. ST2 is bigger, bolder, scarier and also a lot more touching. If the standard continues to increase in this way then ST3 is going to be just as unmissable as it's predecessors.
What did you think about Stranger Things this time around? Let Nerdbot know in the comments!