NuMetal band Papa Roach is leaning into the memes. They've announced a new merch item, the "Cut My Life into Pizzas" pizza cutter. Now that's how you enter the home goods game! It seems like the rock band likes the meme lyrics to one of their popular songs too.
The band has unveiled a line of home good products called "Broken Home Goods." We have to admit the cheeky wordplay is definitely funny. The kitchenware is headlined by the pizza cutter, which is going for $29.99. The products are rounded out with an apron, "Ego Drip" coffee, and a "Grind These Beans into Pieces" travel tumbler. Currently you can pre-order the apron and pizza cutter bundle. They also bundle the coffee and travel tumbler.
The whole "Broken Home Goods" line sounds like perfect gifts for the upcoming holidays. They are great for the people in your life who love rocking out in the kitchen. The "Ego Drip" coffee is described as "70% Ethiopian / 30% Brazil Natural – With a flavor of Blackberry, Milk Chocolate, and Blueberry." Definitely sounds like a good blend for fans of the band.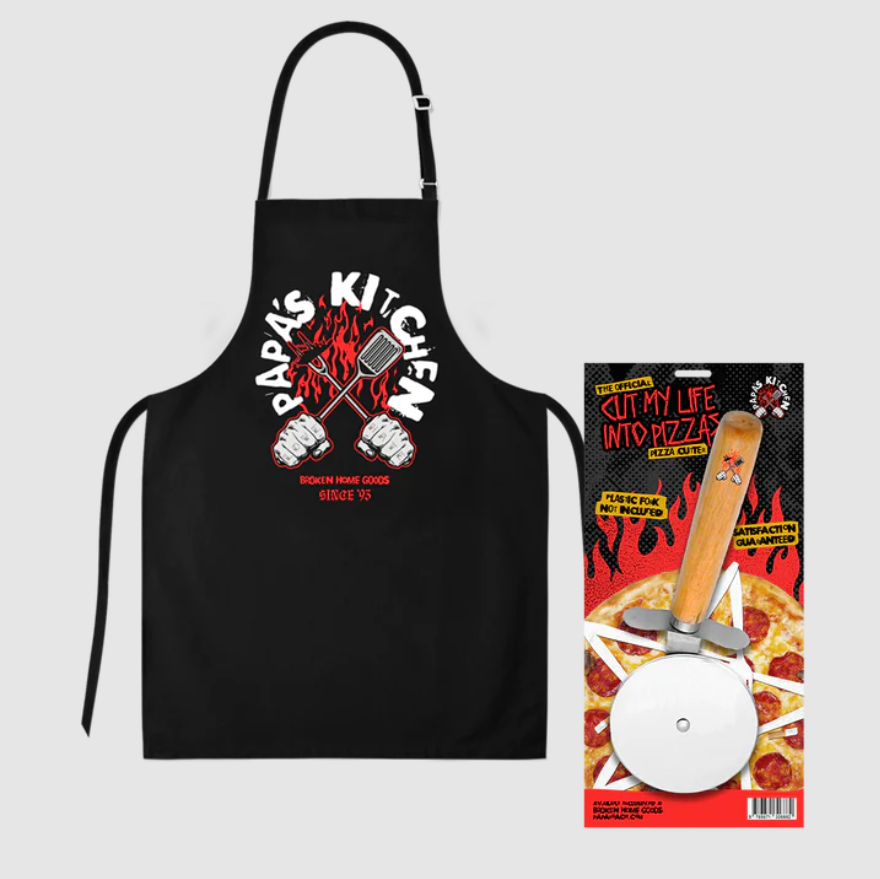 The apron itself is $29.99, or you can get the bundle with the pizza cutter for $46.99. While you can get the coffee for $29.99 and the tumbler for $39.99, you can bundle the two for $59.49. The band is promoting their home goods line with a cheeky nod to infomercials.
Check out the official Papa Roach shop to order from the "Broken Home Goods" line now. Preordering the pizza cutter now, should see it ship on or before November 17th, 2023.