Chuck E. Cheese is truly a place where a kid can be a kid. Or at least it was. DumbGood is letting you relive some of that magic through a new adult clothing line. The new line consists of two different styles of hats, two sweatshirts, sweat pants, a button-up t-shirt, shorts, and a mini crossbody backpack.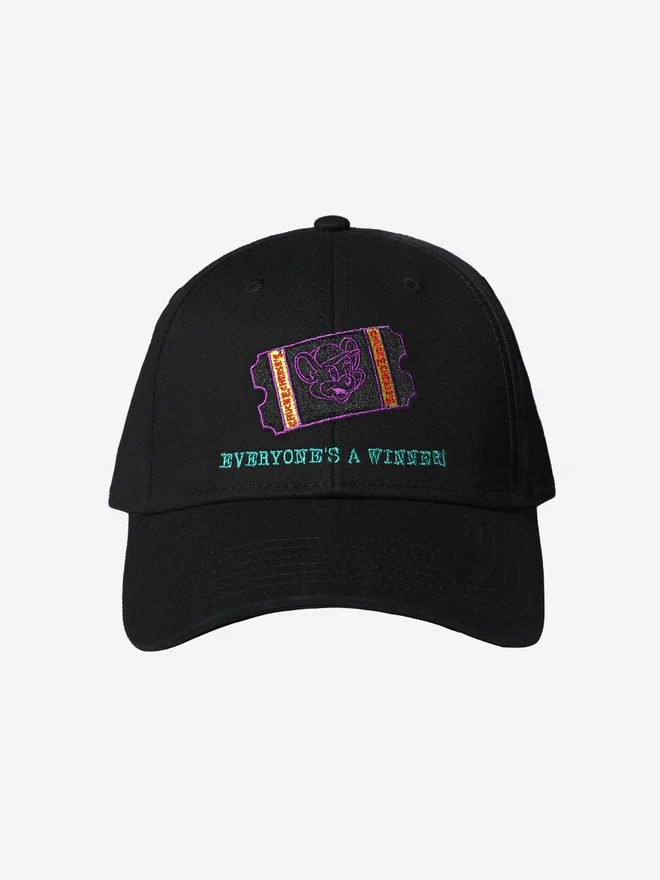 Everyone's A Winner Embroidered Hat, this black baseball cap has an adjustable strap that will fit most sizes. On the front, it has a ticket with Chuck E. Cheese's face and "Everyone's A Winner" written underneath. On the back, we get a full-color version of the lovable rodent along with the brand's logo and slogan "Where A Kid Can Be A Kid" in blue stitching.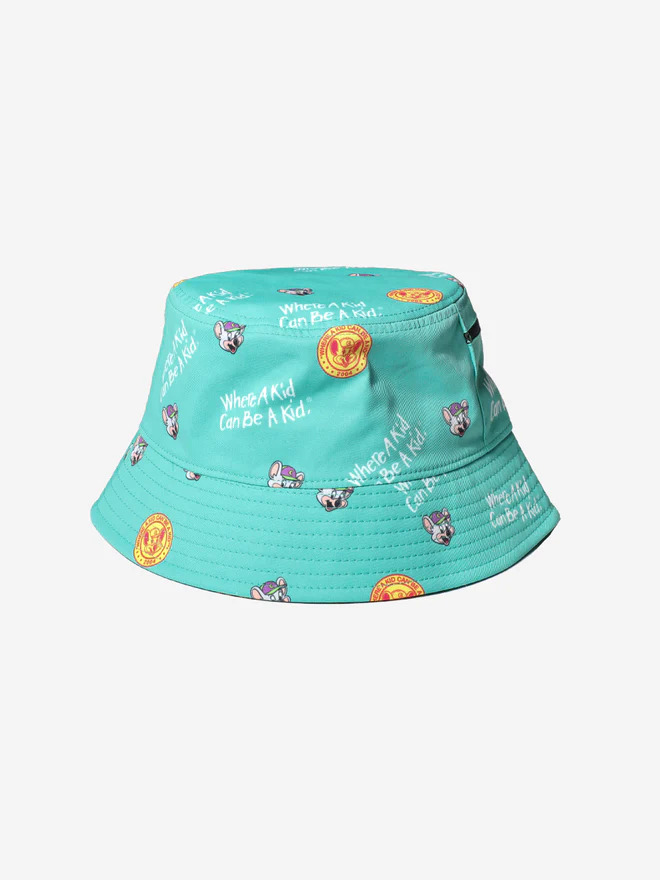 Repeat Embroidered Bucket Hat, is the second style of hat. This 100% cotton bucket hat is light blue with a repeating pattern of Chuck E. Cheese's face, the company logo, and the slogan jumbled together. It also has an ultra-cool mini zippered pocket built in. In case you really missed your KangaROOS. It is one size fits most and a Dumbgood exclusive.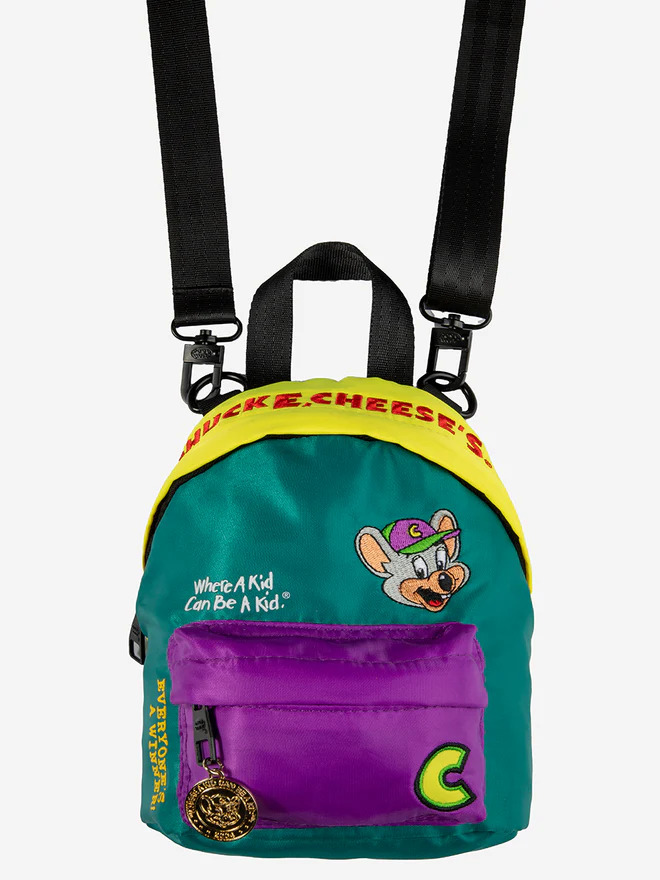 Mini Backpack Crossbody, is also exclusively available at Dumbgood. This bag measures 4.75″ wide X 8″ high X 2.25″ deep. It has a top handle, and a removable strap, for plenty of carrying options. Plus additional storage with a front zip pocket, and a token for the zipper pull. It comes in Chuck E. Cheese's signature yellow, blue, and purple color scheme.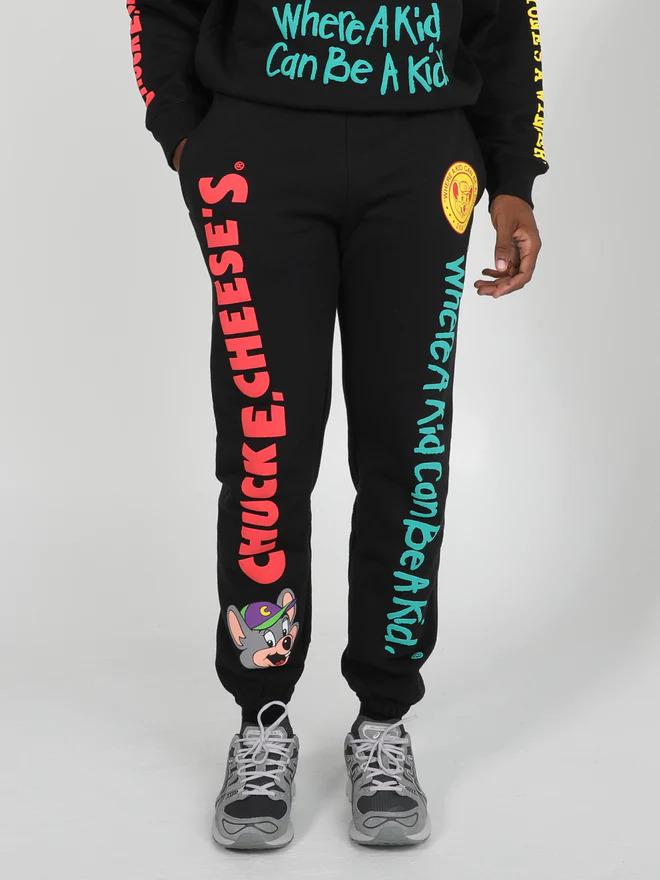 Be A Kid Puff Print Sweatpants, these pants are perfect for the colder months, or just to chill out in. They are a relaxed fit with a drawstring waist and side pockets. One leg has Chuck E. Cheese written in red with a picture of the mascot. The other has their slogan in yellow with the restaurant's logo.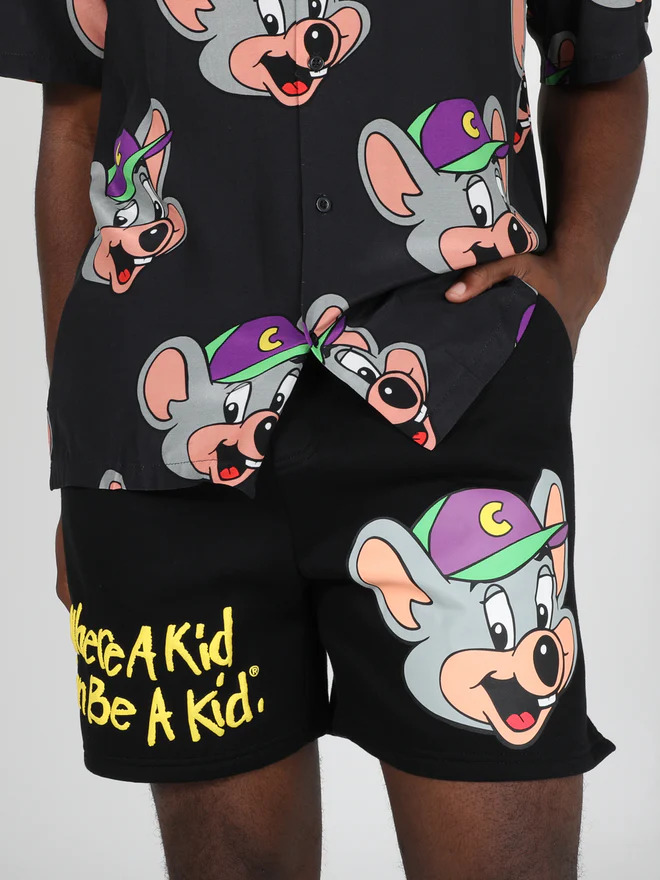 Be A Kid Shorts, but summer is always just around the corner with these black shorts. They feature an inside drawstring with side and back pockets. These 80% cotton and 20% polyester shorts have a large puff print drawing of the iconic mouse on one leg. While the other sports the company slogan in yellow.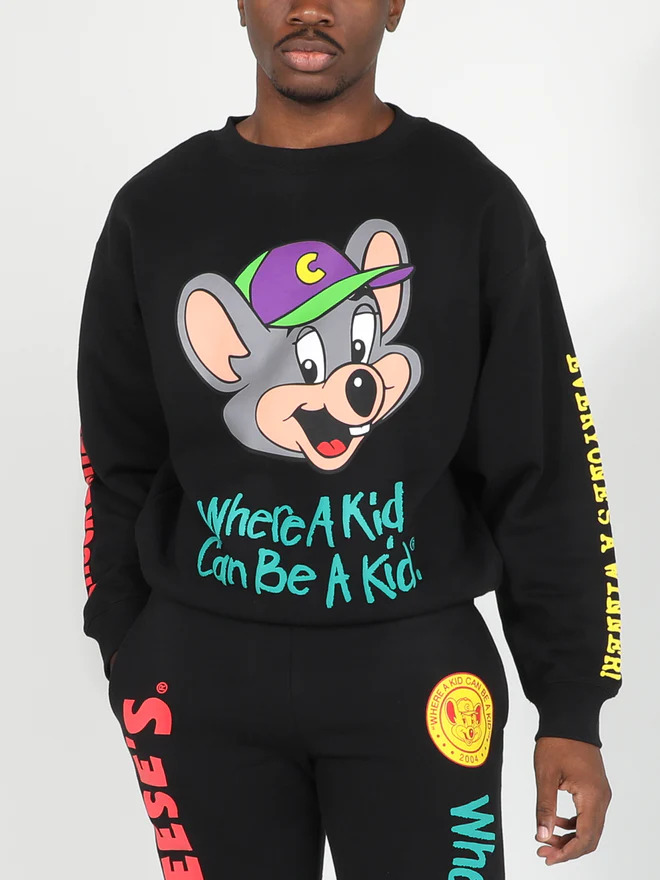 Be A Kid Puff Print Crew Neck Sweatshirt, pairs nicely with the sweatpants. This is a 100% cotton long-sleeved ribbed crew neck sweatshirt. The front has a puff print design of Chuck E. Cheese's face and "Where A Kid Can Be A Kid" written in light blue. The right arm says Chuck E. Cheese. While the left arm says "Everyone's A Winner" in yellow. The back has the company logo in yellow and a purple game ticket.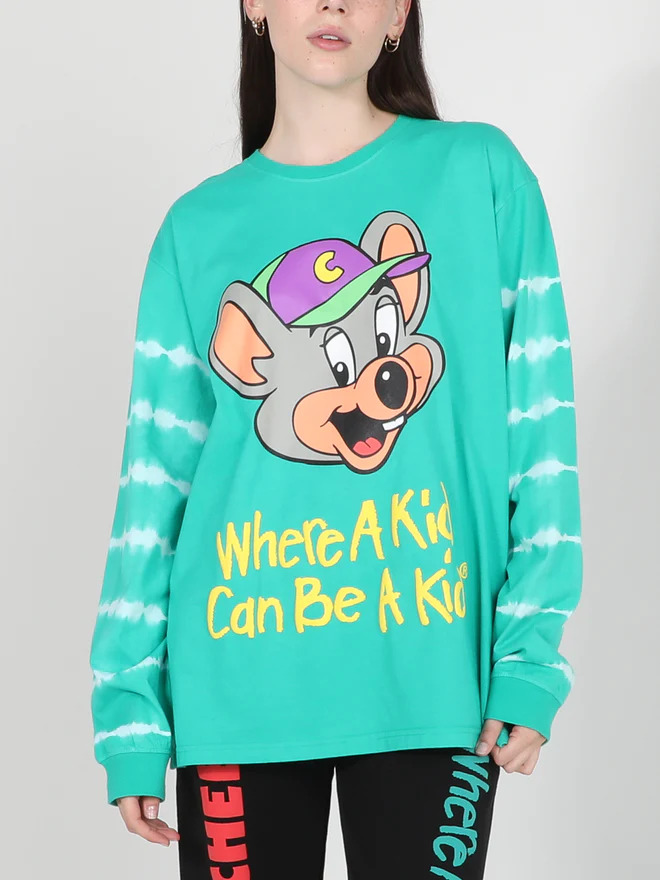 Be A Kid Tie Dye Long Sleeve, is a light blue ribbed crewneck longsleeved t-shirt. The front and back are the same as the sweatshirt mentioned above. The cool thing about this one is the body is a solid color but the sleeves are tie-dye. Dumbgood even states they are individually hand dyed so each piece is unique.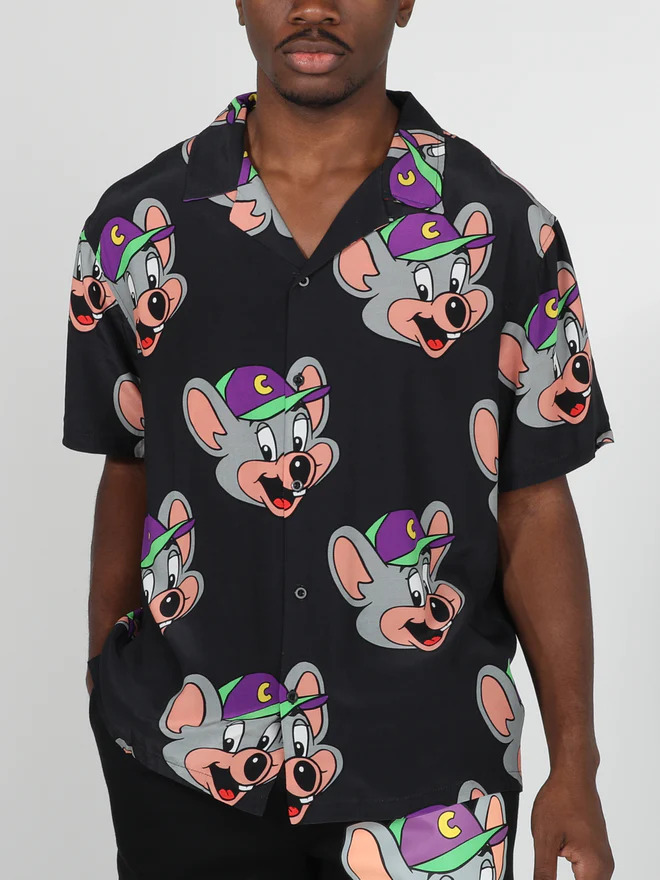 Repeat Button-Down Shirt, this is a unisex relaxed fit short-sleeved button-down. Made from 55% viscose and 45% rayon this black shirt features an all-over print of America's favorite pizza-loving mouse. This shirt is also a Dumbgood exclusive. 
All of these products are offically licensed to Dumbgood by Chuck E. Cheese. You can check out the entire line here.