Full transparency, I had no intention of ever reviewing food, as my primary repertoire mainly consists of film and television. I'm also not a snacker. At heart, I'll eat anything, but I am very health-conscience and keep a very strict diet that does not include chips and ramen. Nevertheless, as I was perusing the aisles of my local Liquor Market, I came across a collection of Rap Snacks; snacks that are endorsed by famous rappers. Apparently, these have been a hot commodity in places like Atlanta and New Orleans and have only just hit the west coast this year. They are highly favored and coveted, with stores reporting huge sales and selling out of multiple flavors. Who knew chips by Notorious BIG would be such a hot item.
So, as a reviewer and someone who does their best to stay up on the most recent content, I bought every single flavor of both chips and ramen available to try out and review for you. Yes, I went to two different local markets, making sure I didn't duplicate any flavors and covered as many of the flavors as possible. The only flavor not featured here is the Migos Chips as well as any popcorn flavors that are out there. Don't get me wrong, I absolutely adore popcorn as a snack; I'm a theater movie goer, of course I love popcorn. They weren't readily available so we're going to stick with what we could get. This includes 7 flavors of chips and 3 flavors of ramen. Ready those palets!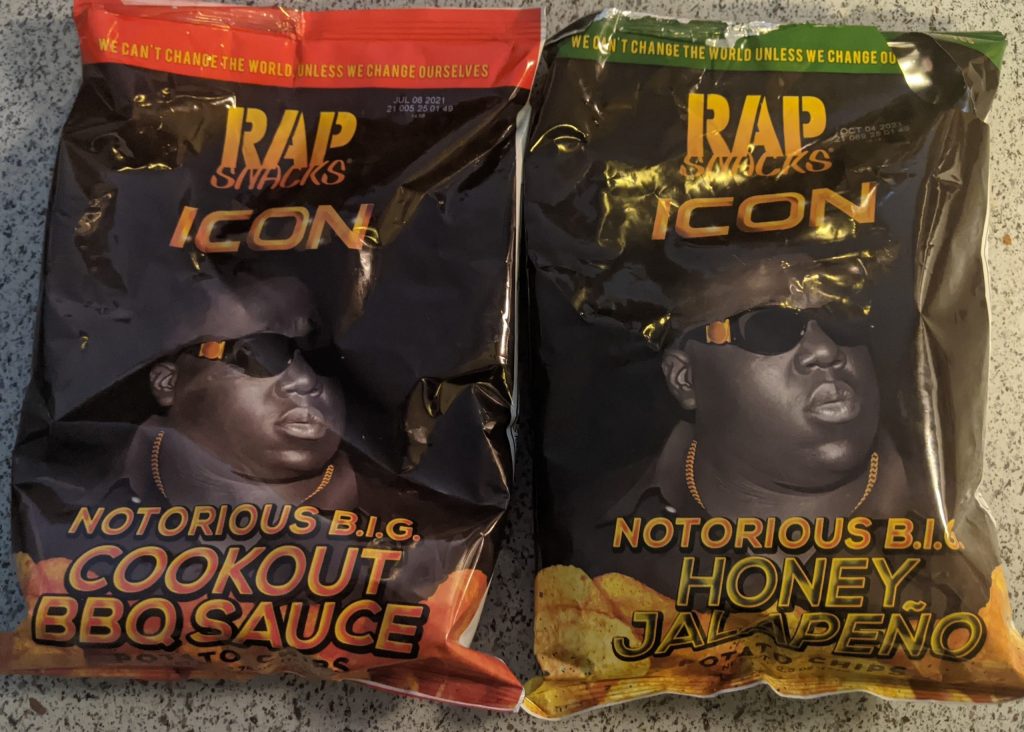 The Rap Snack Chips
I won't lie, 7 flavors of chips is a lot to try in one sitting. I'm of the belief that if you let any chip sit outside of the bag for more than 24 hours, all chips become one flavor. Rap Snacks include chips endorsed by Cardi B, Lil Baby, Notorious B.I.G and Migos (not sampled here). Lil Baby actually had the most flavors, topping out at 3, with Cardi B and Biggie having two flavors each. I have never listened to a single Lil Baby song, but seeing as how modern hip hop is just Lil (insert literally whatever you want here) it's not all that surprising an old school, 90s hip hop head like myself isn't on the whole "Lil Whatever" mumble rap train. whether I care to admit it or not, I know more Cardi B songs than I ever wanted to, as she has made it her goal to be an undeniable tour de force. You don't have to like her, but you absolutely can't ignore her completely. Of course, Notorious BIG is a rap legend, an artist who's two albums stand the test of time as two of the best rap albums to date.
All that to say I'm only a fan of one of out of three Rap Snack rappers, and while this correlates with my chip enjoyment, it is not the definitive reason behind the order of goodness. To make sure I wasn't blinded by my musical tastes, I actually started with Cardi B's Jerky BBQ. Yes, they were WAP: Wavy Ass Potato (chips), and they were actually really damn good. And no, I never ever thought I would write that previous sentence in a professional article. They had solid balance of jerk and BBQ, and tasted as advertised without being overpowering. They are most certainly the kind of chips you can pour out into a bowl, never disclose their originals and watch everyone enjoy Cardi B chips. Her second flavor, Cheddar BBQ weren't as balanced, delivering a heavy flavor of cheddar with very little BBQ. They weren't necessarily bad, just not as advertised. Most of the chips I tried fell into this category; a fine chip but not capable of delivering the full flavors written on the package.
Lil Baby's chips seemed to fall victim to this the most, with almost of all the rapper's flavors not really giving the pallet everything you were promised. For example, Lil Baby's All In One Salt an Vinegar, Garlic, BBQ and More chips were simply Salt and Vinegar chips, heavy on the vinegar. The Salt and Vinegar is so overpowering you wouldn't even know there were other flavors involved. They aren't bad Salt an Vinegar chips, they just aren't all the flavors written on the package. This is the same for his BarBequin' Heat and Cheddar and Sour Cream flavors. The heat added to the BBQ doesn't really hit the mouth in a pleasant way and the Cheddar is missing from the overpowering Sour Cream. Cardi B's Cheddar and BBQ operates the same way, with the BBQ overpowering the cheddar and not really giving you a balanced, as advertised chip. None of them are bad and all of them are edible, but as a word of caution, it's important to know that you're not always going to get what you hope you're paying for.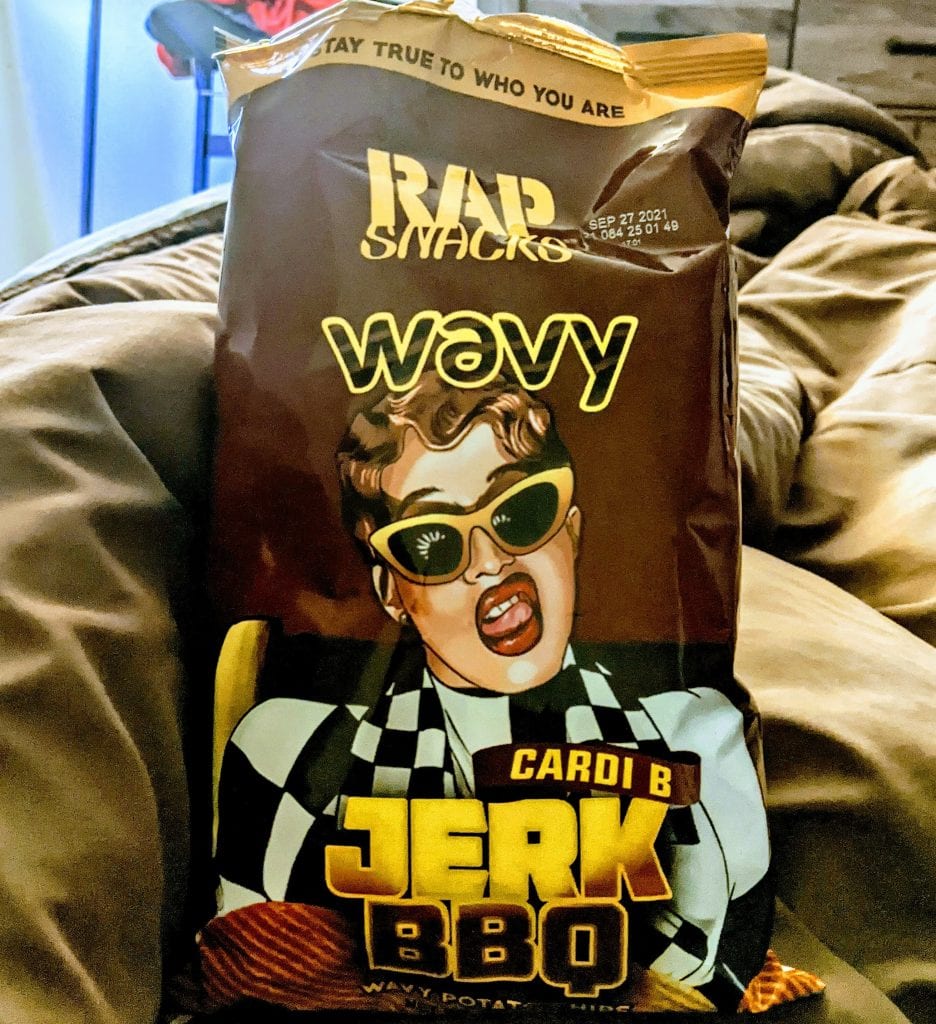 That brings us to the stand outs in the Notorious BIG chips. Both flavors are delectable and addictive, delivering on the exact flavors you hope for and making you want to keep digging into until the bag is empty. While the Honey Jalapeno may be missing the Jalapeno, they are still a great, addictive chip. We actually left both Biggie chips on the coffee table to snack on while we worked while the rest were placed above fridge to be forgotten and thrown out after months of forgetting they existed. The Cookout BBQ Sauce is also a fantastic mouth feel (god who have I become where I write mouth feel and mean it) with a mesquite flavor that absolutely lives up to its cookout name. It seems the chips makers knew what they were doing when the selected which rapper would endorse which chip, letting clearly the best of the best lyrically and musically hold the title for most tasty chips.
Each bag has either a quote or biography of each rapper as well as a picture (probably photoshopped) on their packaging so you won't ever mistake which rapper is endorsing which flavor of chip. To be fair, none of the chips are bad but some are most certainly better than others. As a warning, many of the multi-flavored chips will more than likely feature the first flavor predominantly, so don't expect a party in your mouth if the bag advertises a hip hop party of flavors. This will help you navigate the plethora of Rap Snacks when you go to purchase them, as I'm sure your curiousity will drive you to pick them up.
Ok, I'm nowhere near a ramen expert. Even in my most cheat-iest of cheat weeks or meals, Ramen is rarely a go to choice. I'm simply not a soup and noodle person even in the best of times. For this taste testing to make sure I got the most most accurate gauge of flavors and enjoyment, I enlisted my girlfriend who absolutely loves ramen, soups, and Pho. I tried E-40s Beef Prime Rib, Master P's Creamy Chicken Gumbo, and Boosie's Louisiana's Hot and Spicy Chicken. This who thing started because I came across E-40's ramen and just couldn't help myself; I needed to know everything I could about Rap Snacks. Much like Biggie's chips being the champion, E-40 takes the top marks for ramen here. One of the godfathers of Bay Area Rap and one of the most prolific and inventive rappers to date, it makes sense that E-40s ramen would be the best. To add some home perspective, it was the only ramen my girlfriend actually finished and I didn't have to throw out after a few bites. THIS face, indeed.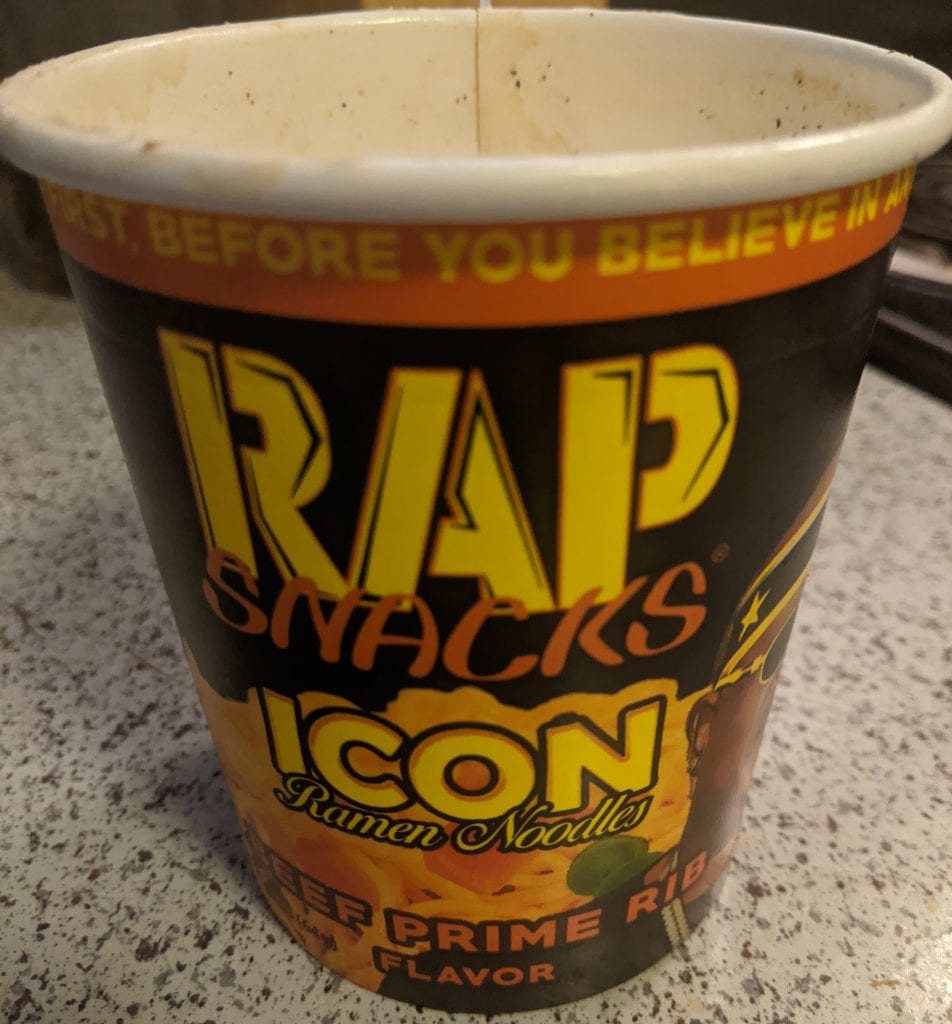 Master P's Creamy Chicken Gumbo is definitely creamy chicken but very low on the Gumbo scale. As someone who has eaten their way through NOLA and am planning to return to the Jazz heartland this week, I have a pretty good gauge of what constitutes a solid, original gumbo. Master P's ramen doesn't quite nail it, but it's still a solid entry into the ramen world. We didn't finish it, but if it was all we had as far ramen goes, I don't think either of us would regret it. It's just ok, but it doesn't make anyone say UGHHH.
No, I will not apologize for any of this hip hop puns. WAP, THIS face, UGHHH; it all stays and I will die on this rap snack hill of taste testing.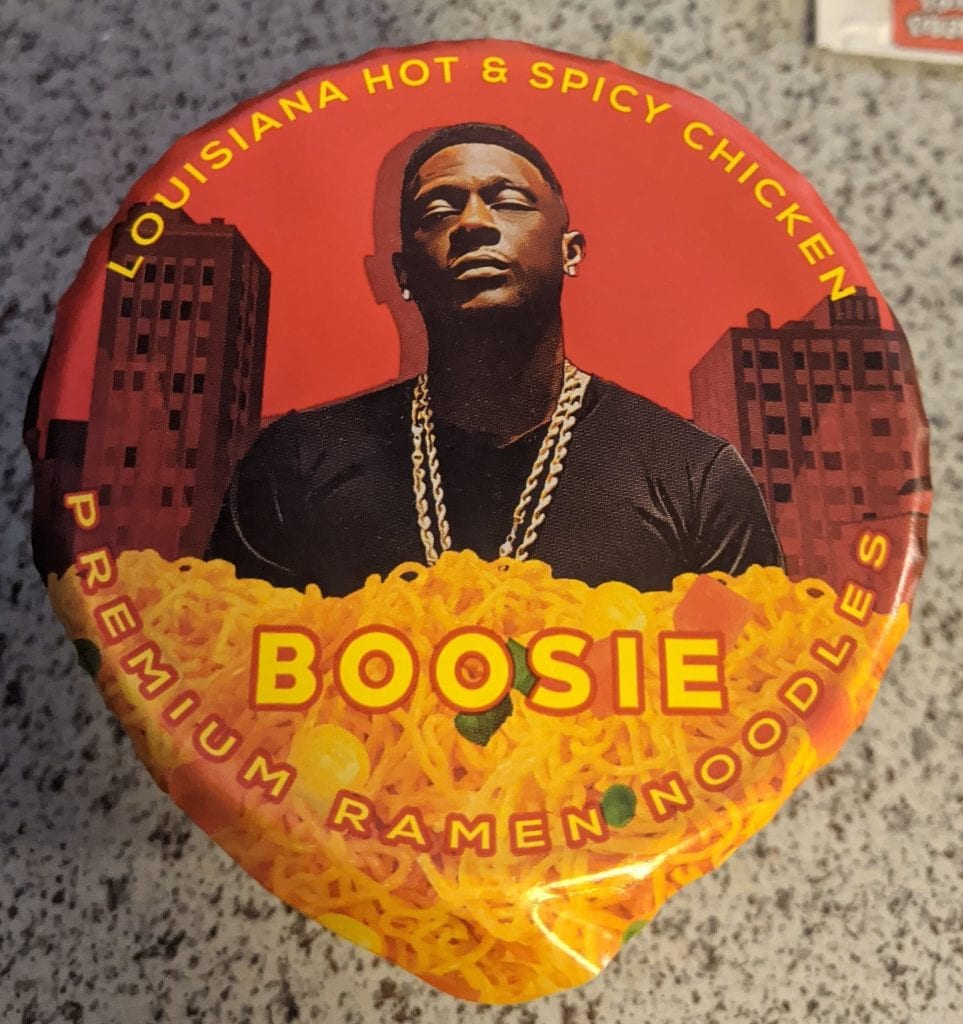 Lastly, we tried Boosie's Louisiana's Hot and Spicy Chicken. This was two fold, as I couldn't name one Boosie song and I don't particularly like spicy foods. Boosie's Ramen delivers on the spice big time, so much so my girlfriend who is a glutton for punishment when it comes to all things spicy had to swig some water after a hearty bite. It most certainly packs a punch, and shouldn't be consumed if you have spicy sensitivities like myself. It surprisingly flavorful, and if you're looking for a punch packing ramen for cheap, Boosie flavor is a solid choice.
So there you go, a review of a collection of Rap Snacks. This is truly something I never ever thought I would do, but here we are in 2021, pushing the limits of professional journalism.
Now if you'll excuse me, I have some Mo' Money Mo' Problems chips to get down on.