The Dragon Prince is scheduled to arrive in September 2018.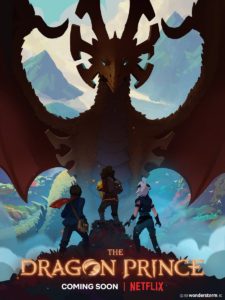 Today, The Verge reports via the Twitter account @SeeWhatsNext (billed as "News about Netflix by Netflix from inside Netflix"), the company announced its plans for a new animated series, written by Futurama and Avatar: The Last Airbender screenwriter Aaron Ehasz. The show will be called The Dragon Prince, and will involve two princes and an elf assassin on a role-playing style quest.
Ehasz worked on Futurama, both on its original run, which ended when Fox canceled the show in 2003, and on Comedy Central's revival in 2009. He was then the head writer and co-executive producer of Nickelodeon's Avatar: The Last Airbender. The Verge also states that Ehasz's co-creator on The Dragon Prince is Justin Richmond, a game developer on Uncharted 2: Among Thieves and game director on Uncharted 3: Drake's Deception. According to the description for an upcoming Dragon Prince panel at San Diego Comic-Con, Giancarlo Volpe, a frequent director on Avatar: The Last Airbender and Star Wars: The Clone Wars, is executive producer on the series.
Nerdbot will pay close attention to this story and post more information as details unfold. What do you think about the burst of fantasy cartoons on the rise? Do you find it exciting? Will you watch them? Let us know what you think in the comments and get the conversation going!
Author