For all the drama surrounding the making of the film, one could only hope the actual finished product would be worth the headlines. Toxic production, fired actors (or not?), public disputes, spit (allegedly), and custody papers to boot, "Don't Worry Darling" had a lot to overcome long before it ever premiered. Unfortunately, the real world drama of making the film turns out to be far more interesting than the film itself. Strangely, many of the aforementioned production issues are the least of the film's problems. You really wouldn't know any of those things occurred if all you did was watch the movie.
Where "Don't Worry Darling" really struggles is with itself, crumbling under its own ambition and unable to pull out anything unique or memorable from the rubble. It is desperate to dust off old themes and tries to tell an old story in a new way. What transpires is a film that feels like something borrowed that never becomes fully realized, and doesn't have anything to say for itself. This is a really well-made bad film, with stellar production value and powerhouse performances, but none of which overcome the rest of the films glaring shortcomings.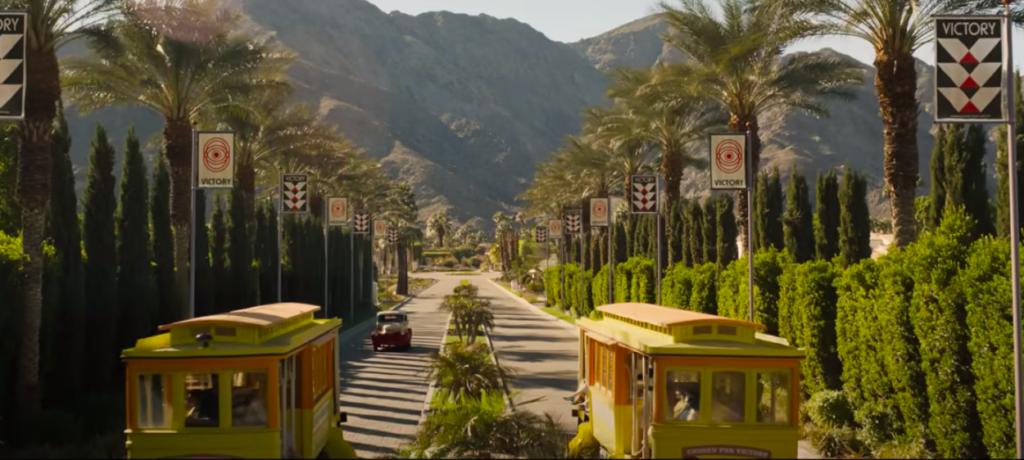 "Don't Worry Darling" reunites duo Olivia Wilde and Katie Silberman, who directed and wrote the critically acclaimed 2018's "Booksmart." The film follows Alice (Florence Pugh) and Jack (Harry Styles), a young couple living in a small, seemingly perfect company town in the secluded desert of Victory, California in the 1950s. The men head off to work at the headquarters of The Victory Project, while the women stay home to cook and clean and be the perfect dutiful wives. Everything seems too good to be true, that is until Alice starts asking questions about the mysterious company Jack works for. As she starts to peel back the layers of the world around her, she begins to crack under the pressure of discovery. Soon enough, her curiosity begins to threaten their whole community, jeopardizing everyone's utopian way of life.
I don't really know where to start with "Don't Worry Darling," mainly because I'm not entirely sure the film itself even knows. Wilde certainly made good on her promise that her next film after "Booksmart" would shoot for the moon, but she's trying to reach it with a tall ladder instead of an actual spaceship. For all the unique settings and cinematography and gorgeous scenery, there is actually very little that sets "Don't Worry Darling" apart from pretty much any other film that tackles the same themes and concepts. It simply wreaks of unoriginality, and once all is revealed it leaves you feeling hollow and unsatisfied. It's not even the predictability of the outcome (which many of us could probably see coming a mile away even if we don't know all the details of how or why) that holds this from sticking the landing. It's more so that none of the ideas and themes presented are ever fully realized in a way that makes any sense. With every new answer we are given, we are left asking more questions and not the kind you should be wanting your audience to ask.
Siberman's screenplay feels like it's grasping at straws, desperately pulling on every string it can find but never pulling hard enough to make anything actually work. Subplots start and stop with rapid fire pacing, and for the first two acts the mystery provides some armor from full exposure. But once "Don't Worry Darling" begins explaining itself, the script falls apart almost completely. Imagery ends up becoming a little more than cool shots and not much else, failing to find its purpose in the overall story. Frankly, there's a good 30 minutes of film that could be cut and you wouldn't even know it was missing. And that's not just because of its redundancy of thematic imagery, but again because "Don't Worry Darling" doesn't have anything of its own to say about its own themes. It just creates them in dazzling shot composition and style, and then asks us to sift through it all and find the purpose ourselves.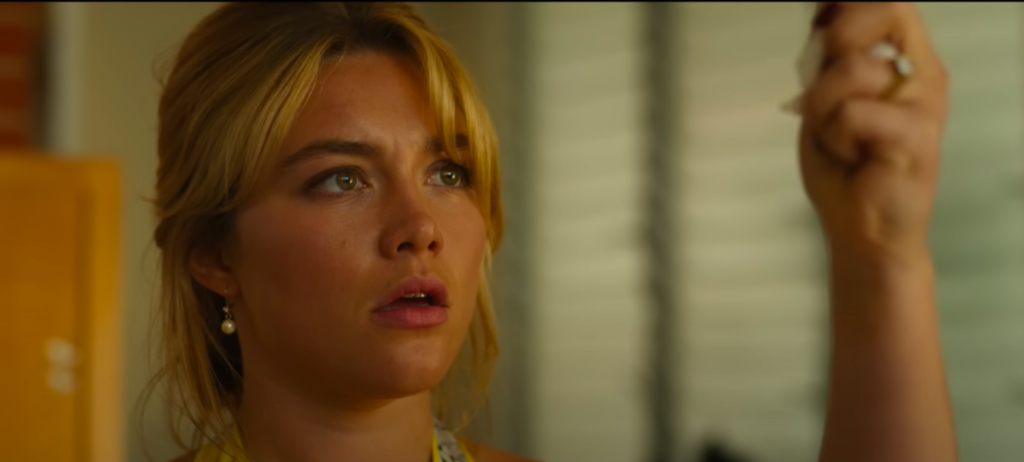 As a film, "Don't Worry Darling" is really bad, and terribly uninventive. And it would probably be borderline unwatchable if it weren't for the incredible cinematography of Matthew Libatique (a Darren Aronofsky favorite, with "Requiem for A Dream," "The Fountain," "Black Swan" and more under his belt) and the powerhouse performance from Pugh. Libatique demonstrates why he is one of the most unique visionaries in cinematography working today, packing immaculate color pallets and outstanding scenery. When we're still figuring things out, Libatique beautifully creates a true form 50s utopia, and elevates the film to at least look beautiful from start to finish. And there's Florence Pugh, who just can't seem to miss in anything she decides to do. I've been a fan of work since "Fighting With My Family," and she chews through scenery with every single moment of screen time. The film barely works most of the time, but it doesn't work at all without Pugh's incredible performance as Alice.
This also brings us to Harry Styles as Jack, who does the best he can but is clearly too green to go line for line with someone like Pugh. And boy does it show. There's a bit of mix of Styles being too young and inexperienced in front of the camera and just a rather poorly written character in need of the Pugh treatment. I've heard some critics really go after Styles, even someone calling him the Tommy Wiseau of "Don't Worry Darling." I wouldn't go that far, and that's a bit of a stretch considering he's just barely getting his feet wet in the acting world, and has to go up against the likes of Pugh, Chris Pine and Gemma Chan. Personally, I think Styles has all the makings of becoming a legitimate actor, and while much of his line delivery falls flat and his performance feels forced at times, he's really doing his best. The real problem is having to be constantly paired with Florence Pugh, and there is just too wide of a gap between them in skill to make them feel like a truly develop couple.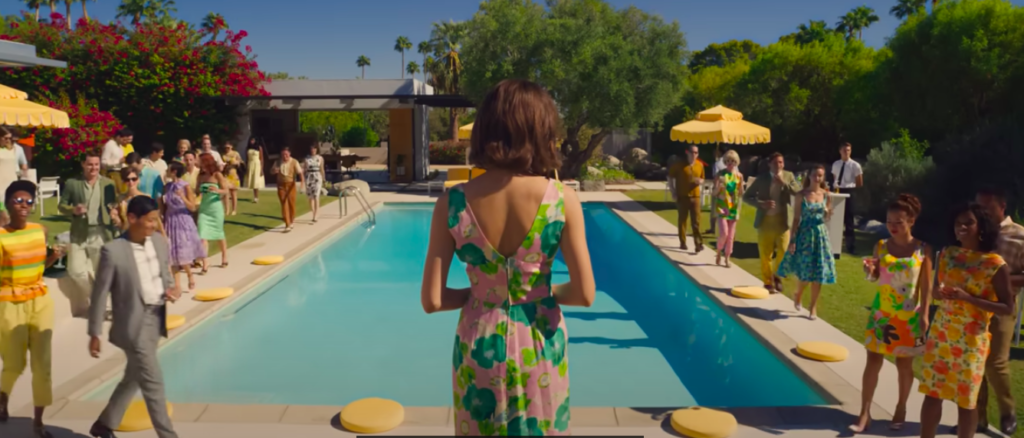 Pine and Chan are fine here, with Pine once again having a blast hamming it and oozing that smug charm he's grown rather fond of lately and Chan saying a thousand words with nothing more than pain behind her deep blue eyes. Chan has perfected the art of saying everything without ever uttering a word, and while "Don't Worry Darling" uses her rather sparingly, her performance is true to form in what we would expect. The film as whole though belongs to Pugh, and she is by far and way the best thing about this movie, with the cinematography and visuals being a very close second. Anything past these two and there just isn't anything interesting, original, or memorable left to make the film worth watching.
All in all, this film is a beautiful mess; dazzling to look at and somewhat intriguing until we know what's going on, and then it all falls apart. At worst, we sit through a derivative mess that looks amazing but has nothing to say. At best, we sit through a derivative mess that looks amazing and gives us another example of why Florence Pugh should be in everything.
Sadly, in the case of "Don't Worry Darling," you should worry. A lot.
Rating: 2 out of 5 stars
"Don't Worry Darling" hits theaters September 23rd. You can watch the trailer below.