We really enjoy following auctions around here. Places like PropStore, Profiles In History, and other houses often have impressive things listed. Like this recent sale of an iconic piece of comics history. Action Comics #1 is the world's most coveted comic, and one of the most collectible books out there. The issue has the first appearance ever of Superman, and is considered the key factor that was responsible for the big super hero comic boom. A recent sale from Heritage Auctions has set a new record for the comic, selling for over $3 million. The final price, including the buyer's premium, comes to $3,180,000.00.
Aptly named "The Rocket Copy" because the front cover bears the stamped imprint of a rocket ship that was applied by the 13-year old who bought this copy of Action Comics #1 off the stands in 1938. It's the first original-owner copy of the issue we've offered since the Billy Wright copy in 2012, and it's the highest-graded copy we've ever presented.


Heritage Auctions Listing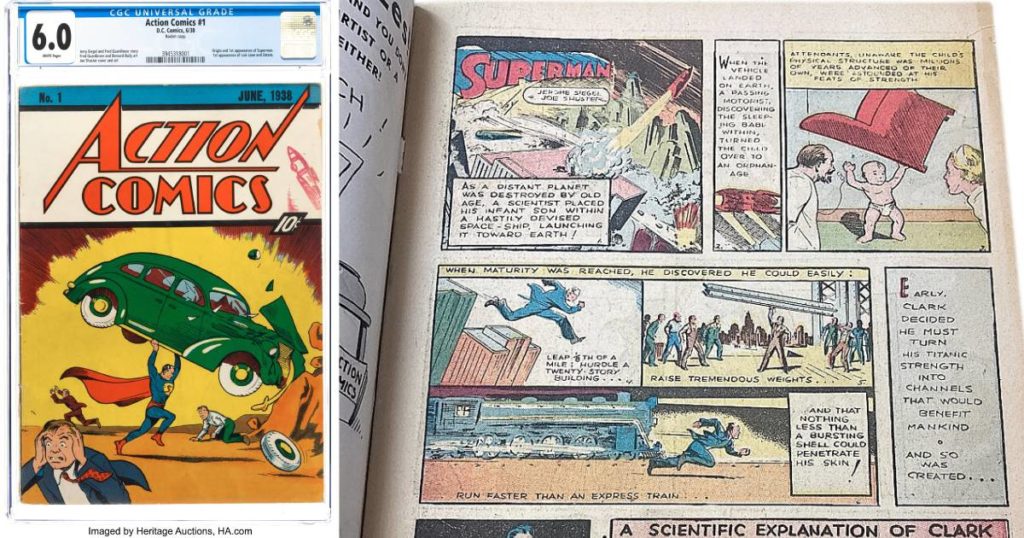 The comic sold was graded a 6.0, so it was in what collectors would consider fine condition. Grading comics is done on a very accurate scale, so a 6.0 would mean "A slightly above-average collectible with a major defect and some smaller defects, or a significant accumulation of small defects." A 10.0 would be mint condition and anything above a 9.0 only containing slight manufacturing defects if any.
It becomes the third most-expensive comic of all time. The recent sale of an original page from Marvel Comics' Secret Wars No. 8, featuring Spider-Man's first appearance in the black suit, topped out at $3.36 million.