It wouldn't be a month in 2021 if we weren't all speculating on the release of the "Spider-Man: No Way Home" trailer. After a fairly active weekend on the web (pun totally intended)- i.e. a possible 'leak'- current Spider-Man star Tom Holland is once again fueling the fire.

In a story posted to his Instagram, Holland sorta teases fans that they "ain't ready."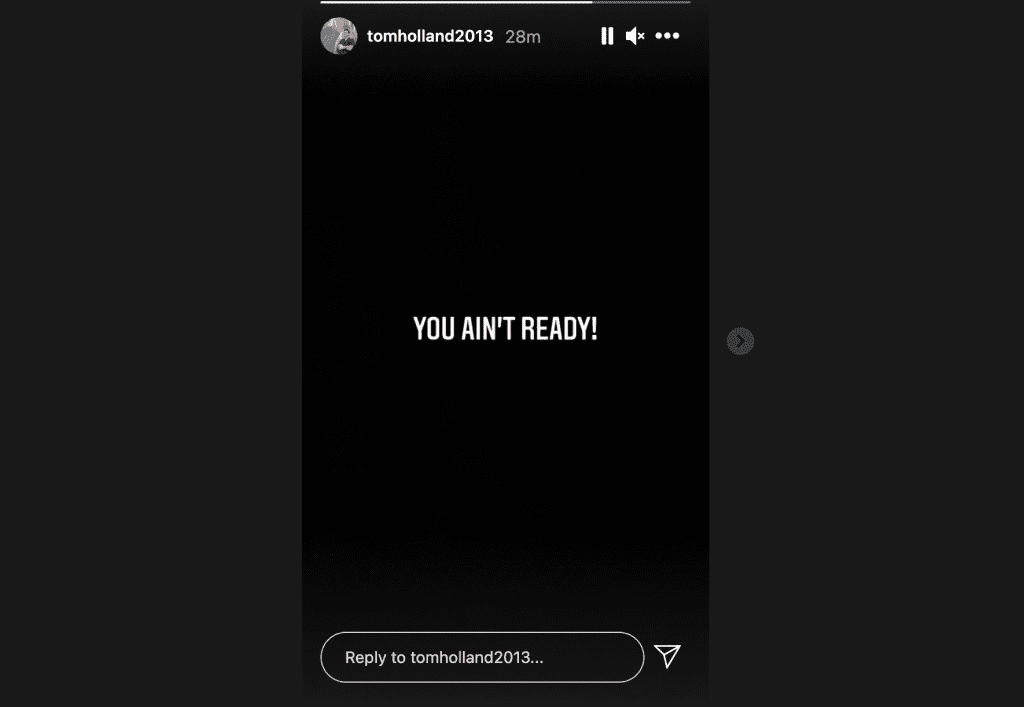 The trailer is most likely going to premiere theatrically in front of Marvel Studios' next release, "Shang-Chi." But, sources all seem to agree Sony was going to premiere the trailer during CinemaCon 2021 happening this week in Las Vegas.


We know this title is likely to tie into Marvel's multiverse, especially considering a few key casting confirmations. Jamie Foxx notably tweeted about his involvement, removing it shortly thereafter. Also, Alfred Molina as Doctor Otto Octavius.
What we DON'T know is exactly how many previous Spider-persons we may be seeing in this film. Rumors have been rampant for months that pretty much every actor to play Spider-Man in live action American feature film form (sorry, Japanese Spider-Man) would be appearing. Also, notable villains such as Willem Dafoe's Norman Osborne (aka Green Goblin in Sam Raimi's 2002 film), Dane DeHaan's Norman Osborne ("Amazing Spider-Man 2" 2014), and Michael Keaton's Vulture, just to name a few. Pretty much every single villain from a Spider-Man flick has been rumored as appearing, so anyone is likely at this point.
Also, we know that Vulture is appearing in the Jared Leto-led "Morbius," and maybe not "No Way Home."

"Spider-Man: No Way Home" will be directed by Jon Watts from a script by Chris McKenna. It's currently slated to swing into theaters on December 17th, 2021.