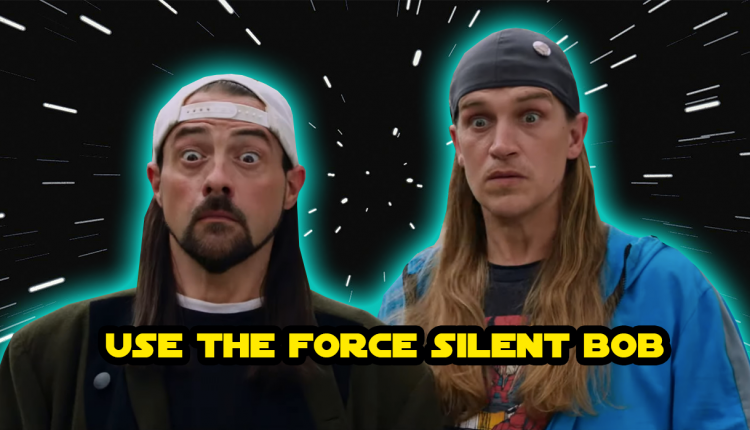 Silent Bob Realizes He Has The Force During 4DXperience VideoCast
Kevin Smith is always a team player. That's why when Dan Fogler asked him if he could do an impression of Silent Bob realizing that he had the Force, he was game! It was nothing less than what we would expect from the great Kevin Smith. Watch as he does this amazing impression which I now consider to be canon in the Jay and Silent Bob universe.
If you missed the live stream you can catch the whole thing at the bottom of this article. The show airs LIVE every other Saturday on Nerdbot's Facebook page at 4PM (pst) and is always full of hilarious treats. Make sure to give Nerdbot a follow to stay up to date on the Dan Fogler 4DXperience VideoCast. And if you miss it don't worry, we post the full thing on our YouTube channel so that you can watch it there as well.
The Dan Fogler 4DXperience is a (sometimes cannabis fueled) hilarious hang out of some of your favorite stars from big and small screen led by one of the most infectiously funny personalities today. Dan is also one of the best physical-comedy stars on screen right now, and the new video format of the show, which will be carried on Nerdbot, will give that element a chance to shine and infect hundreds of thousands with some much needed laughter.
We'll talk films, shows, musicals, weed, and do impressions. Whether it's Dan impersonating Al Pacino having sex, Cooper Andrews doing James Earl Jones social distancing, or Ross Marquand doing Werner Herzog at Costco- there will be LEGENDARY viral moments each show. We're also looking to make this one of the most fan friendly and inclusive shows, so look for ways fans can be involved. We'll have polls, Q&A, and maybe even bring fans on to the zoom chat live."
Sign up to Receive the NERDBOT News!