New Inheritance Cycle, Eragon, Book Announced
For those fantasy novel lovers, you may have picked up a certain series named "The Inheritance Cycle". Christopher Paolini had created a popular fantasy world Alagaësia that many of us had come to know and love (or hate as the last release created some stir, not to mention that movie… What movie? Exactly).
After leaving the world of Alagaësia in 2011, it looks like Paolini is back!
This time with The Fork, the Witch, and The Worm – Tales from Alagaësia (Volume 1: Eragon).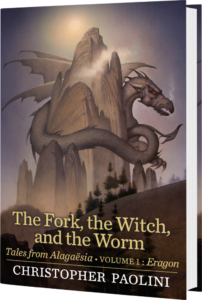 The official synopsis:
"A wanderer and a cursed child. Spells and magic. And dragons, of course. Welcome back to the world of Alagaësia.
It's been a year since Eragon departed Alagaësia in search of the perfect home to train a new generation of Dragon Riders. Now he is struggling with an endless sea of tasks: constructing a vast dragonhold, wrangling with suppliers, guarding dragon eggs, and dealing with belligerent Urgals and haughty elves. Then a vision from the Eldunarí, unexpected visitors, and an exciting Urgal legend offer a much-needed distraction and a new perspective.
This volume features three original stories set in Alagaësia, interspersed with scenes from Eragon's own unfolding adventure. Included is an excerpt from the memoir of the unforgettable witch and fortune-teller Angela the herbalist… penned by Angela Paolini, the inspiration for the character, herself!"
The Fork, the Witch, and The Worm is set to release December 31, 2019.
Pre-order Here
Sign up to Receive the NERDBOT News!