If you were worried about the new Rugrats Reboot let me ease your mind a bit. I picked up issue #1 of the newly released comic published by KaBoom to wrap my head around what another show could mean for the fans. I have to say I was impressed and pleasantly surprised.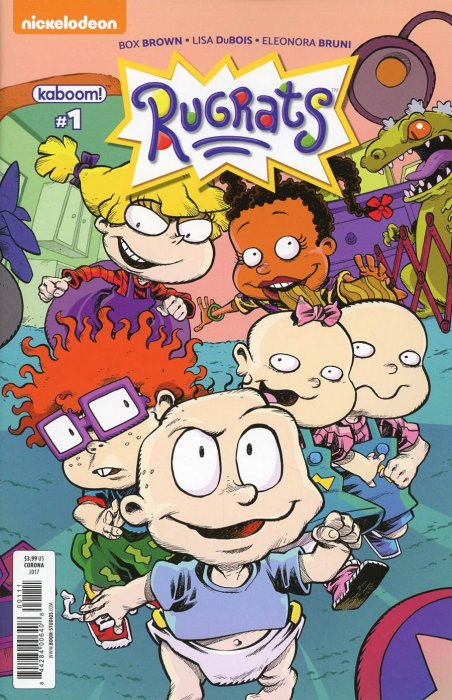 What made me pick this comic up first of all besides knowing that the show was up for new episodes was the artwork on the cover. It was crisp clean and everything I wanted to see and hope that the new show will follow as far as animation style. The comic is written by Box Brown who is an award winning cartoonist who's work includes graphic novels such as André the Giant: Life and Legend and Tetris: The Games People Play. Lisa DuBois is the illustrator and it is colored by Eleonora Bruni.
Rugrats was created in 1991 by Arlene Klasky, Gábor Csupó and Paul Germain and was a show about parenting in the 90's. The famous tagline: Hang on to your diapers babies, still holds true to the new comic as well. The Synopsis from the site is as follows "Hang on to your diapies, babies! We're teaming up with Nickelodeon for all-new Rugrats adventures featuring the most intrepid toddlers to ever bust out of a playpen!"
While I love the characters Tommy, Chuckie, Phil & Lil, Susie and Angelica my favorite part of reading this issue was the reflection on parenting. I as well as many others who grew up watching Rugrats as children now have children of our own, and seeing 'myself' represented in this story was funny and entertaining.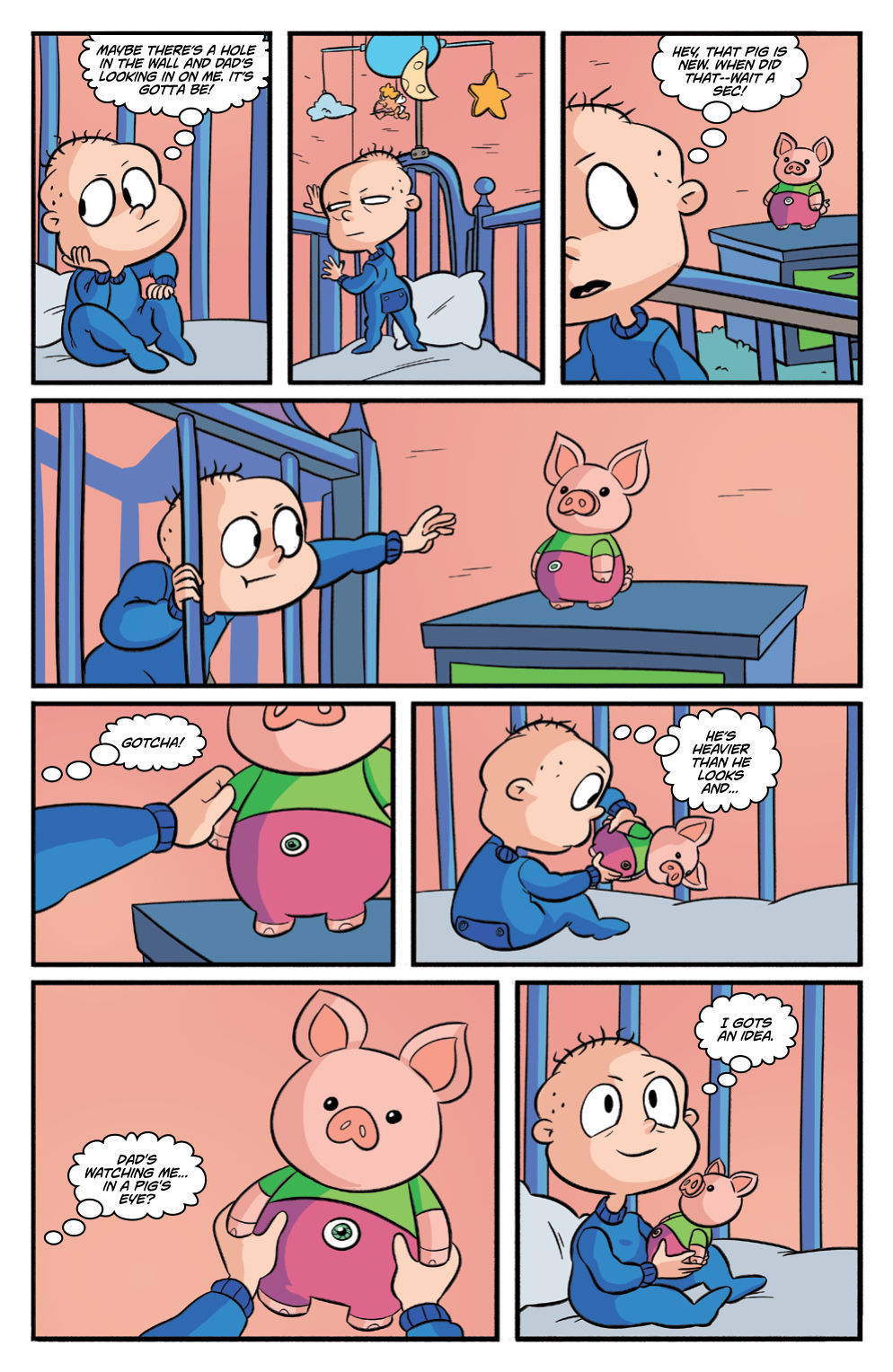 The story surrounds Tommy and Chuckie this issue, coming to terms with the fact that they will never be alone again. They are constantly being watched with new parenting technologies such as the nanny-cam, a Drone(scary bird) and being streamed to the TV or a parents cell phone. The parents seem more relaxed in this but they really kind of always had their backs turned to the kids so that they could get into all kinds of trouble and go on adventures.
The incorporation of the new technology really does it for me. It is clear that the writers are well aware that not only kids will be enjoying these stories but also adults, some with kids some without. There is a part where Chaz is relaxing because the kids are outback and the Drone is watching them, he is just on his phone texting away. This commentary on parenting today is so incredibly true and realistic I couldn't help but laugh out loud. If you don't believe me next time you are by a park check out what the parents are doing. 7/10 parents will be on their phones.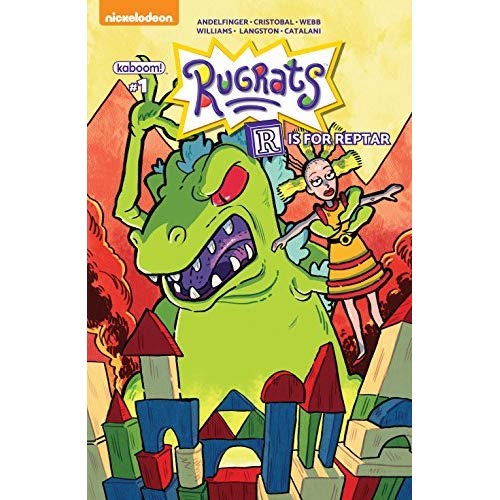 I did end up picking up a second book, R is for Reptar which I would whole heartedly recommend. The power is out and the kids have to find some sort of entertainment stories, so they settle on Reptar stories! A different artist illustrates each child's story in a different style and the stories are so incredibly cute. Really what made me buy this was as I was flipping through it I saw baby Reptars and I couldn't contain my glee.
If you don't read the comics and are waiting with baited breath for the show to pop up then I hope my review of these books gave you some peace of mind. I wanted to put the general public at ease about the way the reboot seems to be going and buying these books was a way for me to research what the studio was thinking. As far as I can tell the stories will be modernized while still keeping the format of the kids going into "imagination land" and going on surprising and fun adventures. There is just so much they can do with the series that I hadn't even considered before.
I'm rating the comics 5/5 for quality of art, and an entertaining story.
What do you think about it? Are you still unsure? Are you praying they don't "ruin" your childhood again with a lazy reboot? Tell Nerdbot in the comments!
Make sure you follow Nerdbot on twitter for the latest updates on breaking news and information about everything you love.