Mars needs donuts, Or something like that. Thanks to confectionary giant Krispy Kreme, NASA fans can treat themselves to a specialty doughnut during the Perseverance rover landing on Thursday.

Caramel-dipped and chocolate cream-filled, this super limited item is topped with a swirl that resembles Mars, and it's even sprinkled with chocolate cookie crumbs for that authentic dusty Martian touch.

Mark Watney WISHES he had one.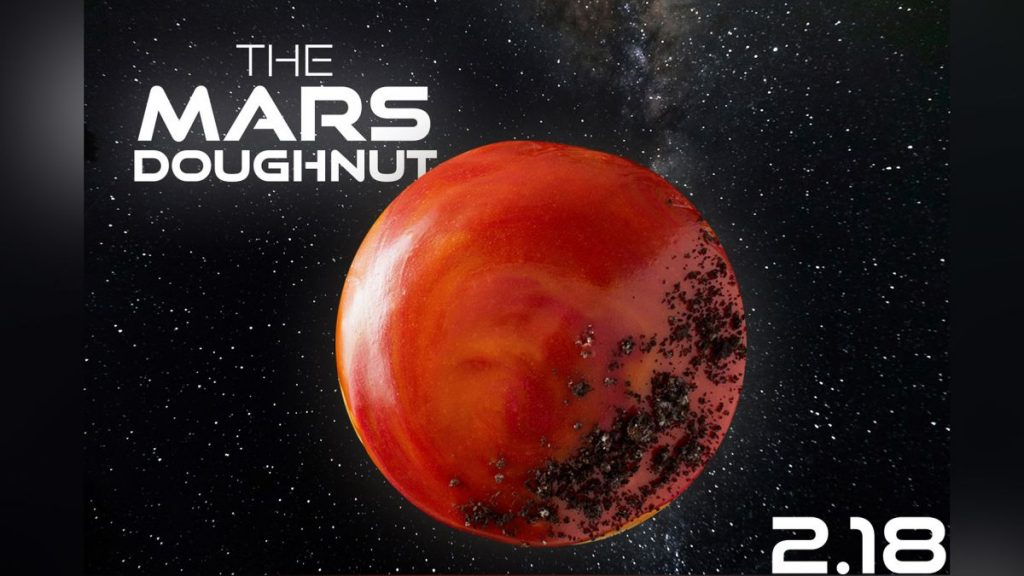 The Mars doughnut commemorates the landing of NASA's Perseverance Rover on the red planet, a fete scheduled for Thursday, February 18th at around 3:55pm (EST). Yes, you can expect us to stress eat a full dozen during the 7 minutes of terror window.

"The landing of Perseverance on Mars will be an epic and important achievement," said Dave Skena, Krispy Kreme chief marketing officer, in a statement. "So, we're celebrating the best way we know how: with an amazing new doughnut discovery right here on earth."
Part of Perseverance's mission is to explore Jezero Crater, and search for microfossils in the rocks and soil there. This particular area is the site of an ancient lake that existed approximately 3.9 billion years ago.

One of the coolest parts of this rover's trip includes Ingenuity, the first of its kind interstellar helicopter, which will (hopefully) make a landmark first flight on Mars.

A live stream for the landing will begin on Thursday at 2:15pm (EST). You'll be able to watch via NASA's public TV channel, website, app, YouTube, Twitter, Facebook, LinkedIn, Twitch, Daily Motion or THETA.TV.

In a first, the agency will also offer a Spanish language show for the landing.