Ready to chill with some cool music and a jigsaw puzzle? Well now you can get yourself a Bob Ross 1,000 piece puzzle from the folks over at Toynk! They've released eight different puzzles that range from the mountains to the bayou.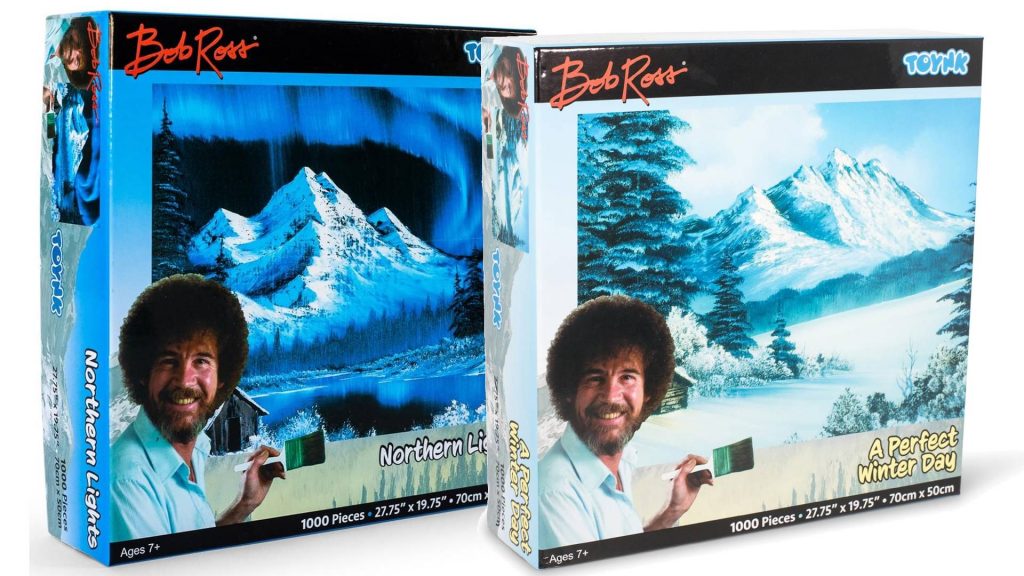 Our friends over at Toynk have done it again with this FABULOUS offering.
There's a jigsaw puzzle in this collection for everyone. New Bob Ross Jigsaw Puzzles designs include:
Bob Ross Mountain Retreat Nature Puzzle
Bob Ross Covered Bridge Nature Puzzle 
Bob Ross Blue River Nature Puzzle
Bob Ross Northern Lights Aurora Borealis Puzzle 
Bob Ross Trapper's Cabin Nature Puzzle 
Bob Ross A Perfect Winter Day Nature Puzzle
Bob Ross Happy Painting, My Friend Nature Puzzle 
Bob Ross These Things Live Right In Your Brush 
All Bob Ross Jigsaw Puzzles measure 28 x 20 inches and are made with high-quality easy-fit puzzle pieces. Pieces are made with high-quality recycled puzzle board making them eco-friendly as well as fun. Add a breathtaking view to your home or apartment with a completed Bob Ross Jigsaw Puzzle. 
You can pick up your own Bob Ross puzzles here.
DISCLOSURE: This post may contain affiliate links. Meaning when you click the link and make a purchase, we receive a commission, which helps Nerdbot keep the lights on.