Perennial BBC favorite "The Great British Bake Off" (GBBO) will make its series 11 US debut this Friday, September 25th on Netflix. As has been the case for previous seasons, each episode of the baking competition will hit the streaming platform three days after its original airdate in the UK.
Fans of "GBBO" will notice some differences this time around, though. Perhaps most noticeable will be the absence of co-host Sandi Toksvig, who announced her departure from the show in January. Replacing her as Noel Fielding's partner is Matt Lucas (of "Little Britain" and "Alice in Wonderland" fame).
Because of the global pandemic, filming the current season required extra health and safety precautions. Love Productions (the showrunners) created a "biosphere" at the Down Hall Hotel in Essex, where the contestants lived during the entire filming process. Under normal circumstances, the show would shoot on weekends over 12-13 weeks. This would give the bakers time at home in between filming to be with family and to practice for the next event. However, Series 11 needed to be shot over just six weeks, and required government oversight in order to maintain consistency with previous seasons.
Due to extra production restrictions, Love Productions asked bakers in May to temporarily relocate to the "biosphere" where they would eat, sleep, and bake for the duration of filming. Staff created special structures at the Down Hall Hotel for drinks, dining, and even gardening. Judge Prue Leith demonstrated her flower-arranging skills during downtime.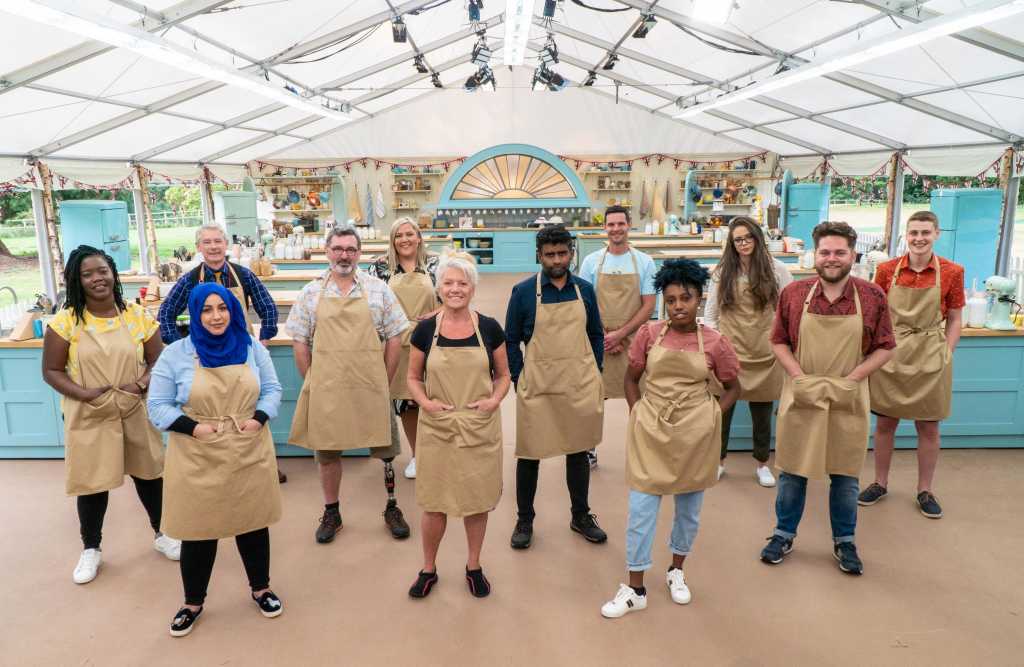 According to Love Productions creative director Kieran Smith,
"It wasn't a case of us and them [the cast and crew versus the contestants]." The atmosphere was different, but he felt the camaraderie of previous seasons needed to stay. Notoriously stingy hand-shaker (and judge) Paul Hollywood reportedly held pizza nights for contestants. Matt Lucas, who had been pre-emptively quarantining before production, hosted a bingo night as well! "It sounds like the best summer camp in the world," he said.
Series 11 of "The Great British Bake Off" premieres in the UK on Channel 4 on Tuesday September 22th; and in the US on Netflix on Friday, September 25th.