At Long Beach Comic Con 2017 I was lucky enough to interview one of my all-time favorite in ring performers, Rikishi.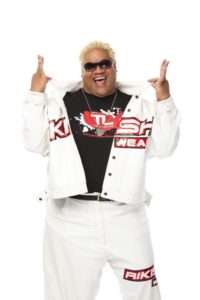 Source: KnokX Pro Entertainment. 
Rikishi – real name Solofa F. Fatu, Jr. – was one of the major players during the WWF/WWE Attitude Era of wrestling. Rikishi competed alongside other greats like the Rock, Stone Cold, and Undertaker. During his career, he won multiple championships, including the IC belt and tag team gold.
Rikishi's career from his beginnings as part of the Headshrinkers to becoming the Sultan to being dancing big man Rikishi was storied and full of fun. According to Rikishi, though, his favorite moment in his career was his chance to dance with his sons before his Hall of Fame induction. Oh, and if you don't know his sons, they are none other than WWE superstars Jimmy and Jey Uso.
Source: Rikishi and the Usos dancing on RAW. 
So, what's Rikishi doing now? Well, besides making a name for himself as more than just a member of the storied Anoa'i family in wrestling, he's enjoying life, talking to Nerdbot, and running a wrestling school.
If you're in the LA area, why not sign up and learn some stylin' and profilin' at KnokX Pro? Learn from the man himself alongside other greats like Black Pearl! Man, what I wouldn't give to learn how to move and work like the Wild Samoans, the Rockers, or the Hardy Boyz.
Why only tag teams in my mind? Well, I can't imagine I'm good enough for a singles run… Ha. I might have the charisma, but not the size. *sigh*
In the world of wrestling, a lot of the greatest are tarnished by time and reputation. I can say that I have never heard a bad thing about Rikishi and he seems like a great family man who wants to help out the dreamers and superstars of tomorrow. And maybe if I ever have free time, he'll teach me a few (dance?) moves…
Who's your favorite wrestling superstar? Let Nerdbot know the comments!