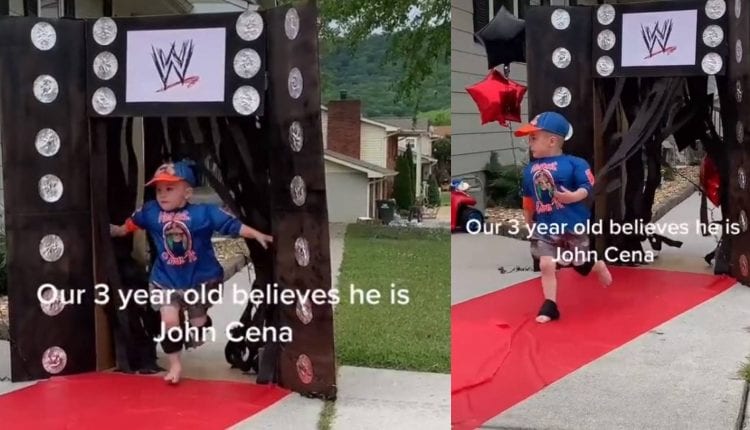 WWE superstar John Cena, who's known to pop in now and again, has nothing on this kid. In a video uploaded to TikTok, a young man is having his third birthday. Only the kid doesn't think he's any kid, he's JOHN CENA! Just look at those muscles and swagger he has as he comes out the gate. I'd believe he were the real John Cena any day.

Thanks to TikTok user JaWilliams4675 for this.
This comes at an interesting time as Cena himself may have just teased his return to the ring. A few days ago now we saw him post a WWE Logo to his Instagram without any real explanation. Fans are hoping this means that he will be coming back to the WWE and we'll once again get to see him wrestle. And if that's the case then this little boy is about to be very excited.
Of course the news surrounding Cena could be something more humble, like he plans on making a cameo or will be introducing a trailer. Right now, he's still in Vancouver working on shooting "The Suicide Squad" spin-off show "Peacemaker." So it's unlikely he'll be signing any major contracts commitment-wise. The eight-episode HBO Max series is expected to premiere sometime in January of 2022.
If you haven't joined HBO Max already, you can do so by clicking here and giving them a try. Note that NERDBOT will receiving a commission from your signing up, so it helps us keep on delivering you more great news and updates.
Sign up to Receive the NERDBOT News!