Joe Manganiello, actor and body builder who moonlights as an official ambassador for Dungeons & Dragons, is slated to co-direct a documentary about the popular tabletop role-playing game with Kyle Newman. The film, backed by Hasbro and eOne, is billed as "the definitive documentary feature about the world's greatest roleplaying game" and is timed to the 50th anniversary of Dungeons & Dragons in 2024.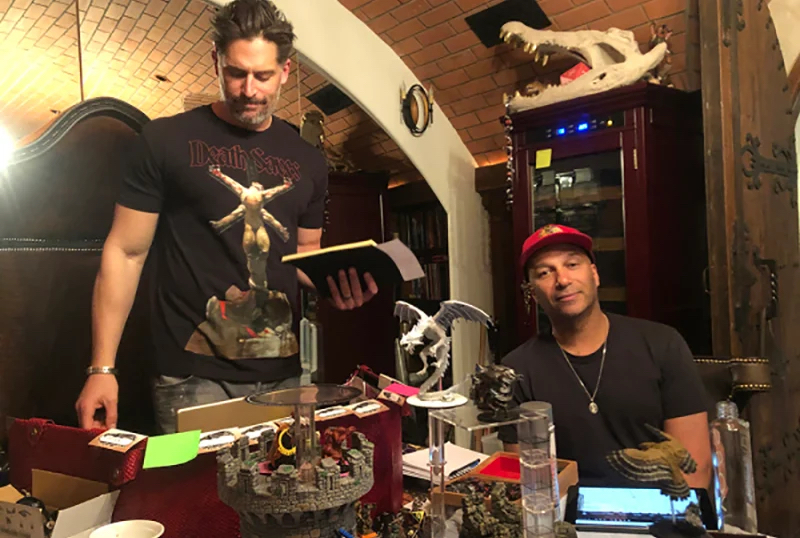 "I couldn't be more proud and excited to get back behind the camera for another documentary, this time with the D&D dream team," Manganiello said in an official statement, referring to the production team which includes himself, his brother Nick Manganiello, Newman, and leading Dungeons & Dragons scholar Jon Peterson. "I lived through the rise and fall and rise again of this legacy brand that has not only meant so much to me but has served as the fountainhead of creativity for an entire generation of writers, artists and creative minds, influencing so much of our culture. None of this would have been possible without Nathan Stewart at Wizards of the Coast and my eternally supportive boss from the HBO/'True Blood' days, Michael Lombardo and the fantastic team at eOne."
The documentary will incorporate more than 400 hours of archived, never-before-seen Dungeons & Dragons footage from the game's creation in the early 1970s. It will include a variety of interviews with celebrity fans of the game. We already know that Manganiello hosts games for celebrities including Vince Vaughn, Rage Against the Machine guitarist Tom Morello, and "Game of Thrones" co-creator D.B. Weiss, not to mention the success of live-play series like Critical Role which have hosted numerous celebrity guests.
"Dungeons & Dragons has sparked the imagination of fans all over the world for nearly 50 years and [this documentary will] continue to bring exciting and engaging experiences to new generations," Hasbro president of Wizards of the Coast and digital gaming Cynthia Williams said.
This documentary sounds incredibly promising. There's a lot of interesting history behind the game. The Manganiello brothers, Newman, and Goldberg have all spent years acquiring exclusive rights to the footage, as well as inside access to highly confidential developments regarding the game and brand. It's the company's first time authorizing such access, isn't something you'll want to miss.

For more D&D, "Dungeons & Dragons: Honor Among Thieves" is set to hit theaters March 23rd, 2023.