Plans for a twenty-foot 'Live long and prosper' statue to honor Leonard Nimoy are underway at the Museum of Science in Boston, MA. The proposed 20-foot stainless steel monument will be shaped like the iconic "live long and prosper" Vulcan salute that Nimoy created for the original "Star Trek" series.
The Museum of Science is currently raising money for the sculpture. Nimoy's family, as well as chosen sculptor for the statue David Phillips, are also working on raising funds.

Julie Nimony, Leonard's daughter, had this to say about the statue:
---
"The 'Live Long and Prosper' symbol represents a message that my dad believed so strongly in. My dad always loved Boston and he would be honored knowing that the Museum of Science would be the permanent home to this memorial. The sculpture not only depicts one of the world's most recognized and loved gestures for peace, tolerance, and diversity, but it will also be a beautiful tribute to my dad's life and legacy."
---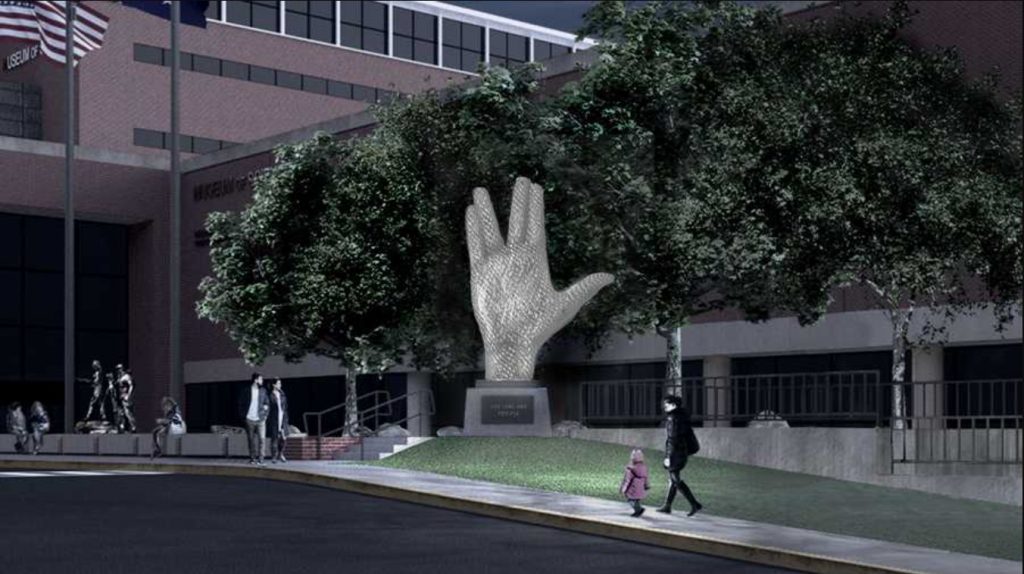 In other Leonard Nimoy news:
Recently the City of Boston also called for March 26th to become "Leonard Nimoy Day". Nimoy first portrayed Spock on the initial run of "Star Trek" from 1966 to 1969. He became a role model and is someone that is still looked up to to this day. His story on the show resonated with people everywhere as he was trying to maintain a balance between the Federation and being half Vulcan/Human. A big part of that came from finding a balance between the two sides of himself which is what many immigrants go through when they come to a new country.
---
Leonard Nimoy, through his fictional character, Mr. Spock – half human, half Vulcan – gave the immigrant, the refugee, and the oppressed, a hero for the "the Outsider."

Proclamation for Leonard Nimoy Day
---