Amusement parks are an important pastime for people all over the world. Whether it's a vacation to Disneyland or the annual trip to the state fair, people love carnival rides, fun events, and fried food. Most people never stop to consider how much of a mechanical feat many of these rides are, so if you have ever been interested in how a roller coaster is built and operated, this is the resource for you.
Energy
In elementary school, you likely learned about potential and kinetic energy. When a cart sits at the top of a hill, it has kinetic energy, and once it starts moving down that hill, that potential energy converts into kinetic energy. Most of a roller coaster's movement comes from kinetic energy. As the carts gain speed and momentum when gravity pulls down on them, they gain the ability to stay on the track in loops and sideways tracks. Roller coasters rely on an engineer's thorough understanding of several principles of physics because, without that, roller coasters would be incredibly dangerous.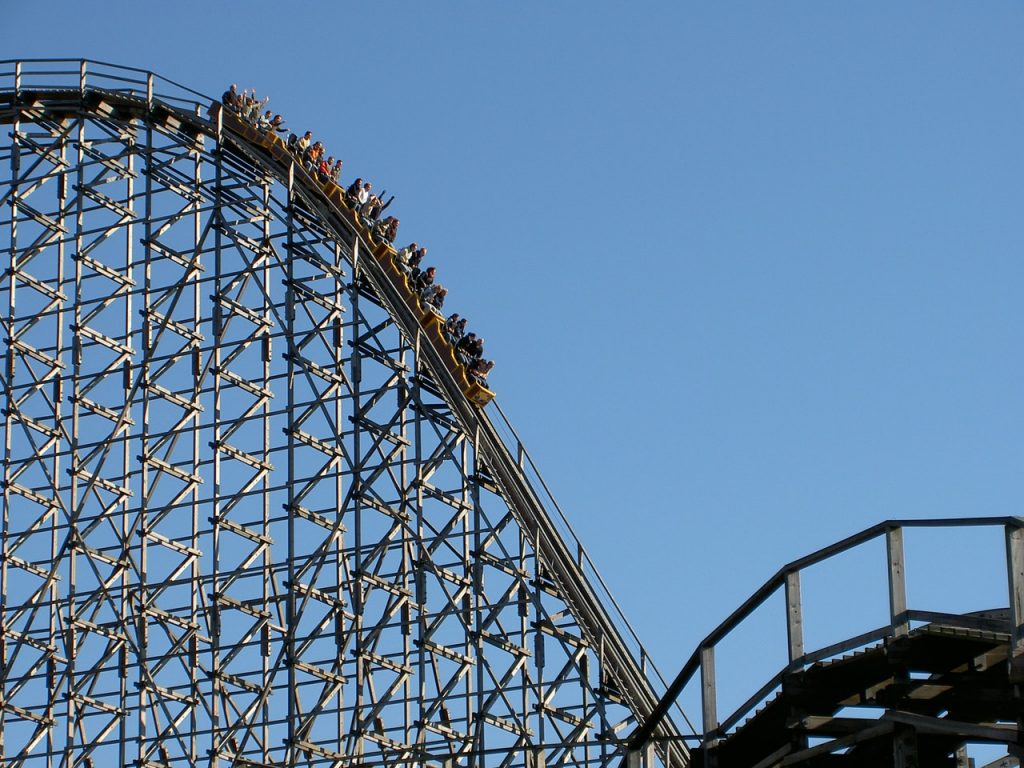 Mechanics
Since the average person who might be curious about the inner working of roller coasters cannot tell an RTU from an electric winch, it is difficult to explain the specifics of roller coaster mechanics. As mentioned above, most of the roller coaster's momentum comes from kinetic energy, but some of it does not. The winch is what winds up the coaster to get it to the highest point before gravity brings it back down. The wheels of the carts are also specially designed to fit snugly on the track to keep the carts from flying off. Overall, the moving parts inside the coaster carts are limited.
Assembly
If you have ever been to a traveling carnival, you have seen how quickly carnival employees seem to assemble and disassemble the various booths and rides. It can seem shady or dangerous that these rides go up and down so quickly, but most experts agree that temporary rides are just as safe as temporary rides. It becomes a routine for the employees before long. Safety inspections happen often to ensure that everyone is assembling their rides properly. Regulations vary from state to state, but they are all regulated with the goal of keeping riders as safe as possible.
Manufacturing
Every roller coaster is unique, so it does not work to manufacture identical parts on a massive scale like companies normally would. The support structures are erected first to support the rest of the structure as it is constructed and to show a general framework of what the finished product will look like. Then, the track is installed over the framework. From there, the carts of the roller coaster are more standardized, and the park manager or roller coaster designer can customize the carts from there. Then, extra flairs are installed such as lights and waiting areas where they are needed.
History
The history of roller coasters goes back further than you might first expect. The origins go back to the 15th century when people became fond of sledding down snowy hills and making small tracks wherever possible. Over the coming centuries, people would begin building tracks of other materials and attaching wheels to carts. By the early 20th century, roller coasters as people know them today were widespread around the world, but especially in the United States. However, it was not until after the end of World War II and the opening of Disney theme parks that roller coasters skyrocketed in popularity everywhere.
Roller coasters are some of the most fun inventions that modern times have brought society. Entertainment is just as valuable as food, water, and shelter. If you cannot enjoy your life, then your life will always be missing something. Roller coasters are not for everyone, but if they are for you, they are a great way to spend a weekend. No matter where your favorite roller coaster is, you should have no doubt that it has been safely constructed.