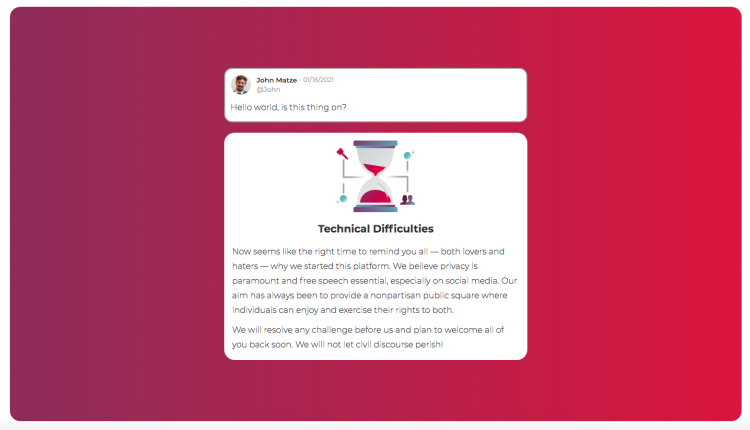 Parler is Trying to Come Back- Experiencing 'Technical Difficulties'
Parler, the conservative social media alternative being held partially responsible for the insurrection in Washington, DC on January 6th which was systematically shut down by various app stores and even their hosting parent Amazon- is back. Kinda.

If you try to access the Parler website, you'll see this screen.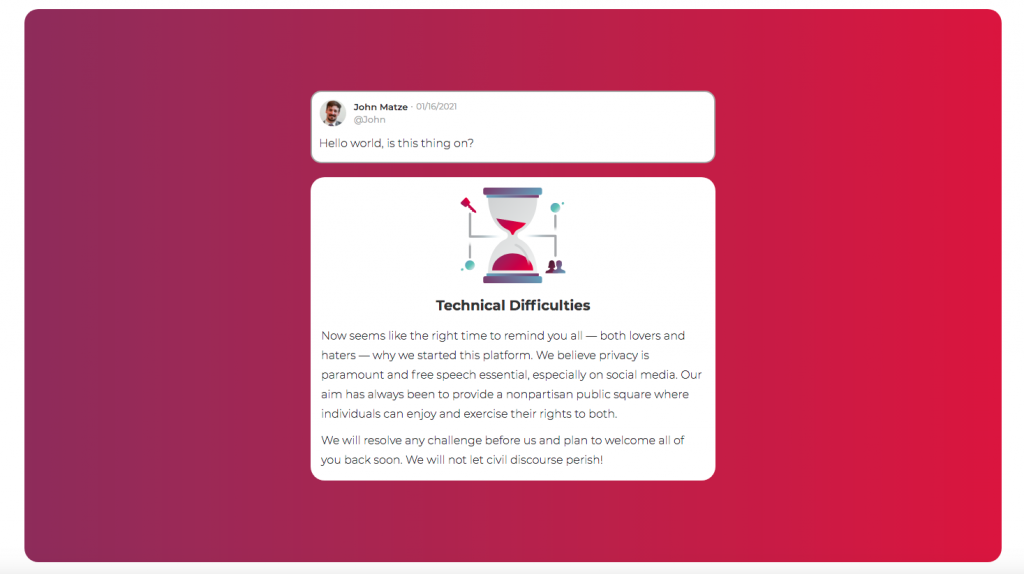 It also includes this frankly delusional message from Parler CEO John Matz:

---
"Hello world, is this thing on? We believe privacy is paramount and free speech essential, especially on social media. Our aim has always been to provide a nonpartisan public square where individuals can enjoy and exercise their rights to both. We will not let civil discourse perish!"
---
Back on January 9th, Parler went completely offline. Matz was quick to claim free speech was not being allowed (untrue, as private companies banning violators of their terms are NOT the same as Government control) with this move, but, also admitted that no one wanted to work with them due to being removed from both the Apple and Google app stores.
Following Amazon's dropping of servers for the company, Parler sued, claiming the move violated antitrust law and breached the contractual arrangement between the two companies. You can read the entire complaint here.

There was this "official statement" from Epik, claiming the app had been inundated with fake accounts in order to "publish horrific and violent content," even though it seems kinda like the norm for the 15 million users (their claimed number). The statement also condemns Amazon for the termination of the Parler servers.

Apple CEO Tim Cook just spoke up about his company's decision to remove Parler from their app store. "We looked at the incitement to violence that was on there. We don't consider that free speech and incitement to violence has an intersection," Cook said.

He also added if the social media platform can "get its moderation together," they'll be allowed to be listed in the Apple app store again.

We'll let you know what else we hear about this and other news.


Sign up to Receive the NERDBOT News!
[tipjarwp]