We are all looking for some joy in 2020. Between wildfires, hurricanes, pandemics, and even fire tornadoes, it's hard to escape just how dark the world seems these days. That's why the Japanese live-action trailer for "Crash Bandicoot 4: It's About Time" comes as such a breath of fresh air. In the trailer, we get to see mascot Crash dance and go on an adventure with an excited Japanese family. It's a great reminder that even when the world feels hopeless, people can still find joy in small things like a new entry in their favorite game franchise.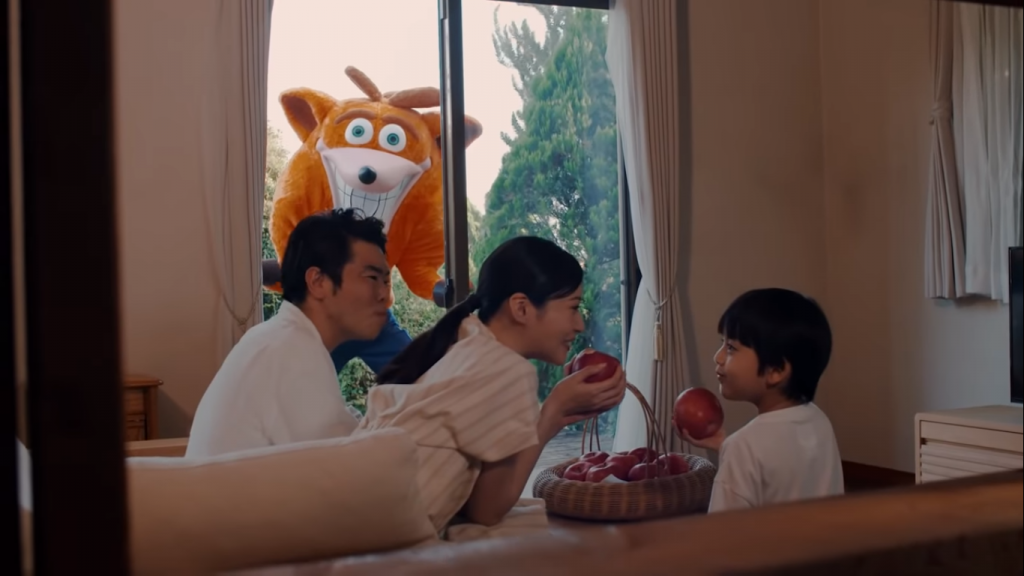 The trailer starts out with a family of three enjoying some apples together in their home. Suddenly, it cuts to Crash stepping up onto a bridge overlooking a river. Before we know it, Crash appears outside the family's slider. While at first surprised, the dad's face turns into a smile as he identifies Crash Bandicoot. Before we know it the family is dancing alongside Crash in their home. Then they are in the city, the forest and by the river performing the same dance with excitement. While all three members seem to be enjoying themselves, the dad's excitement is next level. A massive grin fills his face as he enjoys singing and dancing with his video game companion.
At one point, Crash falls to the ground with exhaustion. The mother runs over to fan him and provide support. There's no real point to the almost three minute trailer other than to emphasize how much this family enjoys Crash. While the Crash mascot comes off a little creepy, the overall feel of the trailer is joyful and excited. Only the very last seconds of the trailer actually show scenes from the game. It's a nice reminder of how parents can get just as excited about games as their children. With everything going out right now, it was truly a joy to stumble upon.

You can watch the trailer here.

Crash Bandicoot 4: Its About Time hits stores on October 2nd, 2020.