While the worldwide pandemic continues on and productions old and new alike are on hiatus, it's nice to have something to look forward to. One such project that is currently on hold is a live-action adaptation of Neil Gaiman's graphic novel "The Sandman" at Netflix. HOWEVER, we will be getting the first 3 graphic novels in a different manner later this summer.

Dirk Maggs is directing an Audible adaptation of the story, and the voice cast list was just revealed this morning.
James McAvoy will provide the voice of Morpheus, also known as Dream fo the Endless. Dream's sister, Death, is played by Kat Dennings. Taron Egerton takes on the role of John Constantine. Andy Serkis is Matthew the Raven. Michael Sheen plays Lucifer. Bebe Neuwirth is the Siamese Cat. Riz Ahmed plays the nightmare called the Corinthian. Gaiman will serve as the narrator. Supporting cast includes Justin Vivian Bond as Desire, Arthur Darvill as William Shakespeare, William Hope as Doctor Destiny, Matthew Horne as Hob Gadling, Reginald D. Hunter as J'onn J'onzz, Sue Johnston as Unity Kinkaid, Paterson Joseph as the Demon Chronzon, Josie Lawrence as Mad Hettie, Anton Lesser as Doctor John Hathaway, Joanna Lumley as Lady Johanna Constantine, and Miriam Margoyles as Despair.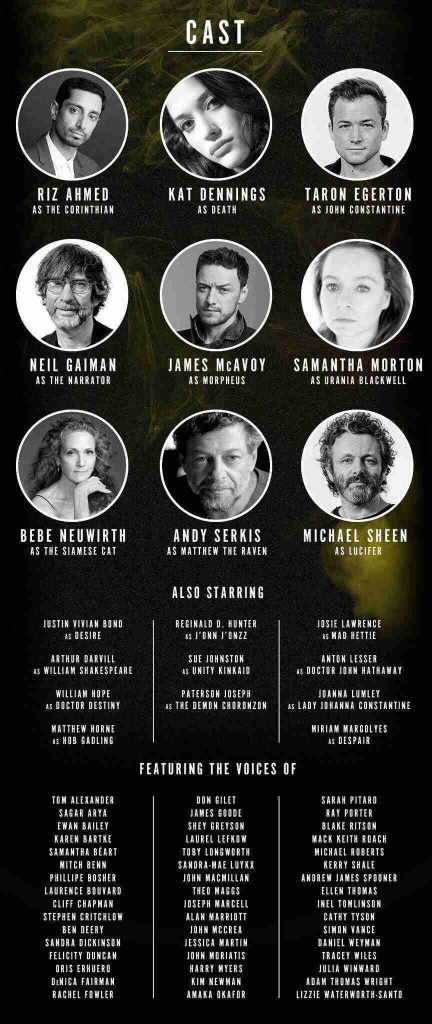 "Almost 30 years ago, Dirk Maggs approached DC about adapting The Sandman into audio form," Gaiman said in a statement back in March when the project was first announced. "I'm glad it didn't happen, because we are in a Golden Age of audio drama right now, and Dirk and I are much better at what we are doing. This is a rich audio adaptation of The Sandman graphic novels, brilliantly crafted by Dirk Maggs, with an all-star cast."
Dave Blum, Audible Originals editor in chief, said: "Audible prides itself on creating and producing immersive and entertaining storytelling, and the exclusive audio production of Neil Gaiman's legendary comic book series marks a thrilling addition to our original content offerings. We're excited to join Neil and DC in bringing this extraordinary and beloved universe to Audible's millions of listeners worldwide, for the very first time."
Needless to say, we're VERY excited, and can't wait for this to hit Audible on July 15th 2020. We'll of course let you know what we hear about production on "The Sandman" for Netflix.