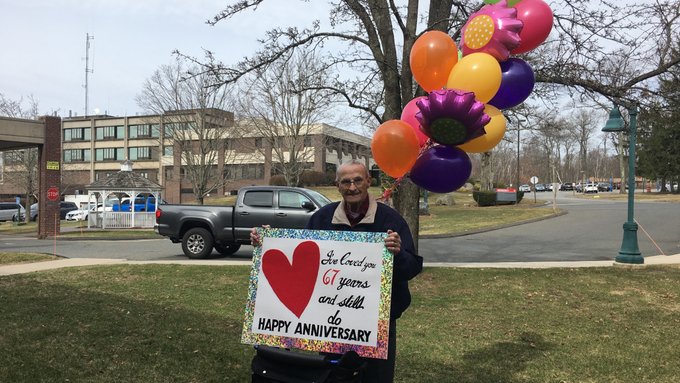 Man Celebrates 67 Years With Wife Outside Her Nursing Home Due to COVID-19 Quarantines
Due to a mandatory lock down in a nursing home in Connecticut for 30 days one married couple was unable to celebrate their 67th anniversary together. But that didn't stop them from showing how much they loved each other.
Bob brought a sign to the nursing home that said "I've loved you 67 years and still do. Happy Anniversary." He held it up to his wife's window so she could see it and celebrate their anniversary, too. Nancy responded to her husband's gesture by waving and blowing kisses from the window of her second floor room.
"It makes me feel bad because I want her down with me and I know she can't be," Bob said.
This is all due to the governor of Connecticut banning all interaction with senior homes for thirty days. It's due no doubt to the elderly's susceptibility to the coronavirus that he is attempting to keep them safe as they can possibly be. Their daughter Laura said that this is the first anniversary that they have ever been apart.
"It's just been an example for us, for all of us of kids. So all four of us have really learned a lot from them and I can only hope that I have half as much as what they have shared over the years," Laura said.
Before the ban Bob saw his wife every day. Now they have been apart and Bob is sad that he can't see his wife. Hopefully he will be able to see her right after the quarantine ends and never let her go. We could all use some quality time with our seniors in 2021 and they could definitely use some outings too.
Sign up to Receive the NERDBOT News!
[tipjarwp]