Mornings can be difficult for anyone. There are times when you have to drag yourself out of bed to put that ring in the Pit of Sauron, but you just can't get motivated. The whole world is on the brink of war but you just can't get the energy to put on your armor. You also might know how hard it is to find coffee that is stimulating while still being delicious and cost effective. If you need an extra boost to get things done you should really check out Geek Grind Coffee's line of beans and flavors. I was fortunate to try out their Dwarven Dawn roast and can attest to it striking the balance between strong and tasty. It's a light fresh flavor that leaves you with a taste of caramel, dark chocolate and hazelnut. It has a subtle crisp citrus fruit finish that will leave you feeling more refreshed. This coffee is great for those who take their coffee black and is delicious with creamer as well. 

I'm not normally a coffee snob but when it comes to these blends I can't get over how good it is. I usually drink whatever coffee I can get my hands on and assumed that that the expensive stuff was a waste of time. With Dwarven Dawn, I finally get why people are so passionate about how they wake up in the morning or relax in the evening. Since drinking it I haven't gone to Starbucks once, which says a lot. I would rather brew this and put it in a travel mug then go to a quick fix place on the way to work. It's THAT good. It has also inspired me to really look at what makes coffee good instead of just as a way to wake up in the morning. I now find myself looking into getting a french press and a cold brewer so that I can explore how to get the most out of Geek Grind's unique blends. And I found comfort in knowing exactly how the beans were harvested and roasted.

Geek Grind Coffee is a conscientious company that grows, harvests and roast each of their blends. They have a group of farms run by family and friends and are able to control the quality of their crop by carefully caring for it from their soil to your cup. The company also strives to do good for their Columbian growers, especially for women in the industry. By being on top of every step of production, you can feel good that you are helping a small but dedicated company. In an age where so many coffee companies exist, it is good to be able to support one that care and also love the same nerdy stuff I do.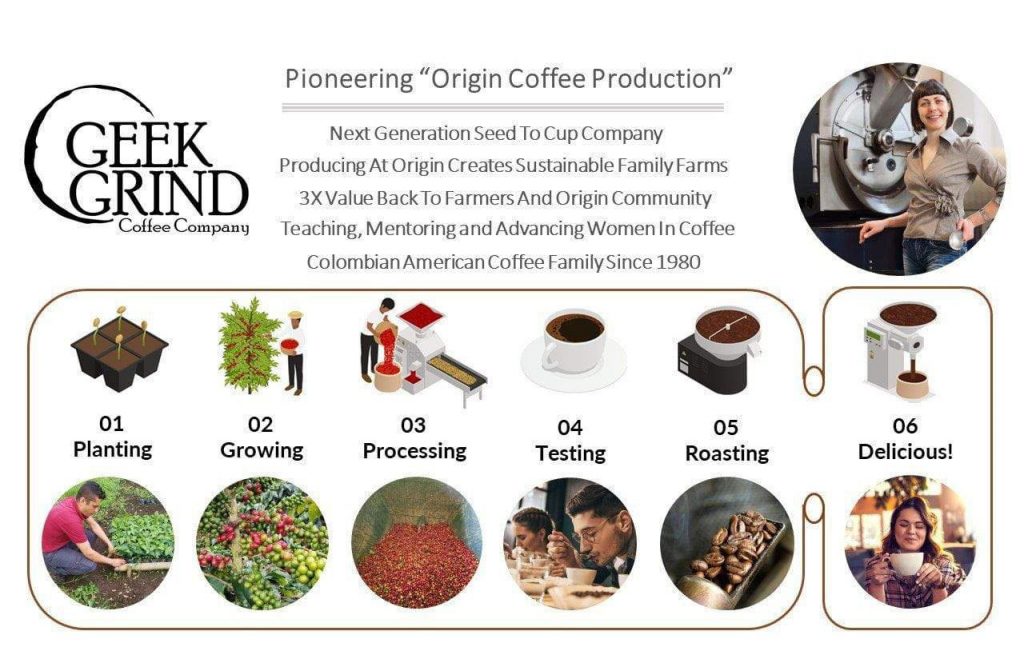 One of the best parts about Geek Grind is the price of the coffee. You can get yourself a 12oz bag for the low price of $19.99. And if you want to you can subscribe for recurring deliveries at only $14.99 a bag. They have a whole line of different flavors and types that can fit your parties needs. They have a full range of flavors that accommodate every kind of coffee warrior. If you like a bold flavor, there is Dragon's Roast. Or if you want a blend specifically made for cold brew, they have Frost Giant, which is made to keep you cool and refreshed. I cannot wait to try all of their other flavors and discover what is truly best for me. Thanks to their low cost, I can feel good about treating myself and getting rid of my Starbucks app. 
They also have a subscription program where you can have the blend of your choice sent to you every 7, 14, or 30 days for only $14.99. It's a great deal for any coffee lover! And they just rolled out free shipping on current and new subscribers for their automatic shipments. FREE Shipping! But if you don't want to subscribe that's ok because they have a flat $5 shipping fee for the coffee you order without subscribing. And if you order more than $50 worth the shipping is free!

Check out my other reviews for their coffee by following the links below! Spoiler alert, they're all amazing.