Jazz, manga, and mecha enthusiasts can breathe a sigh of relief next month as Gundam Thunderbolt ends its three month hiatus!
Thunderbolt is a side story of the original Gundam series. The manga follows the battles between the Zeon ace-sniper Daryl Lorenz and the sociopath jazz-loving Gundam pilot Io Fleming across a wreckage-filled shoal zone. The series gained a fast following, leading to several model kits and two stellar web-series.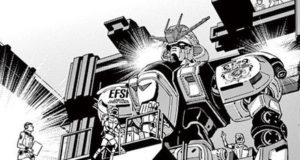 But the future of this fan-favorite has been up in the air for the last three months. In September, Thunderbolt was put on an indefinite hiatus due to writer and artist Yasuo Ohtagaki's health concerns. Ohtagaki was struck with a case of tenosynovitis, which causes serious inflammation around the tendons. With Ohtagaki unable to draw without extreme pain, nobody knew when Thunderbolt would return, if at all.
Fortunately, Ohtagaki's health has taken a turn for the better and Gundam Thunderbolt has been confirmed to return on December 14! The series runs in the magazine Big Comic Superior in Japan and is released stateside by Viz Media. Keep your eyes open for the new ones!
Are you excited for Gundam Thunderbolt's return? Let us know in the comments!