Flipping through Facebook I found the coolest news any mother could get. It wasn't baby advice or a "kid hack". Instead it was news of a brand new Super Sentai show based on MOMS! These moms now have to juggle being a super hero with raising a kid! #Relatable!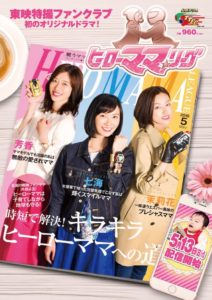 According to Toei and Inquirer.net The show will be about three of the women from their other sentai shows.
Nao Nagasawa plays Hurricane Blue from the 2002 series "Ninpuu Sentai Hurricaneger".
Ayumi Kinoshita plays as Deka Yellow from the 2004 series "Tokusatsu Sentai Dekaranger".
And Ayumi Beppu plays Magi Pink from the 2005 series "Mahou Sentai Magiranger"
Toei Announced that this super team of moms would start fighting crime May 13. While I don't know when it will air in America or if it even will, I am so excited that people are standing up and taking notice that there are people who will watch a mom centric show. Add robots to the mix and I'm IN.