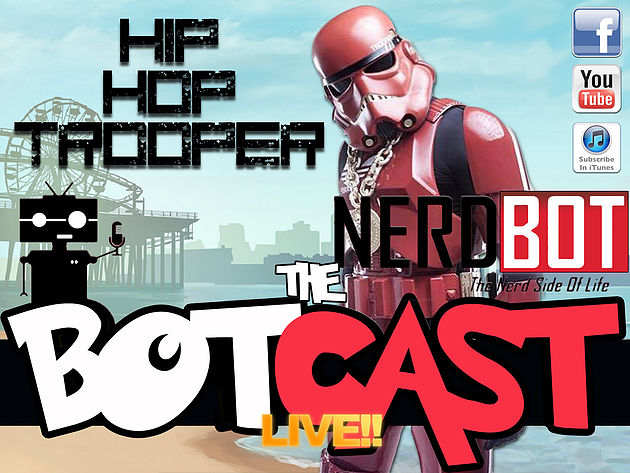 The Nerdbot BotCast Episode 24 – Hip Hop Trooper, Cosplay
Today we welcome the nation wide sensation Hip-Hop Trooper, as he tells us how his love for a clothing brand and the epic lore of Star Wars created a unique cosplay and opened a few doors of opportunity as well. He also takes questions and comments from fans before bidding a farewell to the West Coast.
You can always catch us live Mondays At 9pm WST on our Facebook Page!
Host: Anthony Ayala
with
Co-Host: Rachel Litfin
Special Guest:
Hip Hip Trooper
You can keep up with Hip Hop Trooper on Facebook Here:
https://www.facebook.com/HipHopTrooper/
Make sure to subscribe to Nerdbot by clicking on this link http://bit.ly/1Fdi5CP

http://www.facebook.com/nerdbotmedia
Instagram: @nerdbotmedia
Or you can download the episode here:  http://bit.ly/2aYWkhq
We also have it steaming on YouTube below:
Sign up to Receive the NERDBOT News!