Mike Flanagan seems to be solidifying himself as one of my personal favorite storytellers. "The Midnight Club" dropped a short while ago on Netflix, and I think it's pretty fantastic. With a large cast of character and excellent performances, it draws you in from episode one. Despite the fact that the series has a record number of jump scares, it's the human stories that are the most interesting.
Based on the novel by Christopher Pike, main character Ilonka (Iman Benson) is diagnosed with terminal cancer. After learning of a hospice in which a patient walked away cured, she finds her way to Brightcliff Manor in the hopes she might uncover the secret to a cure. There she meets several other kids who all meet at midnight to tell scary stories, and search for signs of life after death given their shortened lives.
What unfolds is a bittersweet and heartfelt anthology of the unfairness of death, the desperation to stop it, and what a person will go through to cope with a life cut short. More than scary, the series gets you misty-eyed more often than not. Something Mike Flanagan gets right in his formula for horror stories is that the human element has to hold itself up. "The Midnight Club" is a story about youth, life, and death with horror elements sprinkled in. After all, how can you possibly scare audiences when death is the scariest thing in the story?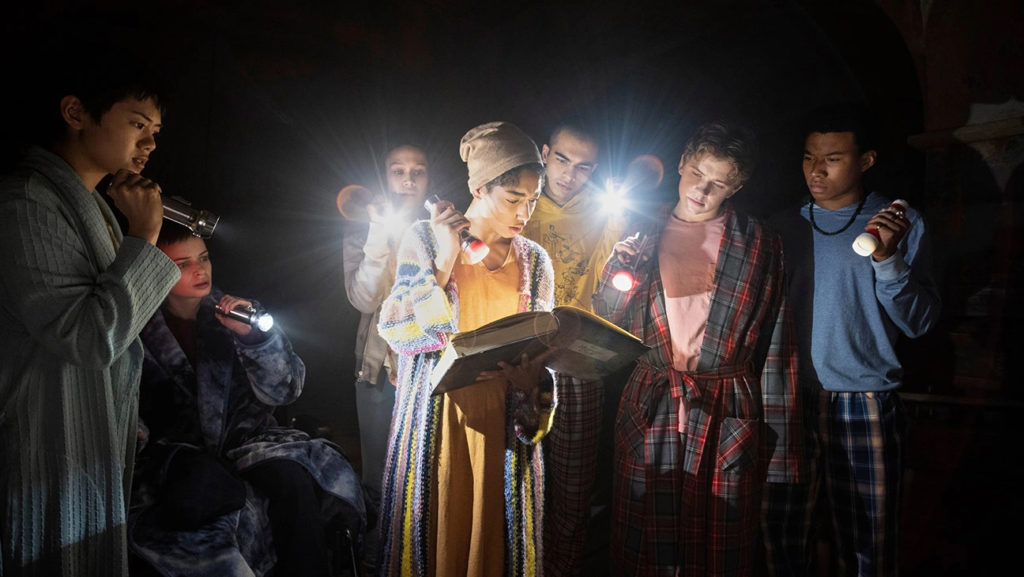 It's Not About The Scares
I felt similarly to "House on Haunted Hill" and "Midnight Mass." Both have a strong cast that upholds a story about people and humanity that has horror threads woven through it. "The Midnight Club"'s monsters are far more subtle, though. While Ilonka sees her share of ghosts here and there, the real monster comes in the form of a dangerously manipulative fanatic, Shasta, who preys on Ilonka's hope for a cure.
Since the series spends most of its time with the young adult cast, they really are the breakout performers. Each character has a different diagnosis, and their slow deteriorations emerge over and over again to remind them and the viewer that death is never far from them. Perhaps one of the best performances is by Ruth Codd, who plays blunt, Irish Anya. A troubled young girl who was too afraid to live until she got too sick to. She was one of my favorites.
What people going into the series need to understand is that this isn't just about the scares for the viewer. Sure, there are several spooky stings and a couple specters. There's definitely a deeper story sleeping at the center of the series. But ultimately, it's about the kids. It's about the club, and the stories they tell to understand each other.
It's All In The Subtext
At the heart of every story is an element of that character and something they're trying to say. For example, Kevin's (Igby Rigney) story about a serial killer driven by the commands of his sick mother seems like just a creepy story on the surface. But then we see Kevin with his family on visiting day.
His mother is controlling and nursing a drinking problem, forcing his little brother into all the things Kevin was meant to do. So naturally, his story contains a mother whose voice is inescapable and the guilt the story's killer, Dusty, feels over being unable to escape the screaming faces of his victims. Kevin grapples with his mother's disappointment in him and himself even though he's the one dying. All their stories have real life subtext of the issues they're facing.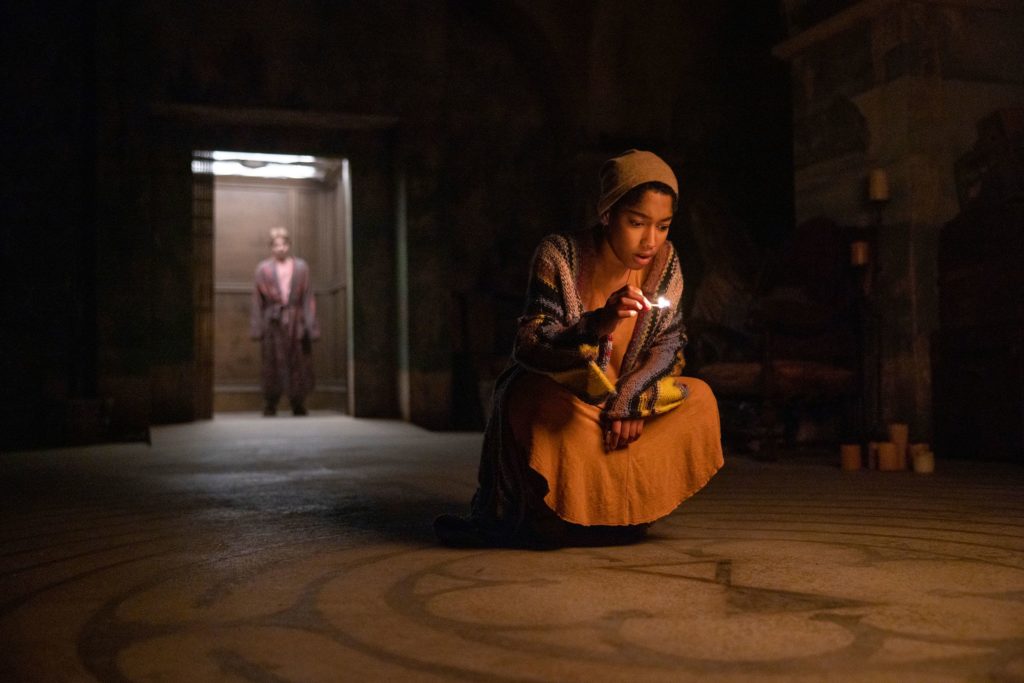 Not All Monsters Look It
Story club aside, another large element of the story is when a person's curiosity can become a danger to them. And what that can do when you're desperation and hope intermingle.
Ilonka meets with Shasta, a naturalist at first glance. But slowly she begins to warp Ilonka's perception of what's possible. Shasta is kind, helpful, and encouraging. To a young person desperate to hold onto life and hoping so hard for a different outcome, Shasta's the most poisonous friend. Like all good manipulators, it isn't fully evident she's even got an ulterior motive until later. As viewers, her actions start to get suspicious, but Ilonka's already had her reality twisted and can't see the forest for the trees.
Despite the fact that Ilonka's found herself face to face with ghosts inside the manor, the real danger for her is in a friendly face with a knitted shawl and a walking stick.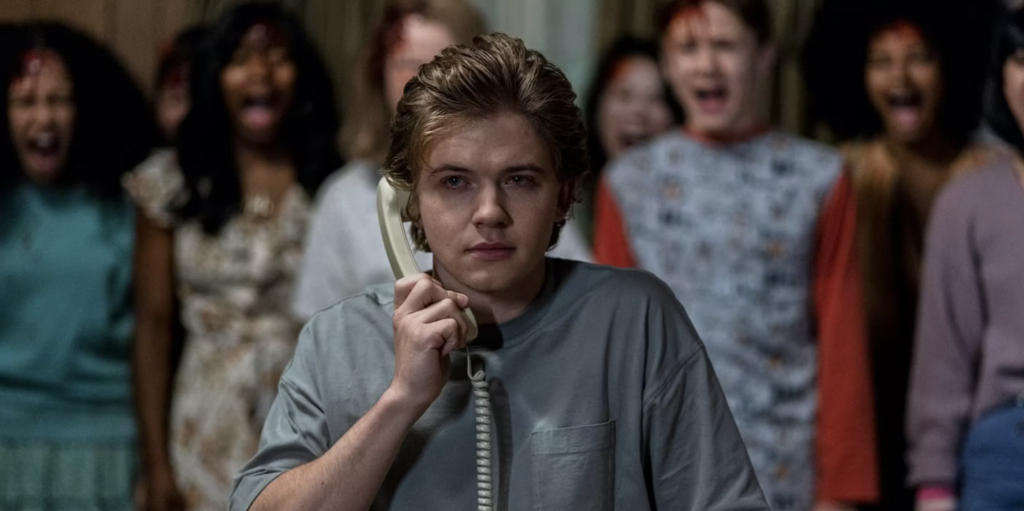 Final Thoughts
If you're in this series to try and launch your popcorn off your lap in fright, you might want to look elsewhere. It's wholesome and human, and it deals with facing your death before you're ready. It's a tearjerker and it's sometimes a little spooky. And there are a decent amount of jump scares. In fact, the show even goes a bit meta by criticizing jump scares as merely startling and not truly scary.
But if you're looking for a "scary" series, this isn't necessarily it. Like Flanagan's other series, he wants to tell a story that leaves the human factor as the last one standing. Friendships are tested between characters, tragedy has them grasping for understanding, and very real problems — AIDS, suicide, and depression, for instance — are seen through the eyes of young adults.
If you're looking for a thoughtful series that happens to maybe have ghosts, this is definitely one you want to watch. With excellent performances and intense subjects, it's very enjoyable. Hopefully a second season is in the cards as it ends on a plot twist and a few unanswered questions. It definitely left me wanting more.

Catch "The Midnight Club" streaming on Netflix now.