If you want a healthy treat that also tastes good then I fully recommend you try N!CK's. They have just announced new Minecraft ice cream flavors which will be a limited run. All of their flavors are Keto friendly and they keep their net carbs at around 5g per pint. That's such a great thing to keep in mind while you're eating guilt free ice cream!
"N!CK'S, Swedish-style better-for-you snacks and treats brand, is excited to announce the launch of a limited-edition collection of light ice creams in collaboration with video gaming platform, Minecraft. The collection marries the innovation of two Swedish brands, merging N!CK's patented food science technology and flavor expertise with Minecraft's iconic game elements to create delicious treats that are a healthier alternative to the full-fat and high-calorie ice creams on the market. "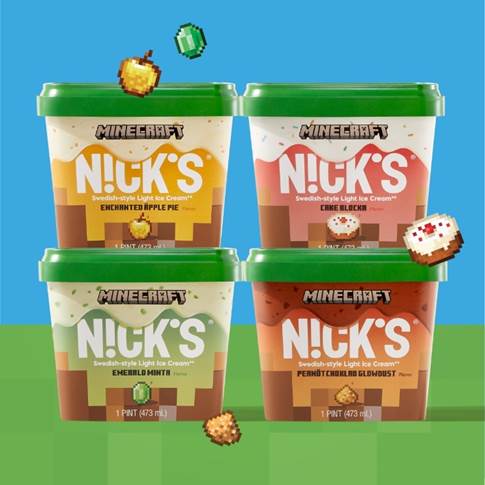 Flavors Available:
·       Emerald Minta (4g net carbs; 270 calories per pint): Creamy mint ice cream peppered with tasty peppermint chips. 
·       Cake Blocka (5g net carbs; 270 calories per pint): Creamy birthday cake ice cream is swirled with luscious strawberry and dotted with sprinkles!   
·       Peanöt Choklad Glowdust (5g net carbs; 370 calories per pint): Rich chocolate ice cream with little gold mines of peanut butter cups.  
·       Enchanted Äpple Pie (5g net carbs; 280 calories per pint): Sweet apple pie ice cream and a magical swirl of graham cracker crumble 
The pints are decorated with the pixelated style from the Minecraft game. So if you wanted to keep the container you'd just have to wash it out with soap and let it dry. It could be a cute storage option for small toys around the house, assuming you're buying it for your kids. Or heck, you could keep paperclips in it.
The pre-sale link went live today and will be available for the next 2 days, before officially launching live on the nicks.com website on September 27th.  You'll want to act fast though, product will only be available for purchase as supplies last for both live dates.