RockLove will be launching an officially licensed, limited edition jewelry line inspired by the legendary role-playing game Dungeons & Dragons. 
RockLove is no stranger to fandom-inspired jewelry lines, since they have already done deals with Disney, Marvel, DC Comics, Pokémon, and several others. This new D&D line has 6 designs, and will be the first wave of an ongoing character class collection. More designs will be added in throughout 2022 and 2023 including additional character classes and creatures.
All items are handcrafted with solid artisan sterling silver as well as small individual touches for each piece. These necklaces will also be large and on the heavier side, ranging from about 10-20 grams. They will all hang on long adjustable 20 to 24 inch sterling silver chains and are priced between $135 to $199. The line will include:
Cleric Vial Necklace – $175
This elegant cleric vial is etched with the cleric character class icon and accented by small stars. It is suspended by two urn loops and sculpted wrapping details. A slender chain connects a detachable, textured, silver cork.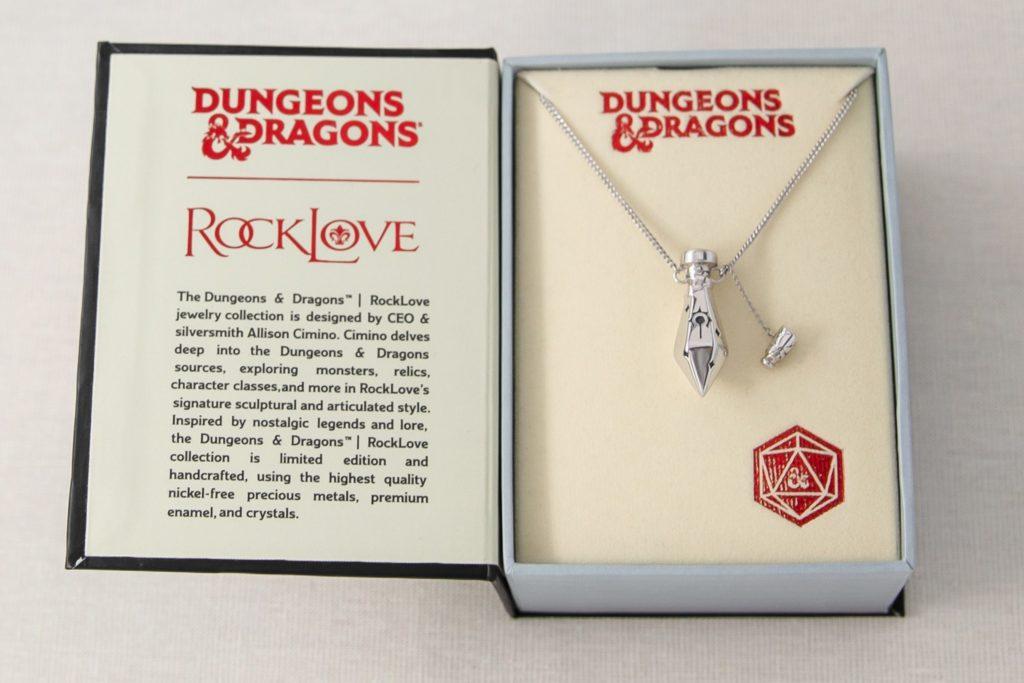 Wizard Spell Book Necklace – $199
A wizard spell book cover that features round crystal accents surrounding a ruby faceted oval cubic zirconia. The book is hinged to open up, revealing that both pages are filled with engraving: scrawling illegible notes, marginalia doodles, mysterious charts, and other esoterica surround an etched wizard character class icon.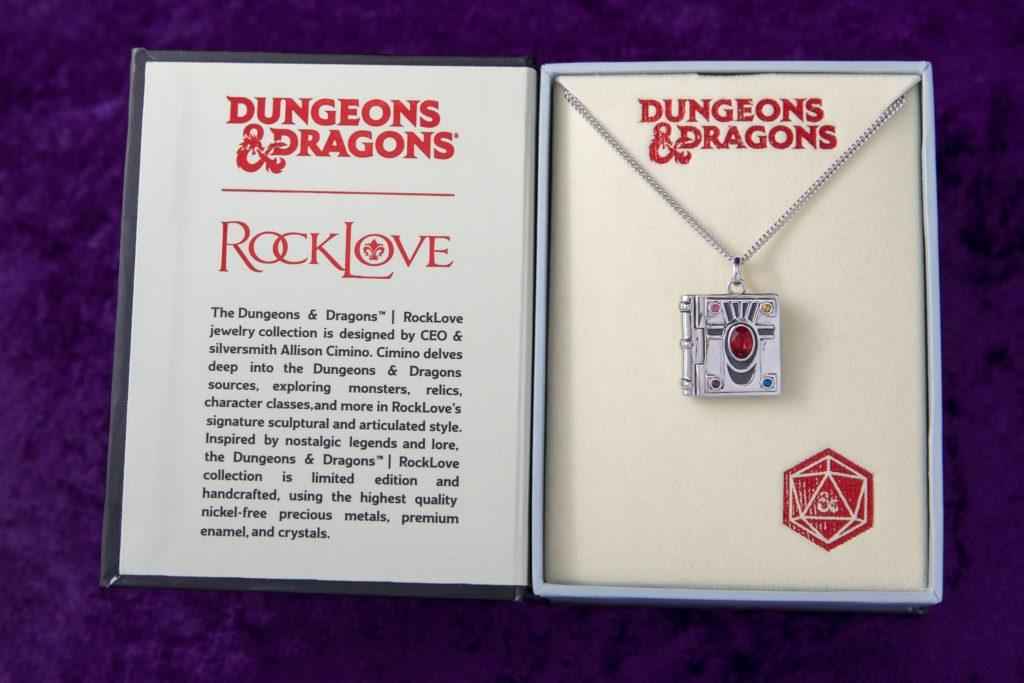 Fighter Sword And Shield Necklace – $150
A three-dimensional rendition of the fighter character class icon sits atop an ornate shield that features embossed acanthus framing. It also includes an ornamental double-sided broadsword, with an elaborate cross guard, and recessed fuller which is connected by a slender chain. The sword can slide behind the shield into its own sculpted sheath.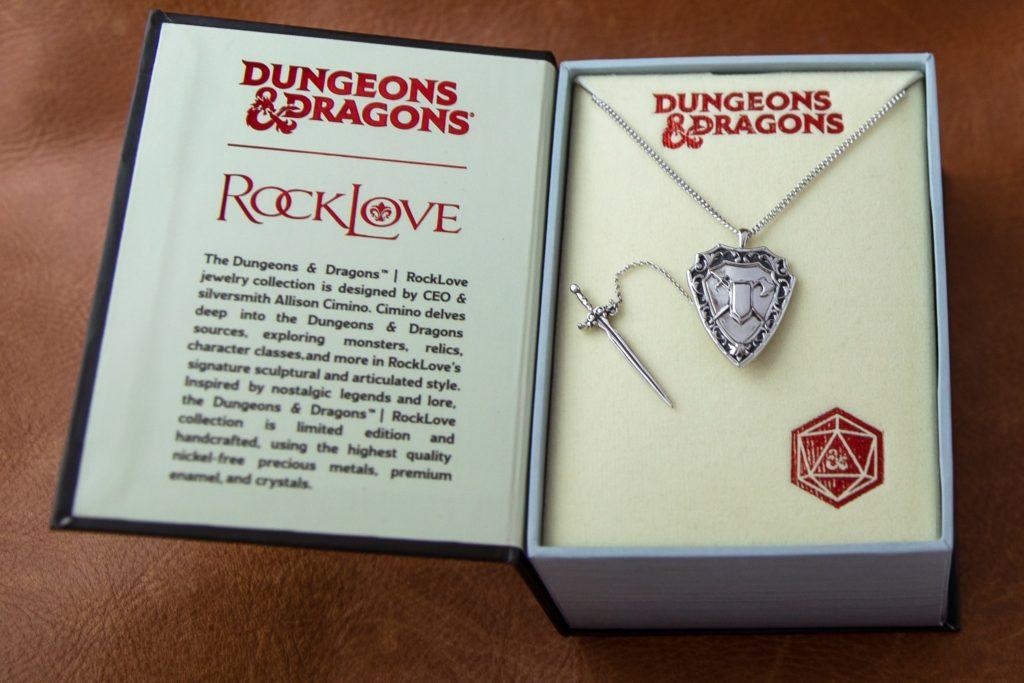 Rogue Dagger Necklace – $135
This dagger is sculpted with a spiral handle and sits underneath a blackened and ornate mask with intricate acanthus swirls. This configuration creates a silhouette that represents the rogue character class icon.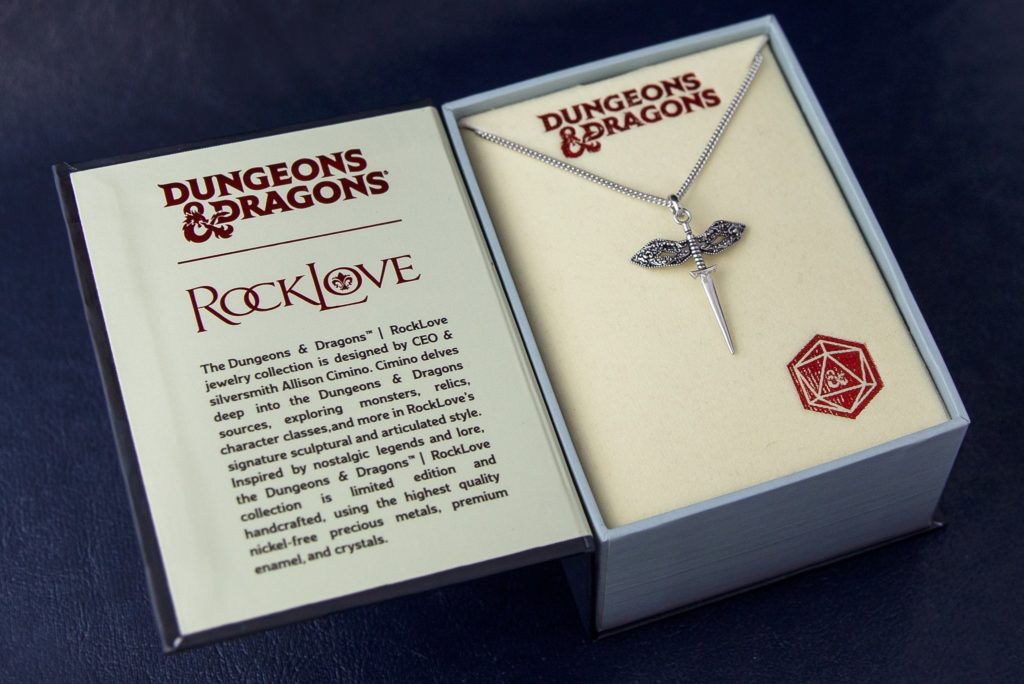 Bard Lute Necklace – $150
A festive lute is a favorite amongst wandering bards, so why not put it in necklace form? This sculpted musical instrument features eight pegs, an elegant egg-shaped silhouette, and a swirling design embossed across the soundboard.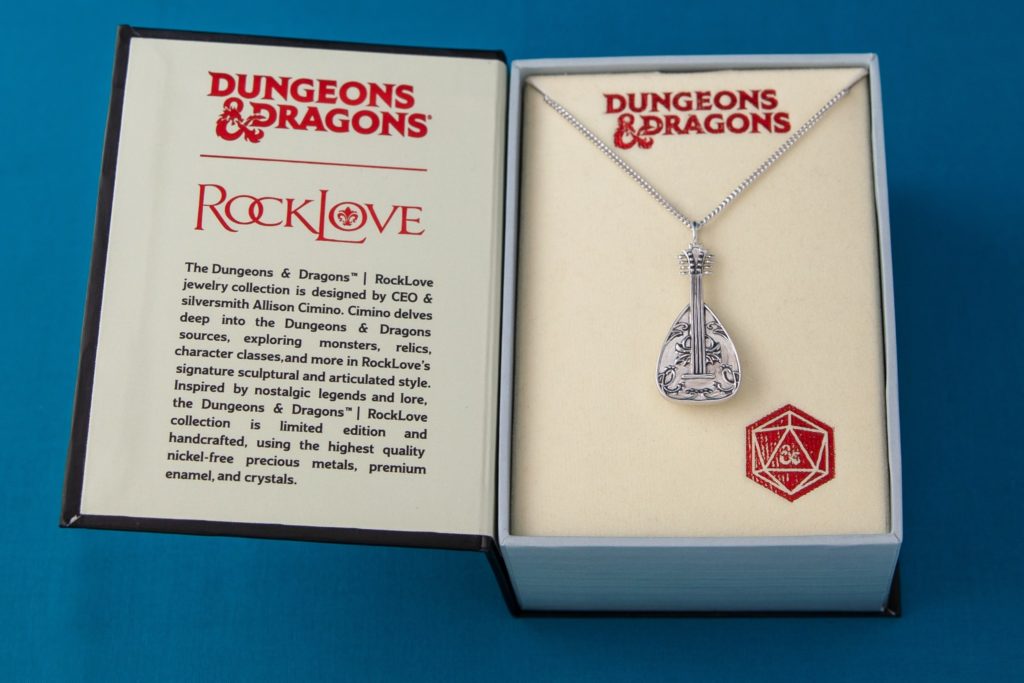 Warlock Medallion – $175
Representing the elementals of earth, air, water, and fire this features four round faceted cubic zirconia crystals. Made of hand-painted premium enamel in regal aubergine offsets the raised silver glyphs and sacred geometry which encircle the warlock character class icon.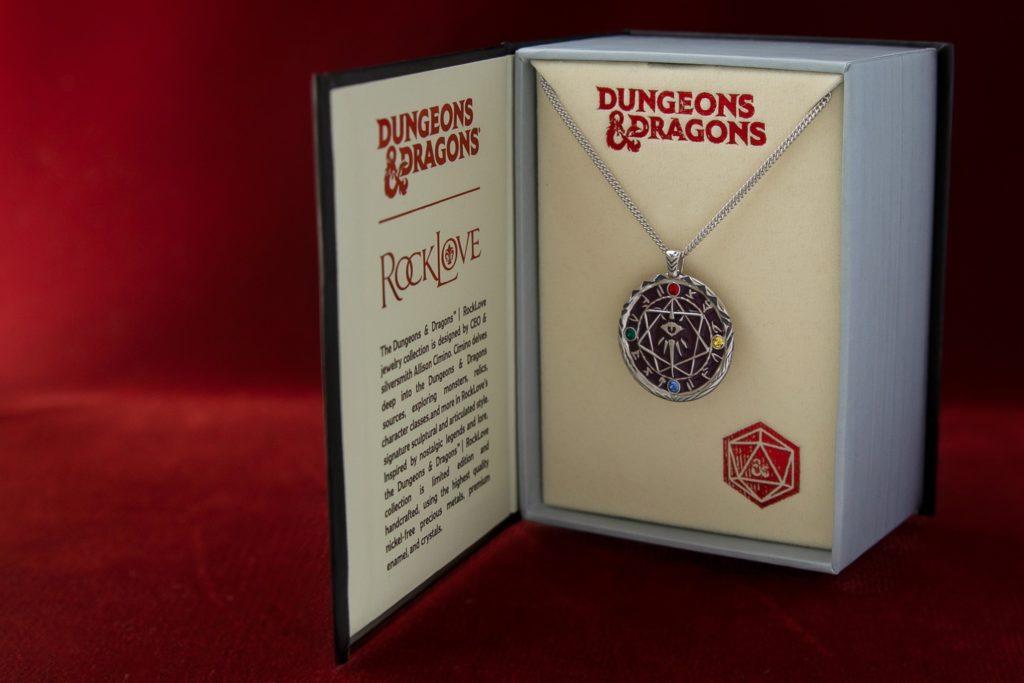 All items will come in a special Dungeons & Dragons X RockLove Collector's Book Box. These boxes will have a black exterior jacket which includes the iconic D&D metallic gold frame and red branding on the cover page.  The box lid hinges open to reveal a parchment-colored flocked fabric interior, with an additional travel pouch featuring a silkscreened bag of holding artwork on the flap. This line is available exclusively via RockLove's website starting August 23rd at 9am (PST).

Paramount Pictures' upcoming "Dungeons & Dragons: Honor Among Thieves" film hits theaters on March 3rd, 2023.