Two very sweet things are teaming up for the ultimate collaboration. Lisa Frank is bringing her bright colors and signature whimsical styles to the refrigerated baked goods section for the very first time. Pillsbury Lisa Frank unicorn shape sugar cookie dough is hitting shelves soon!
Embrace the fantastic world of Lisa Frank in cookie form. The limited-edition cookie dough comes ready to bake and is SAFE TO EAT RAW!! Featuring a unicorn design inspired by the classic Lisa Frank Unicorn, with the same beloved Pillsbury shape sugar cookie dough the whole family will enjoy.  
The funny thing is I was just looking up old Lisa Frank stuff on eBay when I read about this! Now I'm going to HAVE to get some. Seriously though in sixth grade if you didn't have yourself decked out in Lisa Frank binders and stickers, you were nobody.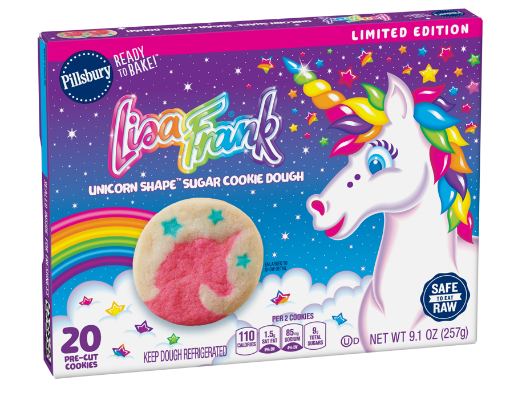 Serving: 20 pre-cut cookies  
Availability: Available mid-December for a limited time at retailers nationwide. 
MRSP: $2.67 
Now if they only came with stickers inside the box. That would be the PERFECT thing.