If you wanted to actually live like the Rose's did on "Schitt's Creek," then here's your chance to do it. The Canadian property is now up for sale as well as the Mansion they used for the Rose's home in the pilot episode.
For a joke of a birthday gift both properties are pretty expensive but let's just focus on the motel first however because that's the more interesting one. Or at least the one we're more familiar with seeing on the show.
The motel is going for 2.2 million Canadian, and sits on 6.7 acres. The place is gorgeous!

Check out the video of the property posted by Collier.
Unfortunately the motel doesn't come with Moira's wigs. You're on your own there. But it does come with the real life neighbors of "Schitt's Creek" who would often come and watch the team film during the day.
When you think about it since the show has gone viral you could potentially buy either of these properties and use them as tourist spots. Either host a tour or do a bed and breakfast type deal. There's always the Airbnb route too where you don't even have to be present when the guests arrive.
I know that when things ease up with COVID I would want to stay at the Rosebud Motel. And I believe that's what the company listing the property is banking on selling you on that idea as well.
Create a Unique Four Season Offering

The Property is currently not operational and a new owner has the ability to create something special on the Site, capitalizing on new travel trends following COVID-19, It is anticipated travelers will be valuing safety and cleanliness as well as unique experiences to enjoy nature and the outdoors. A capital infusion in the guest rooms along with innovative technology for "contactless" check-in and other mobile applications to enhance the overall guest experience in a more personalized yet safe way. Other features could include adding an outdoor fire pit, picnic tables and other seating for guests to congregate while enjoying the scenery.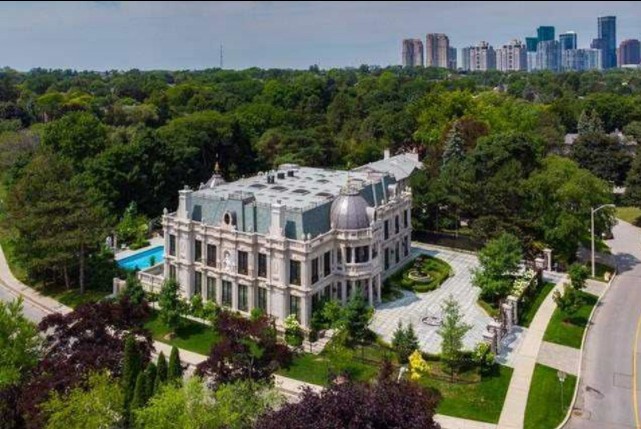 Now the mansion is another story. The mansion that they used in the pilot when the Roses' were being kicked out over their money manager's shenanigans is also up for sale. This property is huge and has 24,000 square feet, with 5,000 square feet of "luxury living." The home comes with 12 bedrooms, 16 bathrooms, a home theater, gourmet kitchen, wine cellar, billiard room, sauna, and indoor and outdoor swimming pools. So if you have to brave a Canadian winter you will still be able to swim inside.
What's neat about the mansion is that you can see many of the scenes they filmed in the place just by viewing the listing on Zillow.