Out of extreme frustration a 90 year old North Hollywood man decided to buy $10,000 worth of newspaper ads to let AT&T know exactly how he feels. Aaron Epstein who has been a loyal customer to the company for the last 60 years felt that his needs were not being met despite the many pleas he made for faster service from the provider. After calling them multiple times he decided the best way to go about letting them know was to place two ads in the Wall Street Journal on Feb. 3rd.
The reason that Epstein chose to go this route was because he was a bit miffed that he would continuously see ads from AT&T in the same papers touting faster internet speeds. Here he was not receiving the exact same thing they were promising new customers. You can see how he would be upset. After placing the ads he realized that social media may have been the cheaper route but since he finally is receiving the attention he sought it seems the ads did work.

He spoke to KTLA about the situation, saying:
---
"I kept calling AT&T. When are you going to give us a faster speed? They said it's coming, it's coming. But what really made me angry was they started putting ads in the paper and sending emails and putting ads on the internet [saying], 'Try our faster speed.'"
---
The ads in the paper were titled, "Open Letter to Mr. John T. Stankey CEO AT&T." In order to reach the correct people he placed one ad in Dallas, Texas to reach the executives attention and one in New York to reach the investors.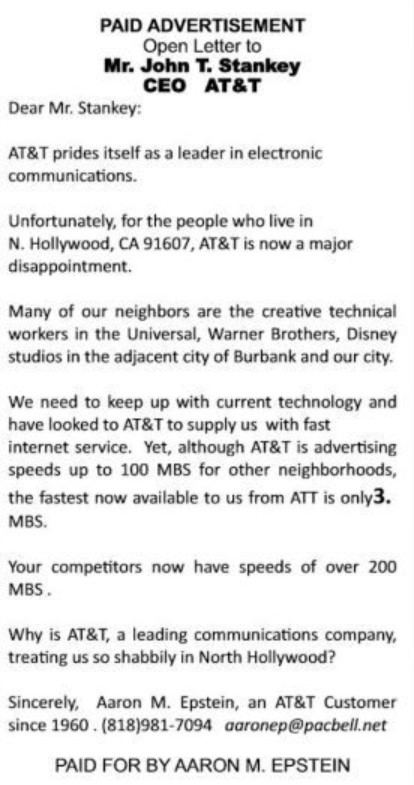 Though he spent $10,000 in newspaper ads he says he's not upset about the money. "With the response I'm getting … it's accomplishing my goal," he said. "The money we could've spent for other luxuries is going to something that's also giving us pleasure."
AT&T says that they are working on incorporating fiber optics in the North Hollywood area and have invested 3.1 billion over the last few years. If Epstein doesn't get what he wants soon however he says he may consider changing companies, though he really doesn't want to.