Some new Mortal Kombat energy drinks are coming from GFUEL. New flavors Scorpion's Sting and Ice Shatter will be available to buy starting January 13th, 2021.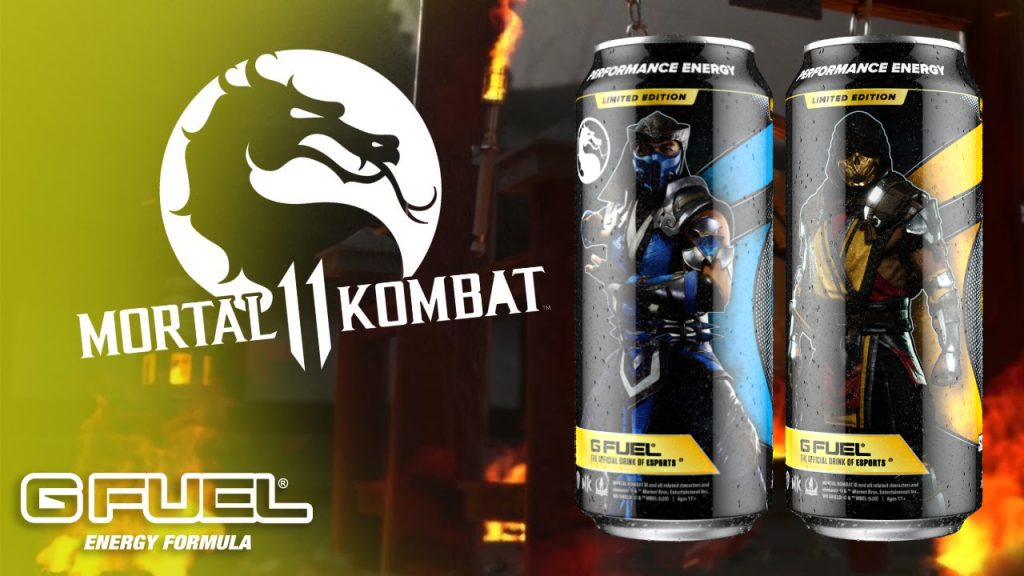 For U.S. customers it will be available in powdered form in 40-serving tubs and limited-edition collectors boxes, which include one 40-serving tub and one 16 oz shaker cup, at GFUEL.com.
Both new flavors will also be available for sale to customers in the U.S. in 16 oz cans on G FUEL's website on Feb. 10 and in select stores throughout the country in mid-February. 
---
The G FUEL Scorpion Sting and Ice Shatter tub energy formula is sugar-free and loaded with antioxidants from 18 different fruit extracts. A single serving has only 15 calories and contains 140 mg of caffeine. A single 16 oz can of G FUEL Scorpion Sting and Ice Shatter has zero calories and contains 300 mg of caffeine. Both the tub and can energy formulas contain proprietary energy and focus-enhancing complexes.
Are you ready to Test Your Might and achieve that Flawless Victory you so rightfully deserve? First, you must vote for Scorpion or Sub-Zero — and sign up for our ultimate G FUEL x Mortal Kombat Sweepstakes that runs from December 23rd, 2020-January 23rd, 2021.

You can also sign up to be notified when our soul-crushing G FUEL Scorpion Sting and Ice Shatter are available to buy.
One Grand Prize winner will receive the following:
One G FUEL Mini Fridge
One 12-pack of Scorpion Sting G FUEL Cans
One 12-pack of Ice Shatter G FUEL Cans
One Scorpion Sting G FUEL Collectors Box
One Ice Shatter G FUEL Collectors Box
One G FUEL Flag
One Xbox Series X
One digital copy of Mortal Kombat 11 Ultimate for Xbox Series X
10 Runners-up will receive the following:
One G FUEL Collectors Box of the character you voted for
One 4-pack of G FUEL Cans of the character you voted for
Official Rules available here.
---
Mortal Kombat 11 Ultimate is available now and offers the definitive Mortal Kombat 11 experience with the addition of Kombat Pack 2 featuring new playable fighters – Rain, Mileena and Rambo – along with the previously released Mortal Kombat 11 main game, Kombat Pack 1 and Mortal Kombat 11: Aftermath Expansion. To learn more about Mortal Kombat 11 Ultimate, visit MortalKombat.com.