Hallmark has long been a staple when it comes to gorgeous gifts and keepsake ornaments. Since I worked there in my teens I would always ogle at the breathtaking offerings they would have. From pop culture icons to more simplistic designs they've always shown that they too have a love for nerdy things. This year they have a breathtaking "Star Trek" Enterprise tree topper that is going to be really hard not to buy.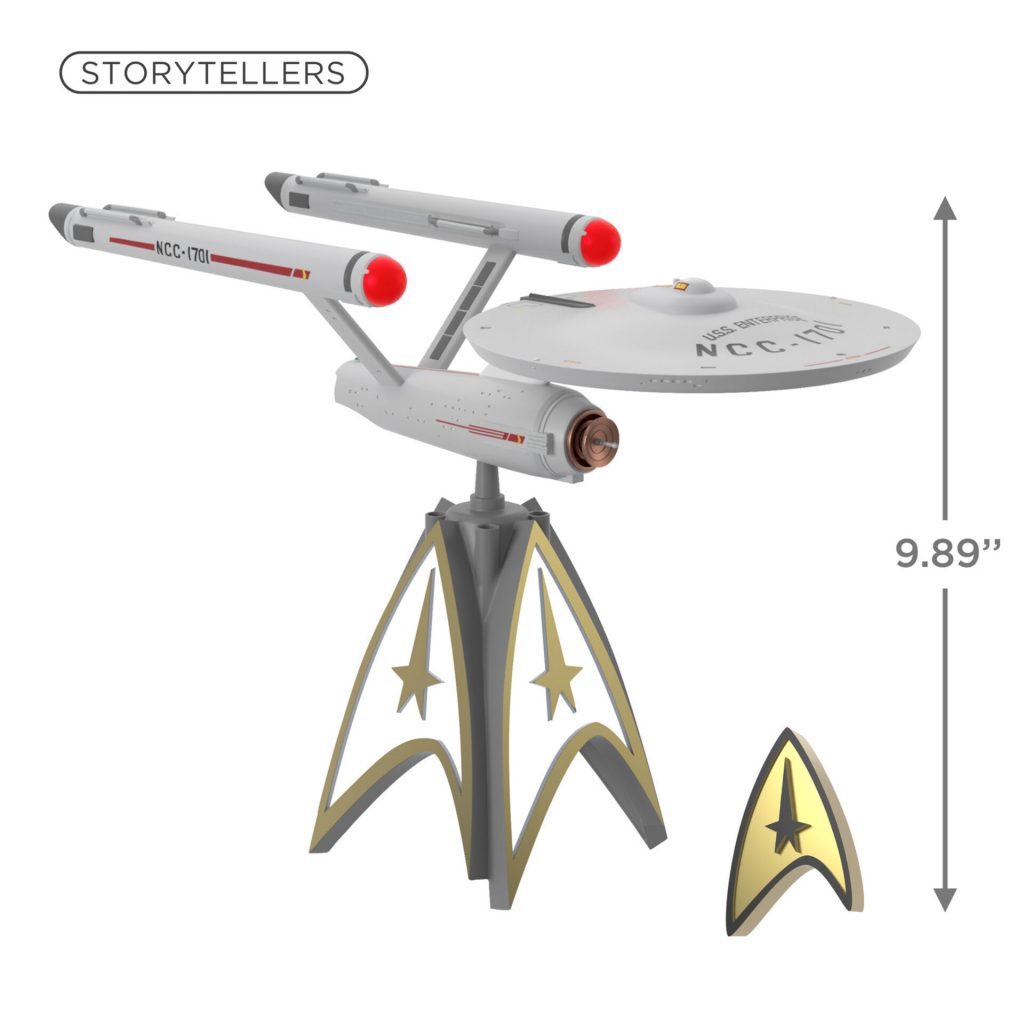 This thing is almost ten inches tall and lights up. Here is the information from the listing.
Product Details
Add the flagship of the United Federation of Planets—with the theme song to the original Star Trek television series—to your holiday celebrations with this U.S.S. Enterprise Christmas tree topper. Plug it into the included power adapter for constant illumination, then press the button—either on the included Starfleet insignia remote control or on the top of the tree topper—to start a sound and light show featuring the music of "Theme from Star Trek." Connect one or more Star Trek Storytellers ornaments—Captain James T. Kirk, Lieutenant Hikaru Sulu and Lieutenant Nyota Uhura (each sold separately)—to unlock additional performances that you can't access with the ornaments alone!
Storytellers Interactive Light and Sound Christmas tree topper. Connect this tree topper to the power adapter (included) to see the continuous light effect. Press the button on the remote control or on the base of the tree topper to watch it illuminate and hear music from "Theme from Star Trek."
Artist crafted by Jake Angell, this Keepsake Ornament tree topper comes pre-packaged in a box for easy gift giving, preservation and storage. Dated 2020 in copyright.
Add other Star Trek Mirror, Mirror Collection Storytellers ornaments to unlock larger, amazingly interactive performances.
Plugs into a standard 120-volt wall outlet.
For additional tips on operating your tree topper, watch our helpful video.
Plastic Christmas tree topper is lead-free and measures 6.59″ W x 9.89″ H x 15″ D.
What's really great about it is that you get a remote control to play the song. Something that isn't offered in some of their ornaments. From the time I worked there it was typically a button you would push on the base of the ornament or topper. This makes it much easier to get yourself in the Christmas mood when you're already watching some older "TNG" episodes.
Check out the listing for the tree topper by clicking the link here.