If you're a Disney Fan you probably already know that instead of just closing the park until the end of March, Disneyland and Magic Kingdom will remain closed "indefinitely". What that basically means is that they don't have a solid opening date as they cannot predict the state of the country due to COVID-19's effects. So the question for Passholders is how is that going to effect them? Can they put their passes on hold if they choose to? Will they extend the dates of expiration? Well the short answer is yes, they will extend dates but you still have to pay.
The official message from Disney to Annual Passport holders was this: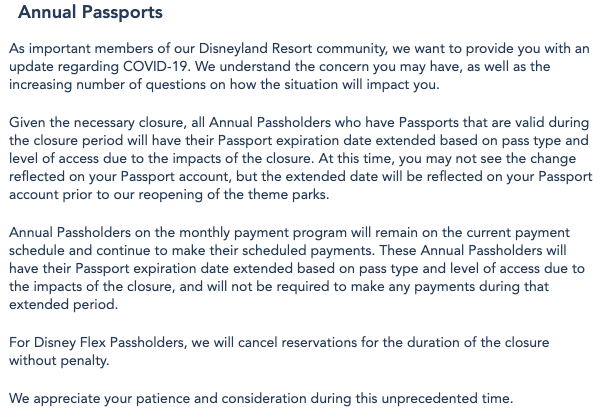 Now usually when you have certain circumstances, they can put your pass on hold. Such as hospitalization and you can't come to the park for a certain number of months. Or maybe you are a high risk pregnancy case and need to take the duration of your pregnancy and take it easy. Meaning that you are paying for something you can't use. I wanted to make sure that was still the case with everything going on.
I wanted to know a little more about how they were handling the situation on the customer service side of things. So I gave them a call and asked the question that stuck out in my head the most.
What if I have extenuating circumstances? I lost my job and can't pay. Can they put my payments and pass on hold?
After waiting in the customer service line for only about 11 minutes I was able to speak to a representative. They informed me that as of that moment they were Not doing deferrals. Now if that were to change they would be sending out another email with updated information but since they are still in the process of reviewing the situation they are still trying to figure out things themselves. The cast members advice was to keep an eye on your email, check your spam, and of course check the official website for more information.
Now if you are able to keep making the payments then that would be ideal, only because they are extending the dates so there will be a period of time that you won't have to pay for your park admission. Because you've already paid throughout. That means that you can either save that money you would have been spending on your pass and save it for a down payment when you renew to make your monthly payments less. Or when your time runs out you can just continue like you would have anyway with the full monthly payments. Either way, it is a sign of how disruptive Covid-19 has been to many businesses.
If you need to call them for more information the number for Annual Passport customer service is 714-781-4567
https://disneyland.disney.go.com/passes/