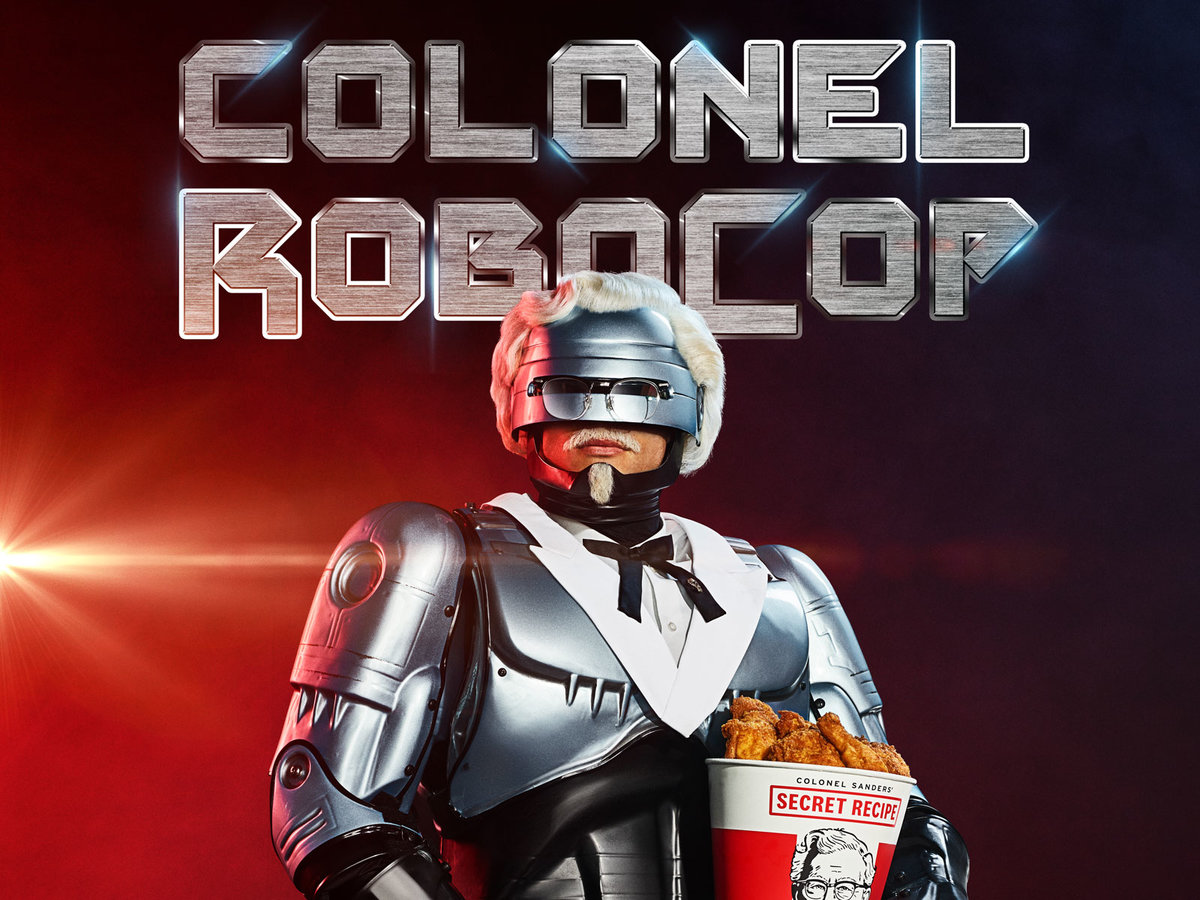 KFC Hires Robocop to Safeguard Secret Recipe
There's a new Colonel in town and he's a robot! Or a Robocop to be more accurate. Colonel Robocop's mission? To protect KFC's top-secret recipe of 11 herbs and spices. Don't ask Colonel Robocop what the recipe is because in his words, "If I told you, I'd have to kill you."
The secret recipe was previously stored in a relatively safe safe in Kentucky. But that wasn't safe enough for KFC. So, the company decided to upgrade security with Robocop, the ultimate law enforcer. Reprogrammed with a Prime Directive to protect the Secret Recipe, Robocop transported a triple-encrypted digital copy of the recipe from Kentucky to a more secure location: the Bahnhof underground Data Center, which is housed in a nuclear bomb shelter beneath a mountain in Stockholm and designed to survive Armageddon. So now that finger-lickin' good recipe can be preserved forever.
At least, that's the story KFC is telling in a series of ads with the new robotic Colonel. Viewers biggest question: is that Peter Weller's voice for Colonel Robocop? Peter Weller was the star of the original Robocop movie and its sequel Robocop 2 (1990) but did not appear in Robocop 3 due to scheduling conflicts. Robocop centered on a murdered police officer who was revived as a superhuman cyborg law enforcement agent. A Robocop remake in 2014 grossed $242 million worldwide but was poorly reviewed with only a 49% on the Rotten Tomatoes Tomatometer.
Robocop Returns, a direct sequel to the original 1987 film is in the works. A synopsis of the film reads: Anarchy reigns and the fate of Detroit hangs in the balance as RoboCop makes his triumphant return to fight crime and corruption
So don't ask questions, just enjoy your fried chicken. As the ad says, "You can eat it, you just can't know it."
Sign up to Receive the NERDBOT News!