The holidays are typically reserved for high art cinema, the kinds of films that begin their awards campaigns and are all over the Academy Awards even though general audiences haven't heard of half of them. I'm all for that time, as that is kind of where critics like me thrive. But "Thanksgiving" arriving smack dab in the middle of this season, and arrives not a moment too soon. True to its tagline of no leftovers, this over the top slasher is the perfect antithesis to weighty dramas. Packed with gory kills, an absurd premise, and plenty of thanksgiving puns, it delivers on just about everything you would expect from a film based on a faux trailer in front of a Grindhouse experiment. It's taut and simple, just the way a film like this should be and more than relishes in its own silliness. All of this makes the film really easy to review; simple and to the point makes this a perfect slasher classic for the holidays.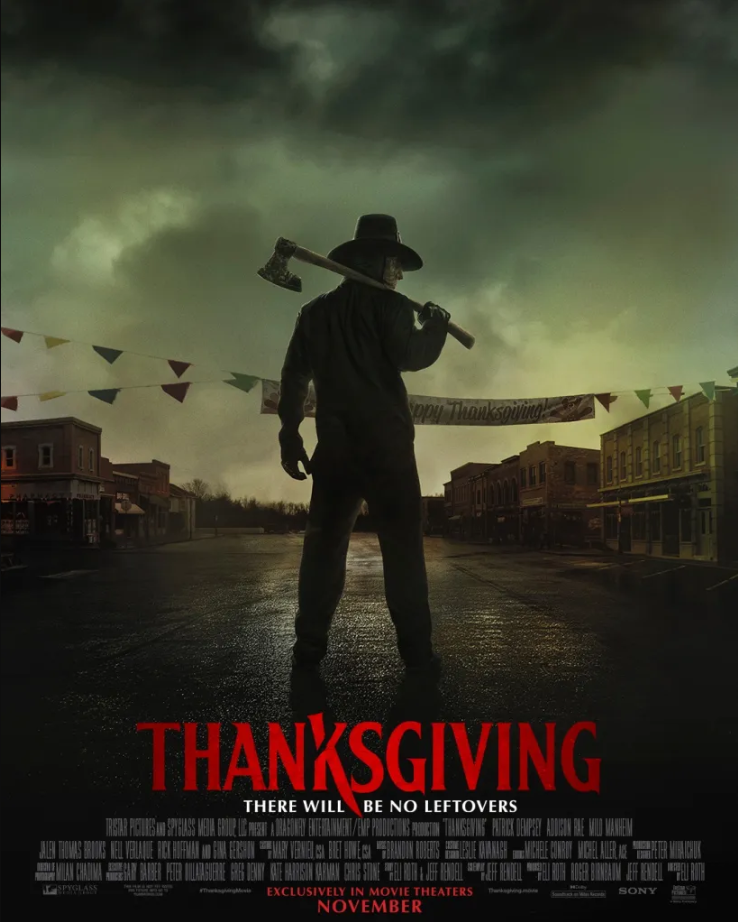 Directed by Eli Roth (who also directed the original fake trailer) and written by Jeff Rendell, "Thanksgiving" follows the Wright family living in Plymouth, Massachusetts who own and operate Rite Mart (yes, a clever play on Walmart). Determined to capitalize on the Black Friday craze, they decide to offer insane deals and open at 6pm on Thanksgiving. The daughter Jessica and her friends decide to make a quick stop at the store before it opens, which causes absolute mayhem in the store as a riot breaks out in a scramble for a free waffle maker. It ends up killing three people, including a dear friend of the family. Of course, the family takes no responsibility for the chaos and is determined to have the same deals a year later despite outrage from the community. But a masked figure known as John Carter online begins systematically killing everyone who was involved in the riot, and Jessica and all her friends have a seat a Carter's twisted Thanksgiving table. There will be blood, there will be kills, but there truly will be no leftovers. The film stars Patrick Dempsey, Rick Hoffman, Gina Gershon, Addison Rae, Nell Verlaque, and Ty Olsson.
"Thanksgiving" marks the return to form for Roth, who works best when he's able to push the limits of his gorefest creations and just have fun. This is much more "Cabin Fever" than "The House With a Clock in Its Walls," and bypasses the social commentary lead statements of "Hostel" and "Green Inferno." Sure, there's some mild takes on consumerism and our skewed capitalistic version of holidays and family, but this is far more interested in punishing that mindset in the most over the top ways as opposed to diving into true ramifications of it all. It's obvious Roth has something to say about consumerism and corporate greed, but unlike "Hostel" where these ideas are at the forefront of its gruesome violence, this film pushes them to the background for the sake of that same gruesome violence. There is always a fear that a film like this will attempt to bring a sense of seriousness to its built in silliness. But luckily, it is fully aware of its own absurdity, and while it avoids doing the whole Deadpool wink wink at the camera 4th wall break, it has no intention of being taken seriously in the slightest.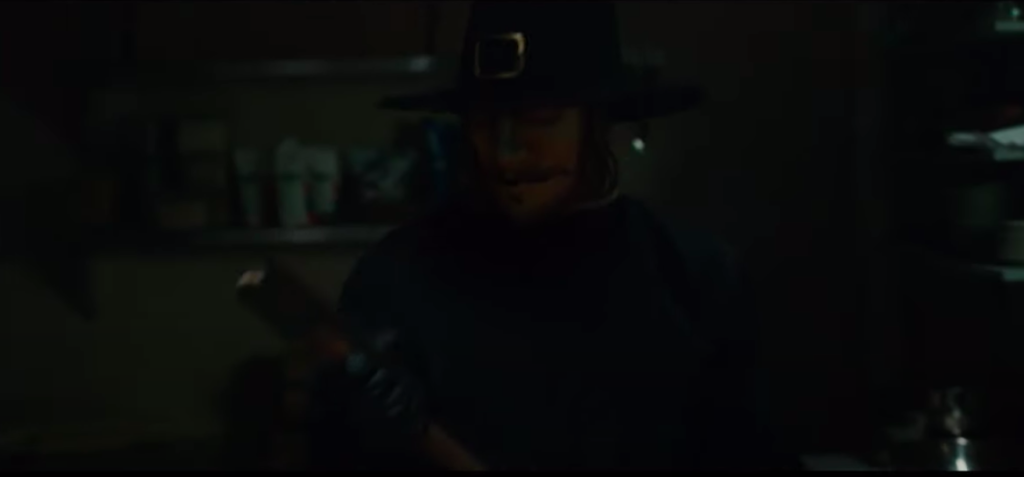 I'd argue "Thanksgiving" could probably lean into this a bit more, as it does start to get a bit into the "Scream" aspects of the slasher genre as opposed to truly embracing its grindhouse roots. Thankfully (pun intended) the kills are so brutal they make up for whatever misgivings you may have about how its operating. It does sport some of the most grotesque kills I've seen in a while. It makes terrific use of classic holiday tools, and goes out of its way to be pretty inventive with how people are dispatched. There's one kill in particular involving a trampoline that just may be the kill of the year for me. That's a high bar, too, because I've seen "Kill" at TIFF and it's gonna be hard to top the absolute carnage of that one. "Thanksgiving" comes close though, and proves that Roth knows how to frame killing of his characters in the most disgusting of ways.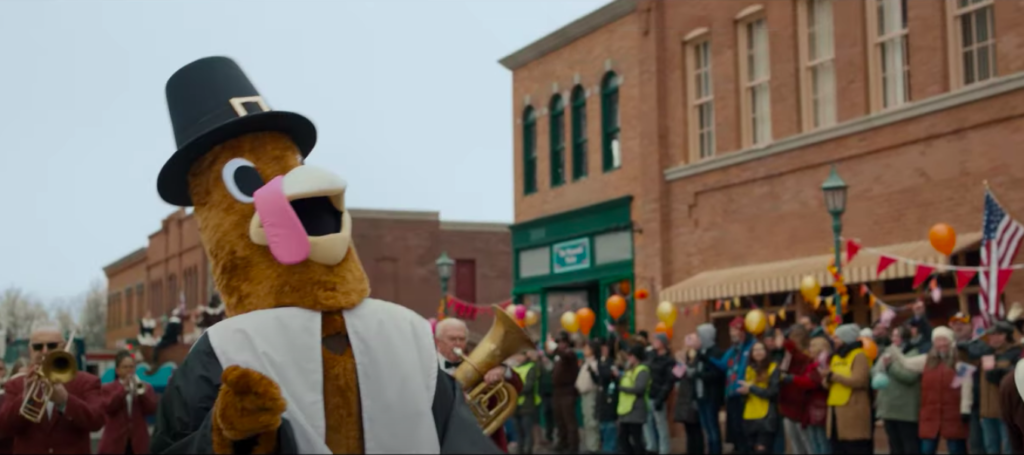 It's the kind of slasher film that isn't trying too hard to be anything unique in the genre, rather tether itself to its own tropes in fun ways. "Thanksgiving" is pretty predictable, but unlike other slashers that strive to have a genuine point, this one isn't hindered by whether or not you can peg the killer in the first 15 minutes or successfully plot on the beats of rest of the film after its Black Friday Riot prologue. The fun is that none of that matters because you're here for a good time and to see plenty of purposefully unlikeable characters meet the carving knife. And there's plenty of meat on this turkey in spite of its lack of substance. Sometimes movies can just be fun and don't really need to say anything else to be wildly entertaining. And "Thanksgiving" is that kind of movie; the kind that asks to shut your brain off for the right reasons. If you're willing to let it, this fun, gruesome slasher is the perfect kind of cinema amidst the grand awards worthy films that surround it.
There isn't a whole lot more to say about "Thanksgiving." It's a genuine good time at the theater if you're into this kind of thing. The kills are great, the blood flows freely, and the silliness and absurdness of a holiday masked killer works well in Roth's hands. If this is what we can get from Grindhouse fake trailers, then sign me up for a franchise. I'm all in.
Also, I will never get on a trampoline again.
Rating: 4 out of 5 Stars
"Thanksgiving" is now playing in theaters. You can watch the trailer below.