When you see a Hot Wheels set of Super Mario Kart's Rainbow Road it's hard to ignore. Mattel's famous toy cars brand has made an 8ft Mario Kart Rainbow Road. It's compatible with not only Mario Kart cars, but also any other Hot Wheels you have laying around.
I've been shopping for Mario LEGOs, Mario's playset Bowser Ship, and all kinds of other fun things you'll find scattered about. There are some amazing pillow plushies you can find even in Best Buy of the tortoise shell or goomba. So when I tell you a lot of people missed this Hot Wheels set, I mean it. I was searching for toys coming in 2023 when I found it. Only to find out that they released the set last year. Crazy thing is, I don't remember seeing it in any of the toy look books for Christmas because I would have totally scooped this up.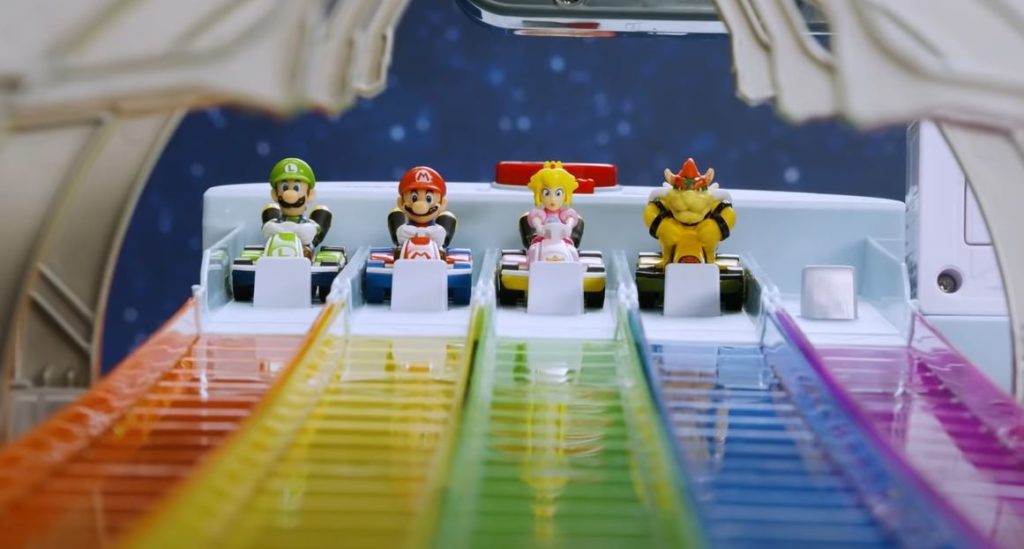 The set comes out to 8 ft long and can be styled multiple ways. One with the track all set out in a straight line, the other with twists and turns. They way they showcase the set on YouTube has it where the loser of the race is taken out and you can play multiple rounds just like in the real game. Other reviews of the set on Mattel's website say that it holds a child's interest which is something that many toys don't do these days.
We are on our second track in less then a year. My twins wore out the start button to drop the cars. But 7 days a week 4+ hours a day playing with it I'd say I've gotten my monies worth out of it. Might by a 3rd and add the track together.

Grich213
Included in the set is One Rainbow Road race track with two configurations of play, one start gate with authentic Mario Kart lights and sounds, one finish gate with electronic scoreboard, and two 1:64 scale die-cast karts. With this set, you get Mario and Boo. The others you have to find elsewhere.
Pick up your own set on Amazon here.
DISCLOSURE: This post may contain affiliate links. Meaning when you click the link and make a purchase, we receive a commission, which helps Nerdbot keep the lights on.