Images the James Webb Telescope continues to send back to NASA are more beautiful than the last. Its most recent picture of the Pillars of Creation is nothing short of spectacular. Set against a deep blue backdrop scattered with bright stars, columns of space dust and interstellar gas reach heavenward like the fingers of a massive, celestial god.
The Pillars are famous thanks to the images taken by the Hubble Telescope in 1995. The clarity of the images provided by the James Webb allows NASA to gather that much more data on star formation. They can count the amount of stars that are formed, and the amount of gas and dust within those areas.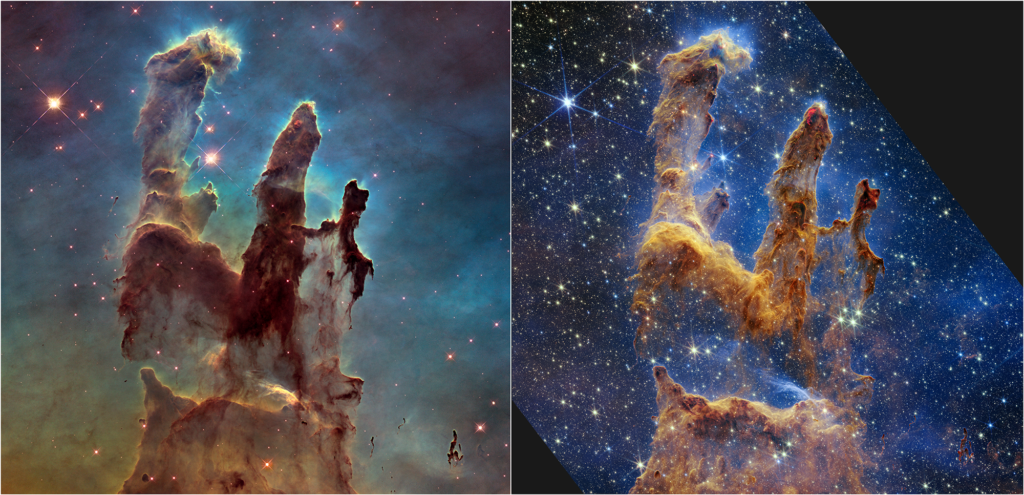 Those red orbs that dot the tips of the columns are actually stars. They're far more visible thanks to Webb's Near-infrared camera (NIRCam). "When knots with sufficient mass form within the pillars of gas and dust, they begin to collapse under their own gravity, slowly heat up, and eventually form new stars," NASA explained.
The wavy formations that run the edges of The Pillars, are the supersonic ejections from stars in the process of forming. These forces pushed out by forming stars collide with the gas and dust, pushing them outwards in a ripple. Appropriately called "bow shocks" by scientists, like a boat disrupting the surface of water.
This is an incredibly popular observation spot for astronomers. For them, it means so much more for study and observation. But for most of us, we'll just revel in the sheer beauty of the cosmos.