ReelGood has a service that allows you to spin a roulette wheel for movie suggestions. If you never know what to watch (like me), then this should be a big help. I recommend settling a number of spins, and then choosing the best option out of 5 or so. In my case, I spun two times, and got a result for something that I would actually like to watch, "Joe Versus the Volcano" with Tom Hanks and Meg Ryan.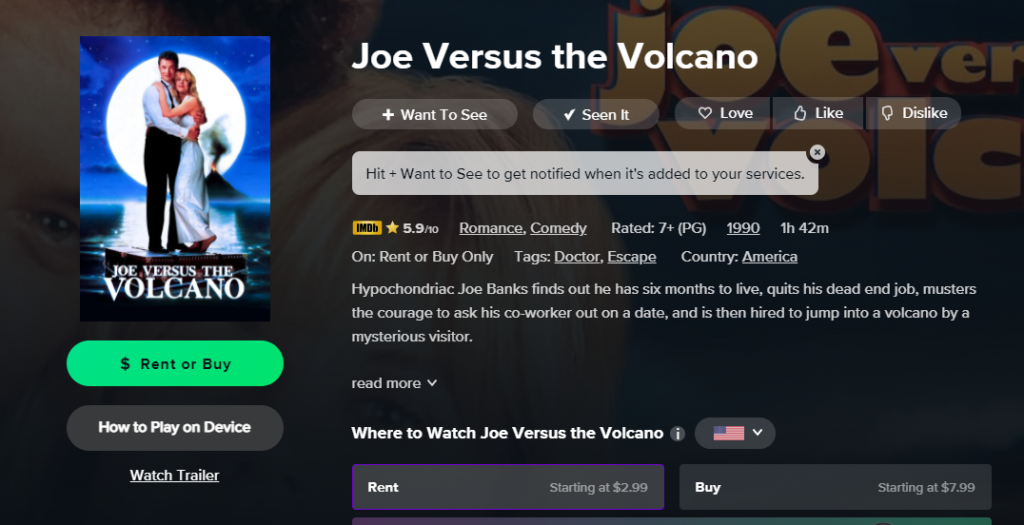 How does it work? 
This Romantic Roulette helps you find the best rom-com movies by setting filters to look at the best content among  Netflix, HBO Max, Prime Video, Hulu, and 50+ services in the United States. Users "spin" to display a random romantic movie to watch with your date. Let fate take the wheel by taking a spin! 
People are excited for Valentine's Day, but certain restrictions caused by the pandemic and the Omicron variant continue. Romantic Roulette is a great option to enjoy a cozy evening at home, in the company of partners.
Why is it Awesome?
Reelgood's Romantic Roulette will take the guessing out of what to watch. And it's even cooler because it not only picks a movie, but tells you if its available to stream. Or if it will cost you anything to rent. You can even link your streaming services to make it easier to watch something when you land on them. And if you've already seen it, you can make an account and mark it as already watched.
All things considered, spending $2-$10 is fairly cheap for a date night in. Plus, you could always order out, or just cook a nice meal at home.
Try out the Romantic Roulette for Valentine's Day on Reelgood's website here.