Starting a Warhammer army is no easy endeavor. You've got to choose between your Space Marines and your Eldar, there's all the meticulous planning of your army contents, there's the highly skilled painting and assembling of models, and of course there's the sheer cost of getting your collection together, all before you even get to the table. It's a big hobby with big fans, and the time, skill and money investment that goes into making one is a major part of what makes your Warhammer army such a personal thing.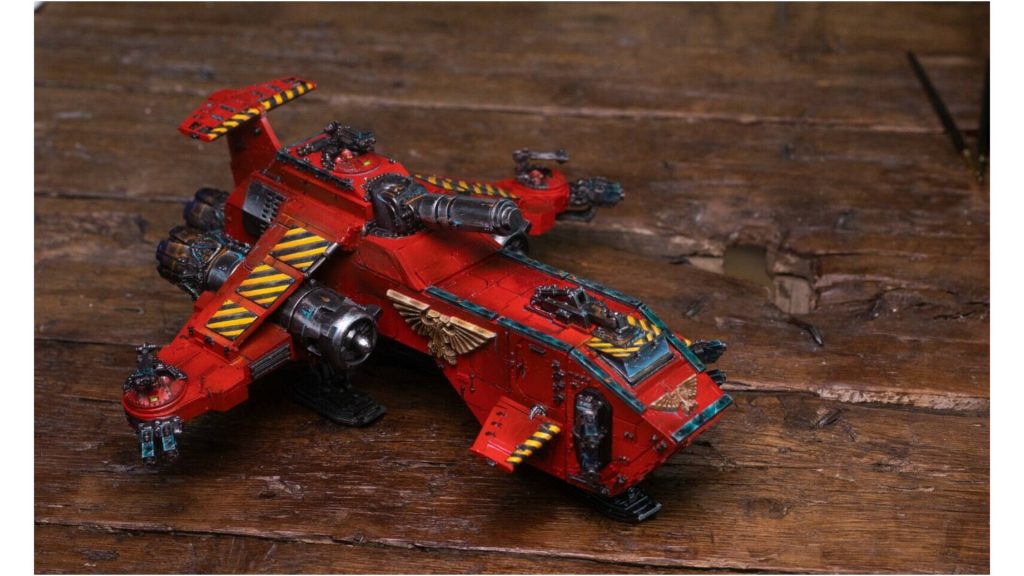 Over the years, UK company Games Workshop has produced countless miniatures, ranging from the tiny to the vast. Aside from actually playing the tabletop wargames themselves, many get into the hobby purely for the collecting or painting aspects, and of course there are many sought after and rare miniatures from across the decades of Games Workshop's history that command serious prices.

Now, the record holder for the most expensive Warhammer miniature sale ever has been broken, when an amazing fully constructed and painted Thunderhawk Gunship was sold at auction to the tune of $34,882. The Thunderhawk was painted by Emil Nyström of Squidmar Miniatures. Nyström referred to the construction of the model as the hardest in the Warhammer world.
The Thunderhawk Gunship was a beast of a miniature. Huge in size, outrageously complex in construction, the Space Marine carrier first appeared at the massive UK Games Day event. The Thunderhawk was heavily photographed and after pictures appeared in Games Workshop's signature magazine, White Dwarf, Space Marine fans began eagerly requesting a release of the model. When it finally came in 1997, the Thunderhawk was a mail-order only item, hotly desired, and strictly limited to 500 models. Furthermore, the kit was extremely difficult to put together, so much so that a warning was released to prospective buyers, letting them know that the Thunderhawk Gunship was a challenge fit only for the most capable hands in the hobby.

The Thunderhawk's 274 piece set came shipped in a unique locking pine box, emblazoned with gold lettering and elegant metal imperial eagle designs. At a whopping $650 price tag (Adjusted for inflation around $1k!) the Thunderhawk became an incredibly sough after collectors item and one of the most distinctive miniatures ever made by Games Workshop at that time.
You can watch Nyström's video chronicling the acquisition of the model, and the history behind it, on Squidmar Miniatures Youtube channel.