"X-Men! Welcome…to DIE!" These immortal lines were said by Magneto in the 1992, Konami arcade beat 'em up, "X-Men." Since then, the only place you could hear those hallowed words along with, "I am Magneto, master of magnet!" were in an arcade. But now we know when you'll be able to put your pre-order in to take the experience into your own home with the "X-Men" Arcade1Up release.
The announcement of the cabinet came earlier this year in January but pre-order details were left undisclosed. Pricing details have yet to be released, but Arcade1Up machines can usually run the range from $399 – $499 depending on whether or not you're getting the riser for the cabinet and the cost of licensing the games. This "X-Men" cabinet also comes with 4-player capability, so it will likely be towards the higher end of the price range.
"X-Men" allows you to side-scroll your way through a number of levels on your way to challenge Magneto. You can pick from one of six mutants, Cyclops, Wolverine, Storm, Colossus, Nightcrawler, and Dazzler to bust up a bunch of sentinels and members of Magneto's brotherhood of mutants. The original arcade release had a deluxe edition with two monitors that could allow up to six players at once, though Arcade1Up has perhaps wisely for cost-effective and living room space purposes, went with the 4-player release.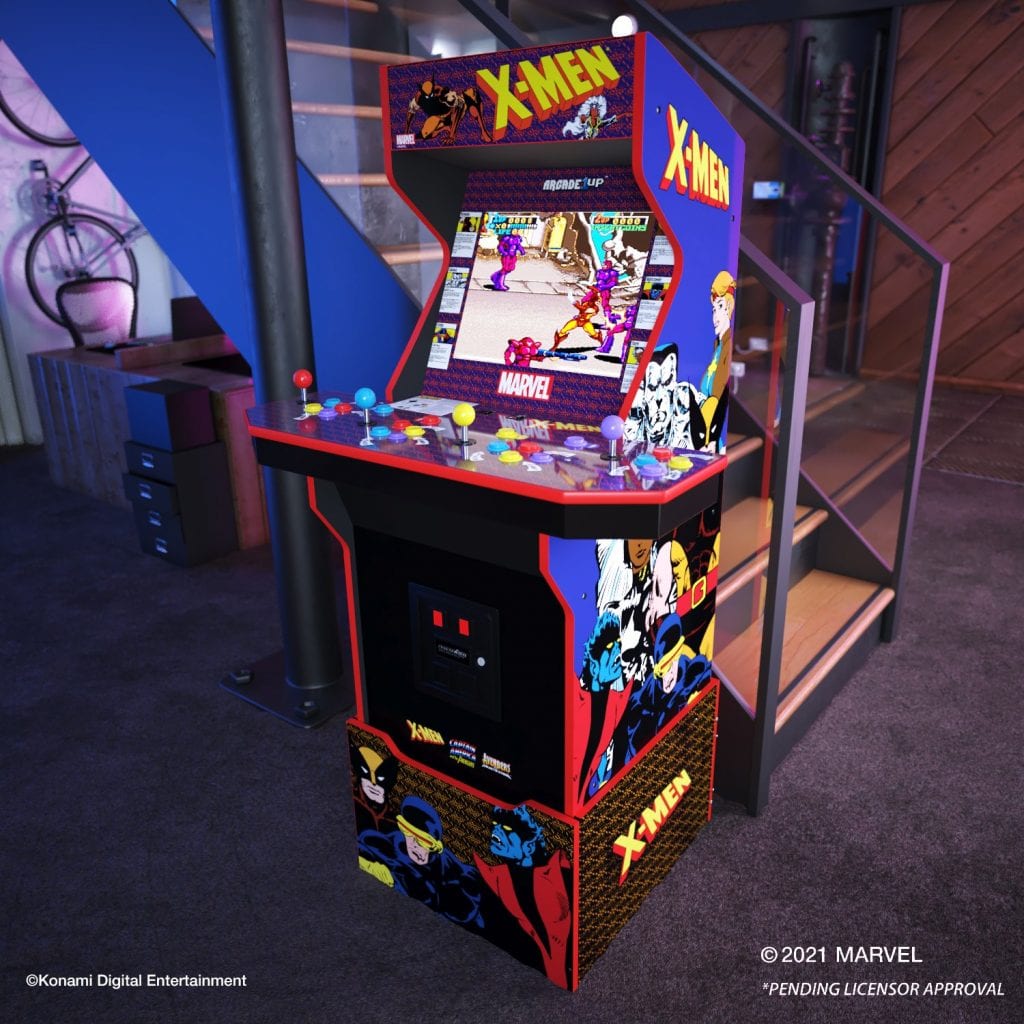 Making this purchase even better is the bundle of games that are actually on the cabinet. In addition to "X-Men" buyers will also be able to play, "Captain America and The Avengers" as well as "Avengers in Galactic Storm." The former is a 1991 4-player side-scrolling beat 'em up, similar to X-Men but with smaller sprite work, more usage of powers, and a roster that includes Captain America, Iron Man, Vision, and Hawkeye. "Galactic Storm" meanwhile is a 2D, one-on-one fighting game with 3D character graphics that released in 1996 in North America. As if all that wasn't enough too, the more recent Arcade1Up releases come with wifi adaptors to allow for playing with others online.
Interestingly enough, while "X-Men" was developed Konami, the other two Marvel games here were developed by Data East. There was a period of time where "X-Men" was available on the PS3 and Xbox 360 in 2010, but it was delisted around the end of 2013. As for "Captain America and The Avengers," that title was ported to the Sega Genesis and Super Nintendo, though both versions were lacking compared to the arcade counterpart. "Avengers in Galactic Storm" however has never been released outside of the arcade, so this will be a first for the home market.
Once again, Arcade1Up seems to be bringing the goods. If you've ever played or owned one of their other cabinets, then you know that these 3/4 size machines play, feel, look, and sound, like their far more expensive counterparts.

We've heard rumors that pre-orders open in July, you'll want to get your hands on this while you can.