Disney seems hellbent on reviving shows and film franchises no one truly asked for or ever knew they wanted until they arrive on Disney+. But then, we can't believe we lived without them for so long. "The Mighty Ducks: Game Changers" is exactly that; a retread of every underdog trope and winning formula from the films baked into a television series we didn't know we needed until it arrived.

I will never waiver from my staunch defending of film and television media being unapologetic, and "Game Changers" makes no qualms about what it wants to be or what we expect it to be. Whatever you expected, high or low, "Game Changers" nails the nostalgia, and brings all the fun of the originals while simultaneously furthering the narrative.
"The Mighty Ducks: Game Changers" returns to the state of Minnesota, where the Mighty Ducks franchise has gone from ragtag to powerhouse over the years due to their continuous successful run in their divisions. That's right, the first major twist (if you can call it that) is that The Mighty Ducks are the bad guys, acting more like Hawks than the endearing, lovable underdogs. The idea of them quacking before games is more of a long forgotten joke at this point. After being cut from the team and being publicly humiliated by his angry mother Alex, they decide to start their own team, one that focuses on acceptance and heart rather than winning at all costs. As fate would have it, the only rink they can find last minute to practice in is owned by none other than Gordon Bombay. He's washed up, hates hockey, coaching, and of course, kids. After entering as a newly formed team in a viscous division, time will tell if this group of misfits can recapture the magic that made The Mighty Ducks in the first place and prove to everyone that they should, in fact, bother.
Those on the fence or cautiously optimistic about "The Mighty Ducks: Game Changers" lands much more on the positives both behind and in front of the camera. For starters, the original creators of "The Mighty Ducks" return as producers, with Steven Brill also serving as a writer. This shows, as all of the heart and comedy of the original feels embedded deep within the fabric of the story being told. This can obviously be done without Brill and Jordan Kerner, but it helps maintain the spirit of the franchise tremendously and shows a kind of creative integrity on Disney's part to not only greenlight their strange project but allow them to remain involved.
In front of the camera, the writing sparks just about every single emotion it sets out to achieve. The show is packed with heart, fun, and comedy, and does it all without really trying too hard. Look, no one is going in to "Game Changers" expecting some kind of nuanced, existential deep dive into children sports and its effects on parent/child relationships. That's all in there, but it's shrouded in an unabashed feel good story for children. Rightfully so, too, because this allows "Game Changers" to perfectly balance the return of the quack for adults while also introducing a new generation to the flying V. It's a lot to pack into one episode, and somehow "Game Changers" manages to get it all in there without making it feel bloated or overstuffed.
That's not to say the episode doesn't hit you over the head with motivational speeches and feel good "you're special and all you need is love" messages. It does. A lot. But luckily, "Game Changers" packs this first episode with solid humor and a strong cast that all pull their weight and elevate the material to feel just the right amount of cheek.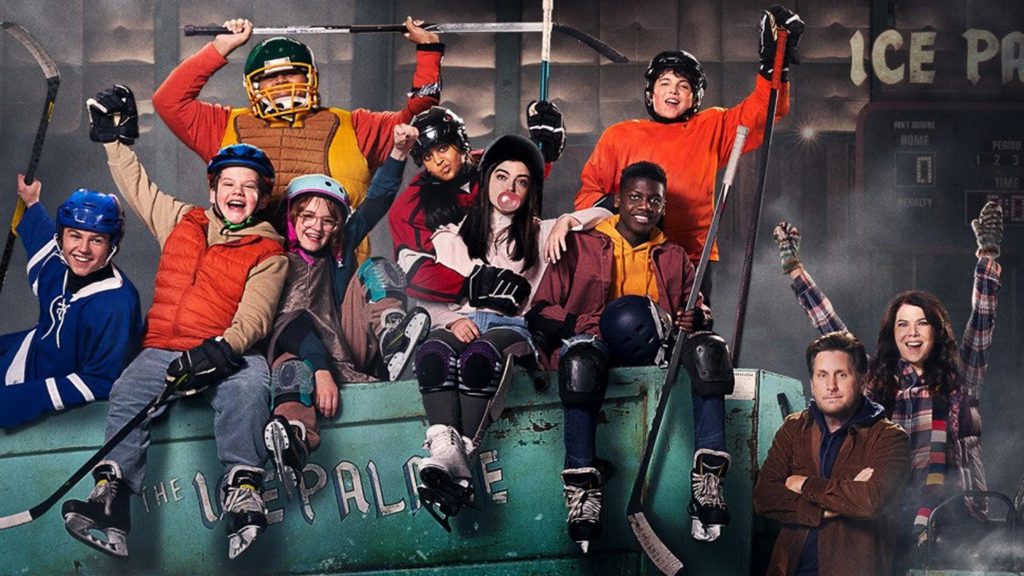 Lauren Graham as Alex "Lorelai" Marrow is as charming as you would imagine her to be, pairs well with a most welcomed return of Emilio Estevez as Gordon Bombay. No, her name isn't ACTUALLY Lorelai, but Graham is incapable of being anything other than her fast talking, whimsical oversharer "Gilmore Girls" mother, and that shows here. That may sound pejorative, but on the contrary, it actually works perfectly. She's an overworked single mother who just wants her kid to be happy, and that archetype fits perfectly in this context and sounds more distracting than it actually is.
The kids are great, with Brady Noon as Evan (of "Good Boys" fame) and his new buddy Maxwell Simkins as Nick making a terrific recruiting pair and the heart of the new team. For Simkins, he has incredible comedic timing for being so young, and is given some of the best lines and jokes in the entire series. There's a lot of new faces that have yet to get their due, as the episode ends with the literal creation of the team itself and little else. But if Noon and Simkins are any indication of the level of talent we can expect from the rest of ensemble as well as being paired with numerous OG Ducks set to make their appearances in later episodes, they we are in for quite a treat.
All in all, "Game Changers" is an unexpectedly welcomed returned to Mighty Ducks Hockey. With the Mighty Ducks serving as the villains, a very clear redemption arc roadmap laid out for Bombay, and compelling and well developed new characters, "Game Changers" has a lot going for it even after one episode. Sure, it's campy and a bit over the top with its "we should ease up on the pressure for children to be great at sports" and "you're special even if you're not popular" messages, but isn't that what "The Mighty Ducks" was all about in the first place? It would be the fault of the viewer to expect the show to be anything else, and I would argue that the show is confident enough in its identity that it doesn't need to be anything other than what it is.
"The Mighty Ducks: Game Changers" is setting up to be a heartfelt, funny, children's underdog story that follows every single genre trope imaginable with unyielding confidence. And I'm all here for it.
Let's get to quacking!

Watch the first episode on Disney+ now.