Show "The One" that you are willling to go beyond the grave for them. Not literally. Maybe more… symbolically. With these creepy VEGAN chocolates! Crafted by Vegan Treats Bakery, these spooky treats are sure to satisfy as well as impress.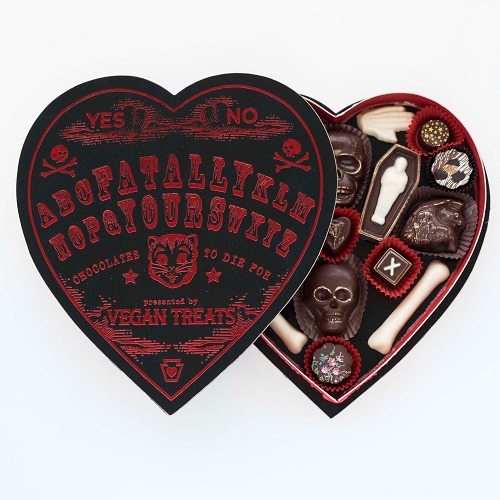 Each box contains 18 pieces of handcrafted premium Swiss and white chocolate with decadent handmade fillings, precision detail and gold leaf adornments. 
-White chocolate with blood orange filling (2)
-Decadent Swiss chocolate filled with fresh red raspberry filling (2)
-Fleur de Lis caramel (2)
-Rich and creamy Swiss chocolate Peanut butter cups (2)
-Swiss chocolate grim reaper with our infamous cookie dough filling 
-Passion-less fruit filled Swiss chocolate stars (2)
-Chocolate soufflé leaves (2)
-Speculoos filled profile Swiss chocolate skulls (2)
-Chocolate hazelnut praline Swiss chocolate banner
-Swiss chocolate red velvet filled anatomical heart 
-Fragrant strawberry solid white chocolate rose
And to top it all off, each box of chocolate comes with an iron-on reaper patch!
These treats can be more on the pricey side at $97.95 a box. But we are sure that your partner will feel "drop dead" impressed by the craftsmanship and the guilt free Vegan aspect. With lovely skulls, edible gold colored dust, and even a mummy, who could turn away from the edible undead?
Check them out here!